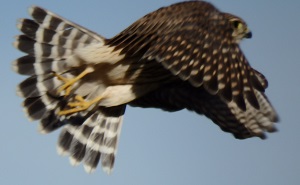 The San Carlos Birding Group had a spectacular day last Thursday with the group identifying 40 species in only two locations. We had some very good spotters with us and while not everyone saw everything, everybody saw something special to them. About half the group saw the Coyote (mammal, not bird) that likes to come to the El Palmar settlement pond for a drink. We also saw the Northern Cardinal, Sora, Vermilion Flycatcher, Western Kingbird, Verdin, Orange-crowned Warbler, Yellow-rumped Warbler, Bufflehead and Black-throated Gray Warbler, among others.
So, my Birding Place of the Week is El Palmar. This series of three settlement ponds for the San Carlos Plaza Hotel is located a little west of the hotel and about ⅓ mile north. Turn right at the cattle crossing sign. The road is rough and clearance is required.
Bird of the Week is the Merlin. I saw this bird out at El Palmar but not with our group. The Merlin is a small falcon and lives all over Mexico and a large part of the US and Canada. According to iBird Pro, it likes to eat small birds such as larks, swallows, finches and also small mammals, lizards, snakes, and insects, especially dragonflies. El Palmar has an abundance of dragonflies right now so it is not surprising it was hanging out on a dead tree branch when I saw it.
This week I would also like to suggest a birding tool. The iBird Pro 3.1 birding application for smart phones is easy to use and only $9.99. I like that I can narrow the search field to include Arizona and Mexico. This gives me most of the birds around here. The other good app, Sibley's, does not allow you to narrow your search to include Mexico. It is so much easier to identify a bird when you can narrow the search area. The bird photographs are excellent but limited for some birds. It is not a tool to be relied on exclusively but is very helpful when out in the field. For me, it is my go to app. When it fails me, I start searching the others.
Thanksgiving will not deter our birding group. We will meet at El Esterito at 7:30am. The plan is to hit a new spot off the by-pass road to Empalme and then the Empalme estuary across the causeway. I was out there on Saturday and even with the higher tide had a good selection of birds including the Great Kiskadee. All are welcome.
As always, feel free to e-mail me with questions and/or comments at maryltannehill@yahoo.com.
Happy Birding! By Mary Tannehill