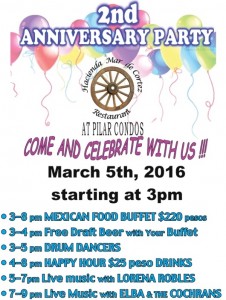 It's Fiesta Time! Come and join us on Saturday, March 5 at Hacienda Mar de Cortez Restaurant for our 2nd Anniversary Party.
There will be festivities throughout the day, including:
3:00pm – 8:00pm: Traditional Mexican dinner for 220 pesos
3:00pm – 4:00pm: Receive a free draft beer with your buffet
3:00pm – 5:00pm: Drum Dancers
4:00pm – 8:00pm: Happy Hour with 25 peso drinks
5:00pm – 7:00pm: Lorena Robles
7:00pm – 9:00pm: Elba & The Cochrans
Don't miss out!
Make your reservation today by calling 622-124-5183 or email haciendamardecortez@gmail.com.