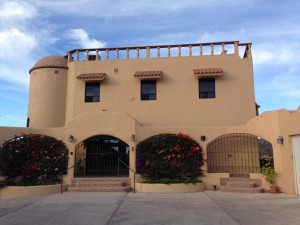 Many of you saw this home on the Rotary Home Tour a few years ago.
It has everything – including the coolest bar ever – The Thirsty Turtle Bar, swimming pool with waterfall, fire pit with cement couch, gorgeous cactus garden with trails, wine bar below stairs, master bedroom looking out to the ocean and the Tetas, 2 bedroom guest house, beautiful fountain, 2+ car upper garage and huge shop below, plus room to grow on bottom level behind shop, several wall murals by Oscar including huge wall facing the desert, great view of the mountains to the north.  Located in the Ranchitos.
Please call Nancy 226-2122, 044-622-131-8786, 605-216-6079 for your private showing.
Click photos to enlarge