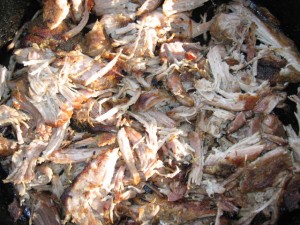 There is nothing like Mexican food from Southern California. Yep, I'd have to say it is better than you get here in Mexico. I'm really surprised that crispy carnitas is not served here. Crispy on the outside, succulent on the inside, and so flavorful that you just want to eat it by itself and savor it. But of course, it is also delicious in tacos. The problem is keeping the meat juicy while creating that crispiness on the outside. I cooked this in a crock pot and then created the crispy outer in an iron skillet on the stove. Ask for cana de lomo (loin), pierna (leg), espaldilla (shoulder), or recorte (trimmed pieces) de cerdo (pork) at the supermarket or at the Kowi store in Guaymas (the pierna and espaldilla will be bone-in so you will need to remove this after cooking).
3-4 lb pork roast
1 head of garlic, minced
1 TBSP cumin
1 TBSP salt
1 can Mexican Coca-Cola
2 oranges, juiced and keep the peels
2 TBSP oil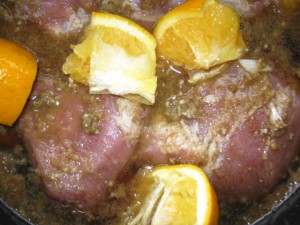 Cut the pork into 4 pieces. Mix together the garlic, cumin, and salt and rub into each piece of pork with your hands. Place the pork, 3/4 of the can of Coke, the orange juice and peels into a crock pot. Cook on low for 8 hours. Remove pork pieces from crock pot and pat dry with a paper towel (be gentle as the pork should almost be falling apart). Heat oil in an iron skillet until hot. Place pork pieces in skillet and fry on each side until brown and crispy. Add the rest of the can of Coke (use only Mexican Coke as this crystallizes better) and simmer until all liquid is absorbed. Remove bones (if any) and pull apart (shred) pork with two forks. Devour if you can wait long enough to get it on your plate.
by Shelly Johnson