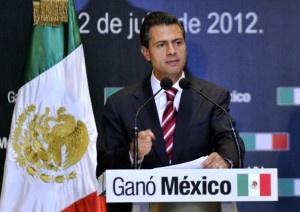 Although votes are still being tabulated and the opposition candidate (Andrés Manuel López Obrador) has not yet conceded defeat, reports have given Peña Nieto and the PRI the win in Mexico's presidential election. It looks unlikely, however, that they will have a majority in either house of Congress. Preliminary counts show that Peña Nieto received only 38 percent of the popular vote, just six percentage points more than his closest rival, PRD candidate Obrador.
Peña Nieto, the former governor of the state of Mexico, will be the first Mexican president from the Partido Revolucionario Institucional since the party lost the office to Vicente Fox in 2000. Prior to that, the PRI was in office for over 70 years. Peña Nieto has declared that he seeks to be a modern president, and he has promised that he will reject the cronyism and political corruption that has long tarnished the reputation of his party. He stated that he would make no deals or compromises with the drug cartels, and that it will be a primary goal of his presidency to end violence in Mexico and protect the lives of the country's citizens. Read Peña Nieto's post election speech.
The official outcome is expected to be released on Wednesday, July 5 and the new President will take office on December 1, 2012.