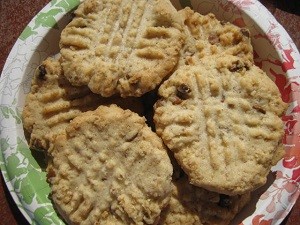 Yes, it is that time of year where even if you are not a baker, you may become one for a short time to enhance the holiday season. I love creating recipes with choices so each person can add the ingredient they like. The choices here range from chocolate, to dried fruit, to nuts, to…..? The Special K cereal adds a nice crispiness to these cookies.
1 cup butter, softened
1 cup canola oil
1 cup sugar
1 cup brown sugar, firmly packed
1 egg
1 tsp vanilla
2 1/2 cups Special K cereal
1 cup oats
1/2 cup shredded coconut
3 1/2 cups flour
1 tsp baking soda
You pick;
A) 1 cup chocolate chips (or other flavored chip)
B) 1 cup chopped nuts
C) 1 cup chopped dried fruit
D) 1 cup peanut butter
E) 1 cup chopped pretzels
F) 1 cup crushed potato chips
In a food processor, pulse the cereal, oats, and coconut until finely chopped and set aside. Beat the butter, oil, sugars, egg, and vanilla until smooth. Slowly mix in the cereal combination, flour, and baking soda. Stir in your multiple choice ingredient. Shape dough into 1-2″ balls. Press fork tines criss-cross across ball flattening it out (dip tines in water to prevent sticking). Bake in 350 degree oven for 16 minutes. Let firm on pan before removing to a cooling rack.
by Shelly Johnson