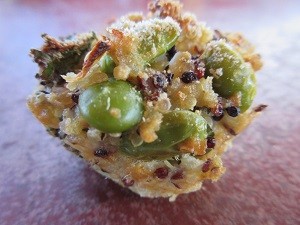 Somewhere on the list of all of our New Year Resolutions is the one to try to eat healthier. This bite size snack made with kale and quinoa fits the bill.
Plus, winter crops are starting to come up in our garden and this includes kale, Swiss chard, spinach, and beets. Any of these, including the beet greens, could be used in this recipe. So if you don't like kale, try it with spinach.
2 1/2 cups cooked quinoa, at room temperature
4 large eggs, beaten
1 small onion, finely chopped
1/2 cup crumbled feta
1 clove garlic, minced
1 cup very finely chopped kale (or spinach)
1/2 cup shelled edamame (or peas)
3/4 cup breadcrumbs
Butter mini-muffin tins generously, and line with a strip of parchment paper in each indent, as this makes popping the bites out of the pan after either baking or freezing simple (see photo).
Combine the quinoa, eggs, and salt in a medium bowl. Stir in the onion, feta, garlic, kale, and edamame. Stir in most of the breadcrumbs, and let sit for a few minutes so the breadcrumbs can absorb some of the moisture. Fill the prepared muffin tins with the quinoa mixture, pressing the mixture down, and then sprinkling with the remaining breadcrumbs. Bake for 25-30 minutes in a 375 degree oven until baked through and really browned on the outside.
Remove the quinoa bites from the pans after a few minutes. Enjoy either hot or at room temperature, maybe even with a creamy dip if you are not being too calorie conscience. Here's to keeping one of your New Year's resolutions!
by Shelly Johnson