Super Bowl Sunday, February 4, 2018 4:30pm: Where to Watch & Cheer for your Team
HammerHead's Super Bowl Party
HammerHeads will be hosting the 4th Annual Tailgate party on Sunday, February 4 starting at 4:30pm for the Super Bowl game.
Watch the game on one of our 8 large screen TVs.
We will be selling Bratwurst and Beef hot dogs with fresh buns and all the trimmings starting at 3:00pm. And we'll have other food and drink specials all day long, such as beer and nachos.
Froggy's Bar Super Bowl Party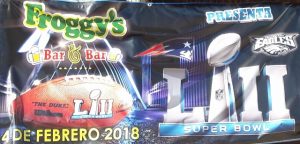 Froggys will be showing the Super Bowl on Sunday, February 4.
During the game, enjoy national and draft beer for 20 pesos, margaritas for 30 pesos and 2 x 1 pizza.
Mr Iguana Burger
Come and cheer on your favorite team at Mr. Iguana Burger, your Official NFL House for Super Bowl LII on Sunday, February 4 at 4:30pm.
Drink specials and free snacks will be served during the game.
With our 8 big screen TVs and our 2 Projection Screens, you'll feel like you're part of the action.
Delfines Bar & Grill
Watch the game at Delfines Bar and Grill on one of our big scr
een TVs.
We'll be serving 20 peso beers and 20 peso tacos.
Captains Club
Come to Captains Club for Super Bowl Sunday on February 4 and enjoy Happy Hour throughout the game, as well as complimentary snacks.
La Bartina 64
For Super Bowl Sunday on February 4, join us with a group of friends at La Bartina 64 and enjoy our special combo pricing.
Choices include:
* 1/2 kilo of chicken wings
* 1/2 kilo of boneless chicken
* 10 beers (same brand)
Watch the game on one of our 8 TVs either inside and outside, or on our Big Screen TV.
No cover. For your reservation, please call 622-226-0968.
Embarcadero Cocina + Bar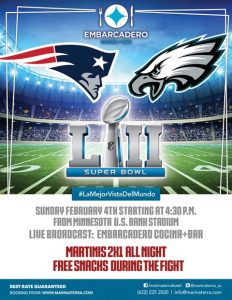 Bring your friends to Embarcadero for Super Bowl Sunday.
During the game, there will be 2 x 1 martinis and 2 x 1 national beer.
Shots
Shots is having a Super Bowl Party that you don't want to miss!
Free Hot Dog during the Super Bowl game and lots more surprises.
Drink specials include:
* Bucket of beer, 250 pesos
* Draft beer, 15 pesos
* Shots, 20 pesos
Click on the flyer for all your favorite Super Bowl meals, including chili bowls, pizza bowls, and shredded pork sliders.
Watch the big game on one of our many large TV screens and surround stereo sound.
Shots is located at the beautiful San Carlos Marina.
Tortuga's Restaurant & Bar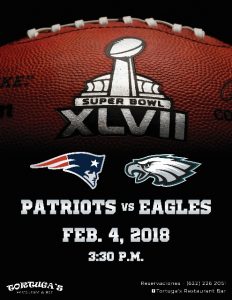 You can watch the Super Bowl on Sunday at Tortuga's Restaurant and have great pizza and 2 beers for 150 pesos.
Colibrí Restaurant & Bar
Having a Super Bowl Party at home. Make it a fiesta to remember! Order your wood-fired pizzas from Colibri. Order 5 pizzas and the 6th one is FREE.
Click here for the menu options or to build your own pizza.
To order, call 622-115-3466. For pick up only.
El Mar Restaurant Super Bowl Party
Reservations suggested. Call 622-125-4837 or make your reservations at the restaurant.