Where to Watch Super Bowl LVI (56) on Sunday, February 13, starting at 4:30pm. The NFC champions Los Angeles Rams will face the AFC champions Cincinnati Bengals. Cheer for your favorite team at one of these sports bars and restaurants around town: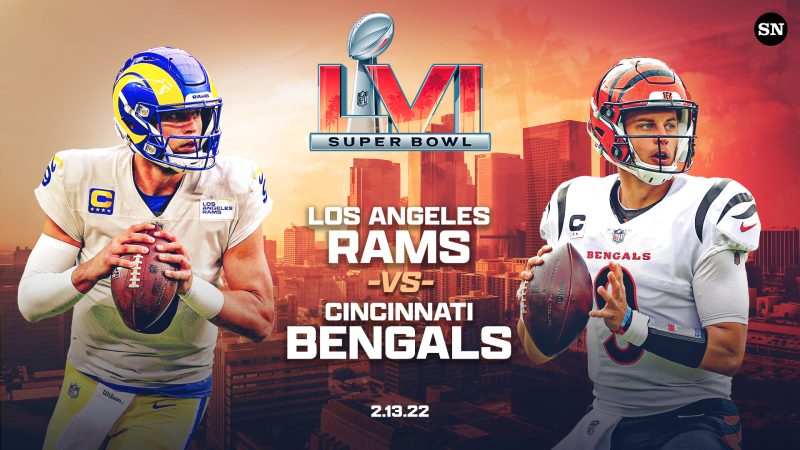 Colibrí's Take-out Specials
Colibrí Restaurant & Bar is celebrating Superbowl Sunday with the following take-out specials:
* Pizza with 1 toppping: 100 pesos
* 2 House Pizzas, 2 green salads, 2 orders of Empanadas: 550 pesos
* 2 Fettuccine meals, 1 Colibrí Salad, 1 order of garlic mushrooms: 450 pesos
Order your special by calling 622-115-3466.
For take-out orders only.
Tortuga's Restaurant & Bar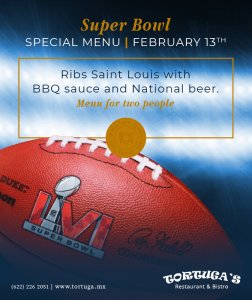 Live the excitement of the Super Bowl at Tortuga's R&B. Come this Sunday February 13 and enjoy the special menu, some beers and your favorite company.
Tortuga's Restaurant & Bar will be showing the game and serving the coldest beer in town.
La Bartina 64
For Super Bowl Sunday on February 13, join us with a group of friends at La Bartina 64 and watch the game on one of our 10 HD screens.
La Bartina 64 will have several Combo Platters for you to enjoy:
Combo #1: Serves 2 people, 650 pesos for combo.
Boneless buffalo, barbecue wings, veggies and dip and a bucket of beer (10 Tecate light)
Combo #2: Serves 4 people, 980 pesos for combo.
Pepperoni lovers pizza, Rocka deep fried shrimp, shrimp tacos (4 pieces), guacamole, bucket of beer (10 XX Ultra).
Combo #3: Serves 6 people, 1450 pesos per combo.
Shrimp ceviche, shrimp tacos (6 pieces), deep fried crispy fish chicharron, deep fried crispy shrimp chicharron, guacamole, 2 buckets of beer (10 beers per bucket of Amstel Ultra).
Premium Combo: Serves 6 people, 2850 pesos per combo.
Supreme tostitos, raw shrimp aguachile, grilled flank steak with sour chili sauce, pork jowl in a sour chili sauce, guacamole, including premium liquor bottle (Black Label, Maestro Tequilero, or Gray Goose).
This year, La Bartina 64 will special large screens, so head on over to watch all the action here. You can reserve your table in the restaurant or via WhatsApp at 622-164-6278.
HammerHead's Dockside Bar & Grille
HammerHead's Dockside Bar & Grille will be hosting their Annual Tailgate BBQ party on Sunday, February 13 with a feast of bratwursts and all-beef hot dogs, plus other food and drink specials.
Watch the game on one of our 8 large TV screens.
The party starts at 2:00pm and the game kicks off at 3:30pm. Come early to get a good seat.
No reservations.
Marvida Taproom & Kitchen
Watch the Bengals battle against the Rams on Superbowl Sunday, February 13 at Marvida Taproom & Kitchen.
For this Sunday, we'll be have an outdoor grill serving your favorite Ravi craft hotdogs, produced locally in Guaymas. Enjoy a hotdog with fries and a Marvida Beer for 150 pesos.
We'll have a large screen projector, so bring your friends and cheer on your favorite team at Marvida's.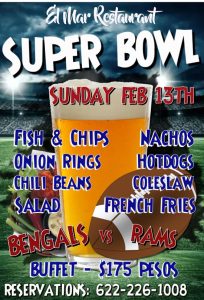 El Mar Restaurant will be serving a special Game Day Buffet with drink specials.

Feast on fish & chips, onion rings, chili beans, salad, nachos, hot dogs, coleslaw, and French fries.

The cost for the buffet is 175 pesos.

Reservations are suggested. Call 622-226-1008 or make your reservations at the restaurant.
Super Bowl Sunday
These local restaurants also have big screen TVs for you to watch the game:
Embarcadero Cocina + Bar
Hair of the Dog
Piccolo