Where to Watch Super Bowl LVIII (58) on Sunday, February 11, starting at 4:30pm.
From 2023 … 2024 info coming soon:
The NFC champions Philadelphia Eagles will face the AFC champions Kansas City Chiefs. Cheer for your favorite team at one of these sports bars and restaurants around town: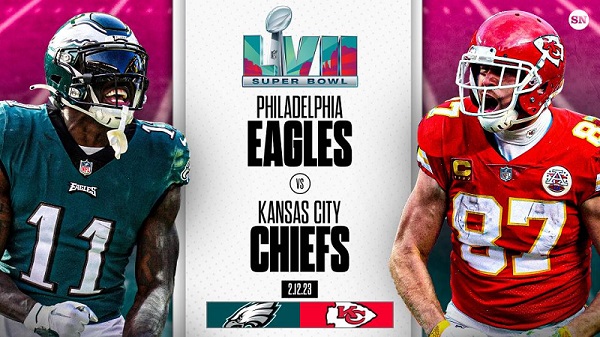 Colibrí's Take-out Specials
Colibrí Restaurant & Bar is celebrating Superbowl Sunday with the following take-out specials:
* Pizza with 1 toppping: 100 pesos
* 2 House Pizzas, 2 green salads, 2 orders of Empanadas: 550 pesos
* 2 Fettuccine meals, 1 Colibrí Salad, 1 order of garlic mushrooms: 450 pesos
Order your special by calling 622-115-3466.
For take-out orders only.
HammerHead's Dockside Bar & Grille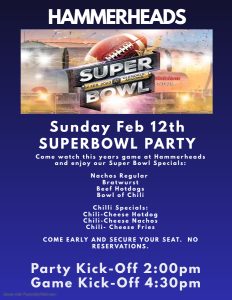 HammerHead's Dockside Bar & Grille will be hosting their Annual Tailgate BBQ party on Sunday, February 12 with a feast of bratwursts and all-beef hot dogs, plus other food and drink specials.
Watch the game on one of our 8 large TV screens.
The party starts at 2:00pm and the game kicks off at 4:30pm. Come early to get a good seat.
No reservations.
El Mar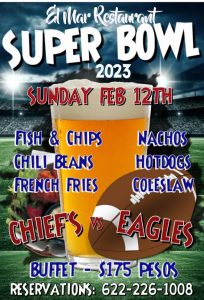 El Mar Restaurant will be serving a special Game Day Buffet with drink specials.
Feast on fish & chips, chili beans, nachos, hot dogs, coleslaw, and french fries.
The cost for the buffet is 175 pesos.
Reservations are suggested. Call 622-226-1008 or make your reservations at the restaurant.
Embarcadero Cocina + Bar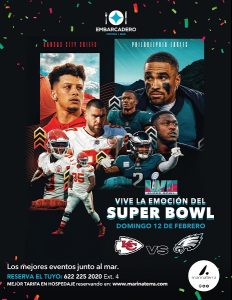 Embarcadero Cocina + Bar will be showing the game in the bar area.
The regular menu will be available and they will have a 2 for 1 promotion on draft beer and martinis.
Maukaa Restaurant & Beach Club
Maukaa Restaurant & Beach Club will be showing the Super Bowl on their stadium-sized screen.
Not into Rihanna who is performing at halftime? Then look for the dolphins who may just entertain you instead at one of the only beachfront restaurants in town.
The regular menu will be available.
Marvida Taproom & Kitchen
Watch the Eagles battle against the Chiefs on Superbowl Sunday, February 12 at Marvida Taproom & Kitchen.
For this Sunday, we'll have a Tailgate Promo:
* Cheeseburger or Hot Dog plus 1 Craft beer, 200 pesos
And the Halftime Promo:
* 2 for 1 Commercial beers
Bring your friends and cheer on your favorite team at Marvida's.
Xunuta San Carlos
Watch the Super Bowl on one of the biggest screens in town!
Xunuta San Carlos will be showing you all the Super Bowl action and will be introducing a New Menu with menu items for for 35 pesos.
Come and check it out on Super Bowl Sunday!
Tortuga's Restaurant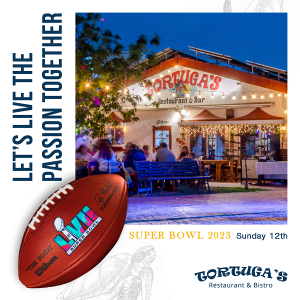 Super Bowl LVII is almost here!
Come and enjoy a night full of excitement and fun as we gather to watch the most anticipated game of the year.
At Tortuga's R&B, we promise you an unforgettable experience that will include laughter, good food and of course, lots of excitement during the game.
Super Bowl Sunday
These local restaurants also have big screen TVs for you to watch the game: