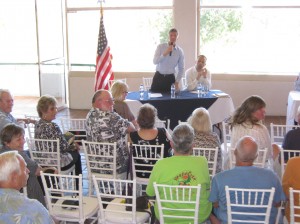 65 people attended a meeting held by the US Consulate's office last week at the Country Club. John Tavenner, the Consulate General, and members of his staff, and members of INM, were present and spoke for a little over 2 hours.
The US Consulate office in Hermosillo covers the areas south of Santa Ana through the State of Sonora and all of the State of Sinaloa. In case of an emergency or disaster, it is the office of American Services that would stay open to assist American citizens in Mexico.
20 million US citizens visited Mexico last year. The only travel warning at this time is to remain on well-traveled highways (Highway 15) and to avoid traveling at night. Mr. Tavenner noted that the cartel members target cartel members and not US officials or residents/tourists in Mexico. Mr. Tavenner said that his office is not seeing narco traffic here but they are seeing it south of Obregon. Mr. Tavenner also noted that Mazatlan has been 'cleaned' up significantly from 2 years ago.
Three members from the immigration office (INM) were present along with INM Director, Adolfo Claussen Iberri.
Types of 'visas' available for foreigners in Mexico
It was noted that there are these types of 'visas' available for foreigners in Mexico:
Visitor Not Working = valid for 180 days, is a single entry into Mexico only permit (meaning if you leave Mexico within the 180 days, you must return the visa to the immigration office at KM 21 and re-apply for a new one when you return, even if you are only leaving Mexico for a shopping trip); you can apply for more than one of these visas in a one-year period.
Visitor Working = you must have a job offer from a company in Mexico to get this type of visa.
Temporary = if you are staying in Mexico for more than 180 days in a one year period.
Temporary Student = a student attending school in Mexico
Permanent = living here full time. You can apply for this visa after you have lived here permanently for four years and can prove this, if you have a Mexican family, or if you are a US pension holder and can prove you receive enough monthly income to live. If you hold a Temporary visa and are applying for a Permanent visa, you can do this at the INM office in Guaymas. If you are applying for a Permanent visa without already holding a Temporary visa, you must apply for this at a Mexican Consulate office in the USA.
Mr. Iberri stated that if you have guests coming to visit and they are taking the bus down and the bus does not stop at KM 21 for a visitor visa, you are not to worry about this, that your guests are here legally and they will not be hassled about not having a visa. Mr. Iberri then gave out his cell phone number (listed below) to call in case the person on a bus is hassled about not having a visa.
Vehicle Importation
Claudio Cuen Aranda, External Commercial Executive, was present to speak about vehicle importation. Only vehicles between 8-10 years old can be imported into Mexico. There is a 'Sonora Only' vehicle permit that you pay for and return to KM 21 that allows you to drive within the State of Sonora. The 'Customs' vehicle permit allows you to travel through all of Mexico. You pay for this at KM 98, south of Empalme but it must be returned to KM 21 when you leave Mexico. Many people in the audience noted that KM 98 is not issuing Custom permits to those persons who hold Permanent visas. Mr. Aranda stated that this was incorrect and he would be speaking with this office to resolve this. Mr. Aranda stated that the Mexican law clearly states that if you can show a birth certificate from the US and a vehicle with current registration and in your name, that you should be issued a Custom permit. If you are traveling into Mexico with two or more vehicles, boats, ATVs, etc. you need to obtain vehicle permits for these vehicles.
If you hold a Permanent visa you are permitted to drive a current US plated vehicle. The vehicle you are permitted to drive is based on your nationality per the Mexican law so you need to have a valid US drivers license and a copy of your passport in your car with you.
Mr. Aranda noted that the boats recently cited in the marinas here in San Carlos and other ports were due to the boats not having importation papers (TIP) of importing the boat for a 10 year period or a 'Sonora Only' permit. If you are issued a TIP on a boat, you no longer need to keep the US registration current.
Merchandise Exclusion
New laws have increased the merchandise exclusion from $75 per person to $300 per person (and $500 per person at Christmas and if you are on vacation). The items you need to declare are household items, boat parts, vehicle parts, etc. (you do not need to declare personal use items; computers, food, clothing, etc.). If you need to have a vehicle or boat part fixed in the US, you need to stop at KM 21 to declare the part with a serial number with customs and then when you return with the repaired part, the serial number will be cross-checked and you will not need to pay duty on this part.
Death occurring in Mexico
In case of a death occurring in Mexico, you need to take to the US Consulate office a document from the funeral home who handled the remains of the deceased person and the Consulate office will then issue you two separate documents for your use in either transporting the remains to the US or for dealing with financial obligations.
Important cell phone numbers
Important cell phone numbers to keep handy:
Adolfo Claussen Iberri; 662-224-0836 (issues with visas at KM 21)
Mireya Lopez; 662-200-9088 (Hermosillo INM contact)
Alan Valdez; 622-138-0497 (Guaymas INM contact)
Disclaimer
The information provided above is for informational purposes only and not for the purpose of providing legal advice. You should contact your own legal counsel to obtain advice with respect to any personal issue or problem.
by Shelly Johnson