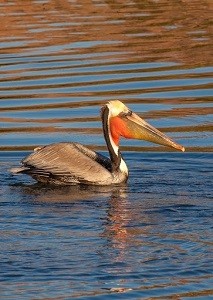 This week's Bird of the Week is the Pacific Brown Pelican. Yes, this is a common bird around here but it is one worth knowing more about because it is actually very special. Fred Gaunt's photo taken this last week is of a Brown Pelican in breeding plumage. Males and Females both have the same plumage. According to Sibley´s Birds of North America, the Brown Pelican is one of only two pelicans that dive for fish. The other pelican around here (also spectacular) is the White Pelican and it does not dive. The Brown can dive from up to 60 feet above the water and often completely submerges. They will dive bomb in groups after fish and somehow manage to not hit each other.
Although they look rather gangly as they sit around on land, the Brown Pelican is a very graceful flyer. You will often see them flying in a line only inches above the water. They remind me of a navy fighter squadron. They are also a very social bird – with each other and other birds too. You never seem to see them fighting over territory or being just grumpy. Herrman´s Gulls will often pick a Brown Pelican to hang with hoping to steal the food he catches.  I have yet to see them actually get any but they must because they keep doing it and the Brown doesn´t seem to mind.   He just ignores them. Being in breeding colors means, of course, that they are breeding.  They breed in colonies on the little islands in the Sea.  According to Birdpedia, ´They are highly sensitive to disturbances by humans and may abandon their nest if stressed.¨  So please obey the Mexican regulation that prohibits accessing any Sea of Cortez islands without a special permit.
This last week we had 26 birders and went to the settlement ponds as well as the pond (regular pond not settlement) near Soggy Peso. 62 species were spotted. We (but not me) will meet as usual at the Esterito Cafe on Thursday at 8:00am.  Al and I will not be there for the next two Thursdays as we are in the Veracruz area visiting our former bird leader, Dave Verner, and birding the southern areas of Mexico. David Jasper will be leading the group both Thursdays. Those of you already coming to the birding outings are aware that he is an excellent birder and he has graciously agreed to take charge and share his extensive knowledge with you.
Happy birding!
By Mary Tannehill