Your online resource for Guaymas and San Carlos Mexico Weather, including daily temperatures, monthly averages, Sea of Cortez marine weather, tide and current predictors, satellite images, solunar table, sunrise, sunset and storm warnings.
(click here to see in Fahrenheit)
Pacific Tropical Weather Outlook from National Hurricane Center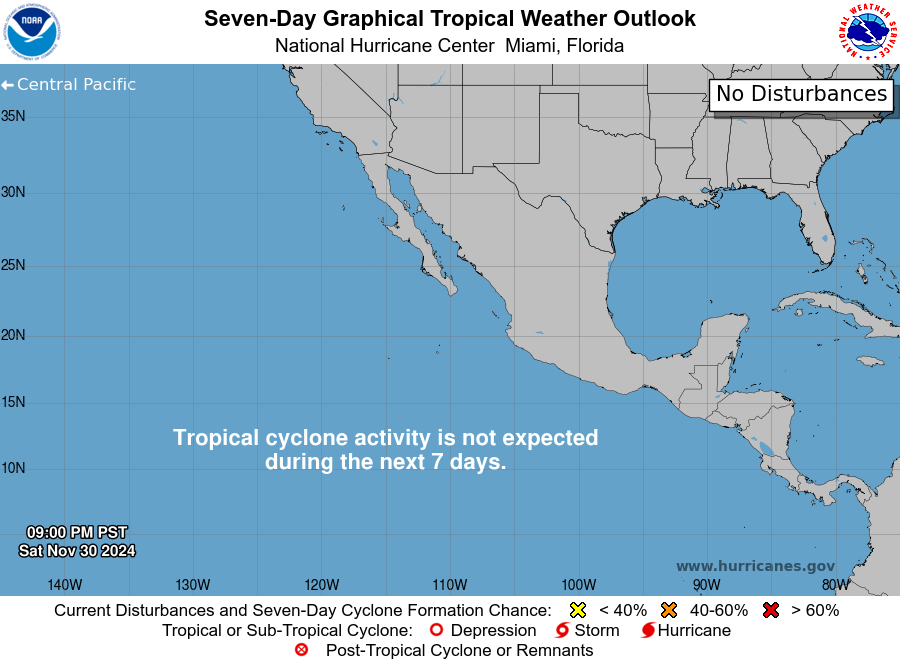 Wind, Wave & Water Forecasts for Guaymas and San Carlos: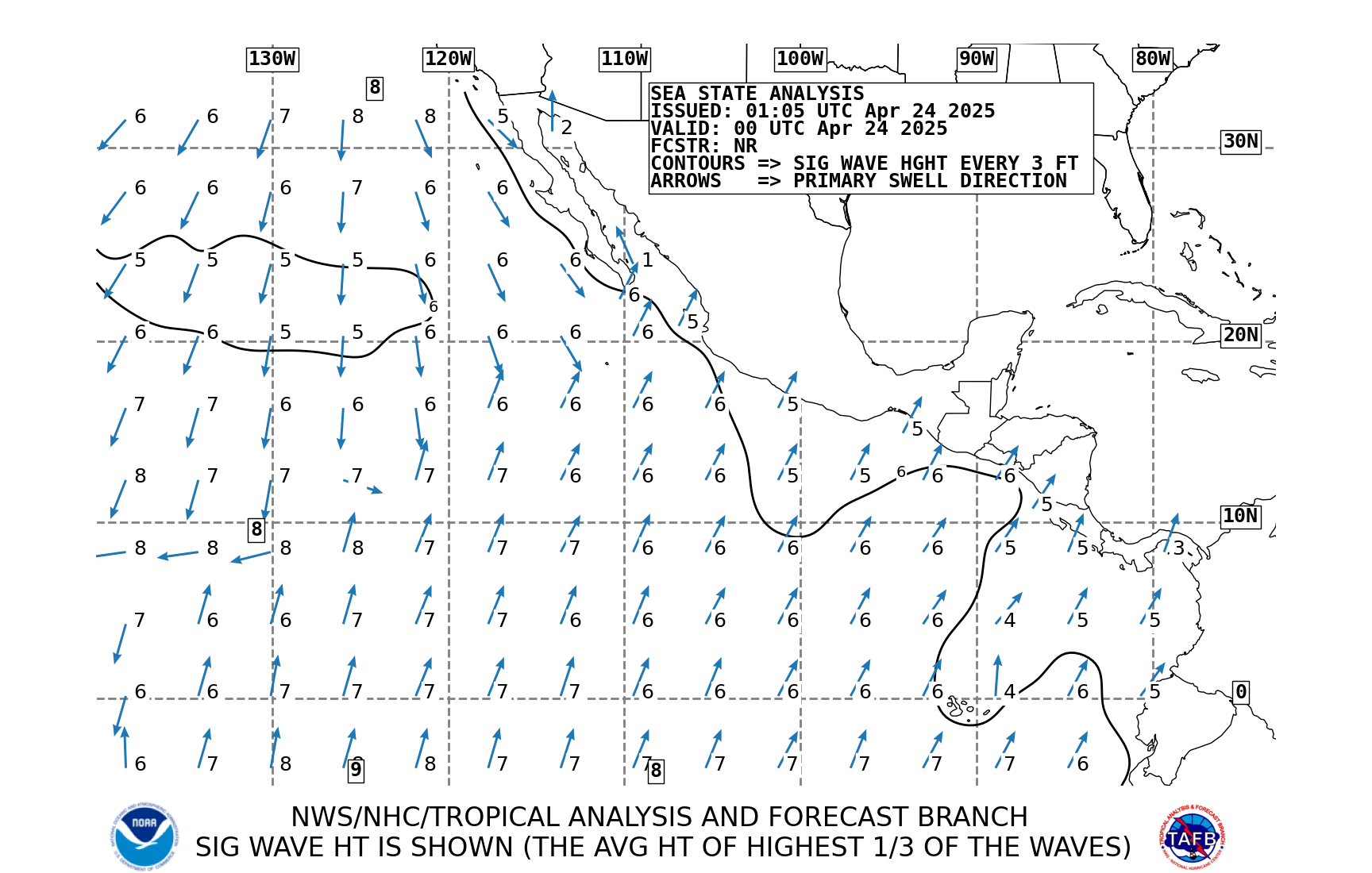 Current Guaymas and San Carlos Mexico Weather:
Webcams showing San Carlos & Guaymas
Refresh your browser for updated photos from the webcams
San Carlos webcam from MarinaTerra Hotel looking over the marina, towards Tetakawi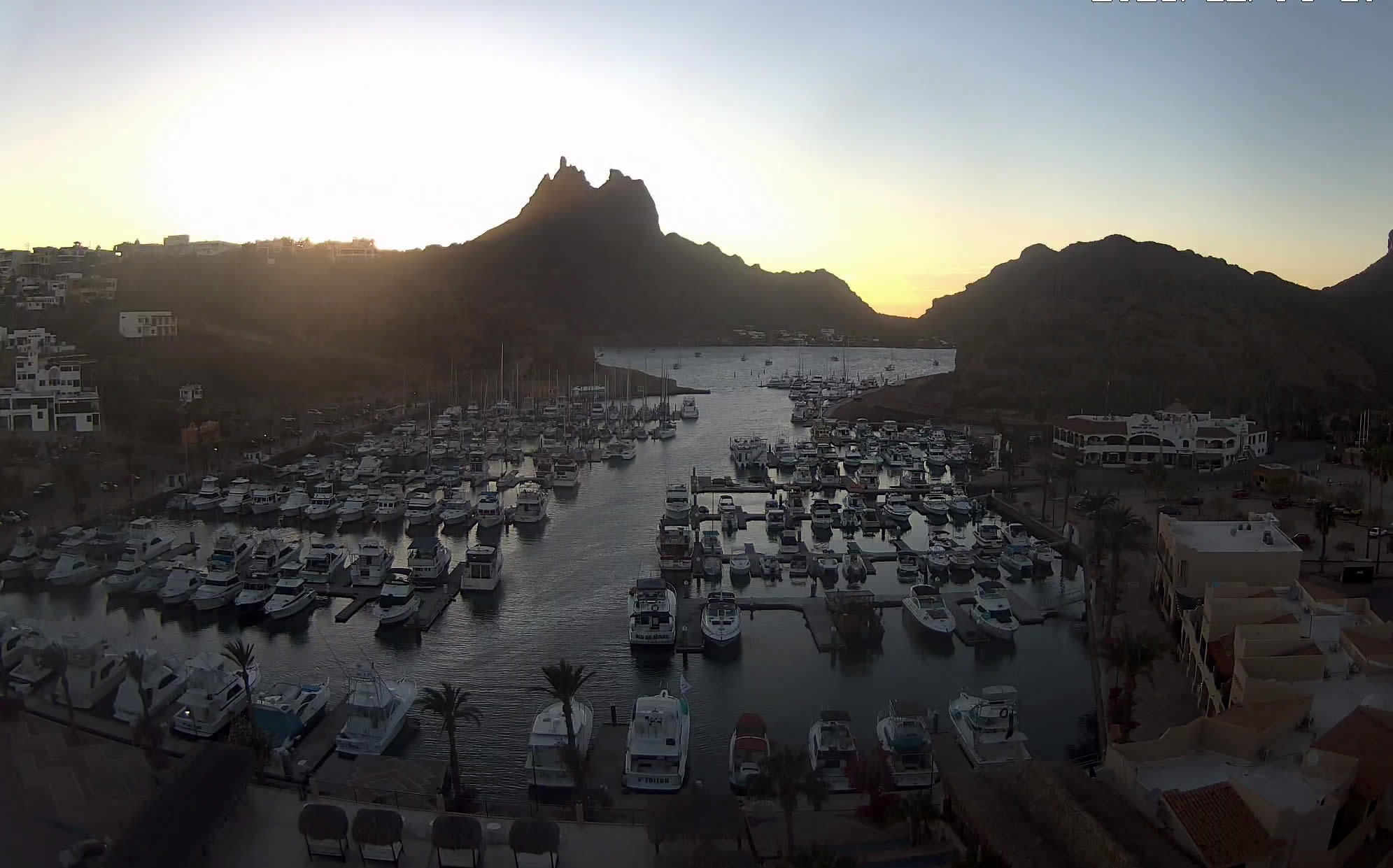 Book Your San Carlos or Guaymas Vacation Rental (with Booking.com)
Monthly seasonal average weather for San Carlos:
| | | | | | | | | | | | | |
| --- | --- | --- | --- | --- | --- | --- | --- | --- | --- | --- | --- | --- |
| | January | February | March | April | May | June | July | August | September | October | November | December |
| High ( C ) | 23 | 23 | 26 | 28 | 32 | 34 | 35 | 35 | 34 | 32 | 27 | 23 |
| Low ( C ) | 9 | 11 | 13 | 16 | 20 | 24 | 28 | 28 | 26 | 19 | 14 | 9 |
Distinctive Winter temperature "zones" in San Carlos Mexico:
by PJ Schramel, your Weather Wonk
Ever wonder why the temperature predictions seem to be a bit off for the area you live in in San Carlos? That's because we have distinctive temperature "zones" in San Carlos during the winter that aren't "one size fits all." Summer would have different zones altogether, as the blanket of warm, humid area is very pervasive in all areas.
I thought it might be a good idea to identify these zones, numerically. These aren't official zones from the Mexican government or the U.S. Department of Agriculture; just zones I have created for understanding the temperatures in your zone.
Zone 1-coastal strip SE of Tetakawis-this is the area from the east side of El Caracol, south to Delfin/Pilar condos and from the sea to about 1/2 kilometer inland. The most temperate zone in San Carlos, i.e. the zone with the most narrow temperature range from day to night. Strong ocean influence on temps in this area as it is often less affected by our normal WNW winter winds.
Zone 2-inland strip from La Manga south to Hwy 15 but 1/2 to 3 kilometers, inland. Includes most communities NE of Tetakawi Blvd (Ranchitos, Country Club). Generally characterized by warmer days and cooler nights and the widest temperature range in San Carlos.
Zone 3-coastal strip north of Tetakawis. This includes virtually all the communities north of Tetakawi Blvd. Generally characterized by a narrow temperature range but strong winds that can increase the range significantly.
Zone 4-La Bahia, between Marina San Carlos and the Tetakawis. Relatively narrow range of temps but also sometimes affected by winds from north of Tekakawi and cool air from the canyon that feeds into the estero.
Zone 5-El Caracol West. Probably the second narrowest range of temps but subject to winds through the "notch" where Tetakawi Blvd passes Tetakawi.
Other online weather sources for San Carlos and Guaymas Mexico: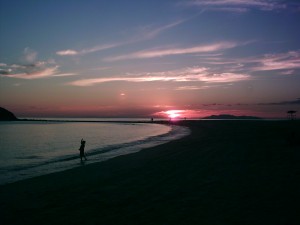 Excellent fishing predictor tool with tide, solar, lunar, water temp, waves information.
Tide and Current Predictor: great tool for predicting the tide and current in San Carlos and Guaymas Mexico. Before kayaking in the estuary, make sure that the tide is high by using a tool like this one.
Weather and Tide Forecast: Guaymas and San Carlos, Sonora, Mexico Weather and Swell Predictions (detailed) and Tide Forecast. 2 day detailed weather forecast in 3 hourly intervals. And, sea conditions.
Another good source for local tide tables.
San Carlos Mx Weather: Wunderground 5 day forecast, extended forecast, trip planner and satellite image of weather in Guaymas and San Carlos Mexico.
Solunar Table and Calendar: Forecast the daily active feeding periods of fish, and catch More and Bigger fish. Free online table.
The National Weather Service CONAGUA Tropical Cyclone warnings for the Pacific Ocean.
Hurricane preparation checklist from AccuWeather.
Sailflow for wind information.
Personal Weather Stations in San Carlos on Wunderground
Loma Bella
Playa Algodones: Kite San Carlos
Caracol Turistico
Caracol
Cotton Cove
NE Ranchitos
Creston
Guaymas airport
Mexico Weather Apps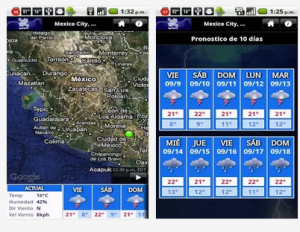 Check out this weather app from the Mexican National Weather Service, called MeteoInfo. It has interactive maps, 10 day forecasts and satellite images.
Download it from Google Play or iTunes.