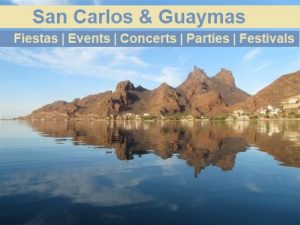 Events in San Carlos Sonora 2023: monthly calendars of events, festivals and fiestas in San Carlos and Guaymas, Sonora, Mexico. Find out what's going on.
For more event and entertainment information, including a list of who's playing where, and a daily calendar of what's going on this week, subscribe to the free weekly entertainment newsletter.
On event day, keep an eye on the local weather.
Events San Carlos, Sonora, Mexico 2023
Check the free weekly entertainment newsletter for more information on these events:
---
Book Your San Carlos or Guaymas Vacation Rental (with Booking.com)
---
September 2023
September 1. Mexican President Andrés Manuel López Obrador will deliver his State of the Union (Informe de Gobierno).
September 4. Labor Day (USA & Canada).
September 13. Los Niños Héroes, Hero of the Mexican-American War 1847. Battle of Chapultepec.
September 15. Mexican Buffet at Embarcadero to celebrate Día de la Independencia. From 2pm – 9pm.
September 15. Mexican dinner at La Calaca to celebrate Día de la Independencia.
Septeber 15 & 16. Entertainment in Guaymas for Día de la Independencia / Mexican Independence Day. Mayor's State of the City address.
September 16. Día de la Independencia

Lighted Boat Parade in San Carlos. Leaving Marina San Carlos at 6:00pm and traveling along San Francisco Beach.
Mexican Breakfast Buffet at Embarcadero.

September 17. Special Entertainment – Juan Cirerol, Brandon Ramirez, Chino Marcial. 6:00pm. La Zurda Beer Co.

September 23. BBQ Festival

September 24. Art Walk San Carlos. 5:00pm – 9:00pm, Plaza Las Palmas.
---
October 2023
October 1. Wakeboard Competition. Sector Bahia.

On Monday, October 2, Rosh Hashanah will begin at sunset and end at sunset on Wednesday, October 4. Happy New Year (shana tova)!

October 6 – 8. Hammer Down Fishing Tournament

October 9. Thanksgiving (Canada).

October 11 – 12. Yom Kippur will begin in the evening of Wednesday, October 11 and ends in the evening of Thursday, October 12.

October 12. Día de la Raza in Mexico (Day of the Races / Columbus Day). It is not an official holiday.

October 14. 6 horas Baviso, MTB. 6pm – 10pm, Pista El Baviso.  Register online here.
October 14. The Mexican Pacific Baseball League gets under way in October. The LMP 2023-24 regular season starts with Naranjeros de Hermosillo in Obregon at 7:00pm on Saturday, October 14.

October 21 & 22. Hot air balloon festival in Hermosillo.

October 27 – 29. Tucson Sailing Club's Annual Fall Regatta.
October 31. Happy Halloween. Halloween Parties (2023 info coming soon).
---
November 2023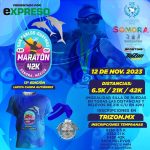 ---
Last Season Events in San Carlos ….. (stay tuned for more 2023 / 24 events)
---
November 2022
November 1-2. All Saints Day & Day of the Dead (Día de los Muertos) is an important Mexican holiday.
November 2. Colibri 6 year Anniversary Celebration. Live entertainment from 5:00pm – 7:00pm. Valeria Quijada, classically trained soprano opera singer, will be accompanied by pianist Roberto Galvan.
November 10. Rescate Welcome Back Margarita Party. 5:00pm, Marinterra Beach Club.
November 12 and every Saturday thereafter. Rescate Marketplace. 9:00am – 1:00pm, Rescate Clinic parking lot. All vendors are welcome (artisans, cooks, crafters). For more information and to reserve your space, call 622-126-2112 or 303-246-0275.
November 16. Fall Ball. 6:00pm – 9:00pm, Colibri.

El 

Buen Fin

 begins on Friday, November 18 and ends on Monday, November 21.

November 18. El Cascanueces (The Nutcracker) ballet with the Bulgarian National Ballet. 7:30pm, Guaymas auditorium. Tickets at the box office or online here.
November 19. CRRIFS Tianguis / Yard Sale. 8:00am – 2:00pm, Wildlife Center in Ranchitos.
November 19. Pickleball Welcome Back Party. 5:30pm, San Carlos Yacht Club.
November 20.

Maraton San Carlos, run 42 km, 21 km or 6.5 km. Register here.

November 21. Día de la Revolución (Revolution Day) observed third Monday in November, originally November 20. This official Mexican holiday commemorates the Mexican Revolution of 1910.

November 21 – December 17. Mexico, Canada and the US all qualified for 2022 World Cup in Qatar. Watch the games in sports bars around town.

November 24. USA Thanksgiving. Click here for a list of restaurants hosting special dinners.
November 26. Expo Sahuaro & Mezquite. Artists' alley and live music from noon – 7:00pm at Kiosko de San Carlos (by Bonifacio's).
---
December 2022
December 2. Christmas Parade down Serdan in Guaymas (from Calle 10 to 3 Presidents Plaza), starting at 4:00pm.

December 3.

Rescate Christmas Boutique

. 9am – 3pm, Catholic Church Plaza.

December 3. Sonora Riders Spaghetti Dinner Fundraiser. 5pm – 8pm, San Carlos County Club.

December 10. SBPA Bake 'n Book Sale fundraiser.  9:00am-2:00pm, Altered Tails Book Shoppe.

December 12. Día de Guadalupe (Day of Our Lady of Guadalupe).
December 12. Christmas Tree Lighting Fundraiser. 5:00pm – 8:00pm, Plaza las Palmas.
December 15. La Calaca Pickleball Christmas Party. 5:00pm.
December 16-24. Las Posadas – nine days of traditional festivities.
December 16. La Manga Posada – a Christmas Party for the kids of La Manga. 2:00pm – 5:00pm, at the Elementary School in La Manga.
December 16. Christmas Black Party at Xunuta.
Hanukkah begins in the evening Sunday, December 18 and ends in the evening of Monday, December 26.
December 18. Martial Arts Show. 4:00pm, Guaymas Auditorium.
December 22.  Calaca Posada Fundraiser. 5:00pm, La Calaca.
December 23. Lighted Boat Parade.

Watch the Parade of Lights from waterfront restaurants like La Palapa Griega and El Mar Restaurant or the beaches. The boat parade will start at dusk (approx. 5:30pm) from the San Carlos Marina. The lighted boats will be going along the shoreline past the beachfront restaurants down to San Francisco beach and then turn around and come back to the marina.

December 23. Christmas Carols with Sam Rainwater for Castaway Kids. 3:30pm – 5:50pm, Marvida.
December 24. Noche Buena (Christmas Eve). Christmas Eve dinners around town (Embarcadero, Sunset Bar & Grill, Bonifacio's, HammerHead's, Casa Manolo, Colibri, Altamarea, La Catrina, Tortuga).
December 25. Navidad (Christmas Day). Special dinner at Sunset bar & Grill.
December 28. Día de los Santos Inocentes (The Holy Innocents) is a National Holiday similar to April Fools's Day, celebrated with lots of practical jokes.

December 30. Sam Rainwater special Happy Hour New Years Eve-Eve. 2:00pm – 5:00pm, HammerHead's Dockside Bar & Grille.

December 31. Fin de Año/New Years Eve. List of special dinners and parties.
---
January 2023
January 1. Año Nuevo / New Years Day is an official Mexican holiday.
January 1. San Carlos Riders Pajama Parade. Meet at Tortuga's restaurant at 9:00am. Parade will leave about 11:00am and travel along the main boulevard, ending at KCs sport bar.
January 1. Hangover Golf Tournament.
January 1. Spiked Coffee at Sunset Bar & Grill. From 11:00am to 1:00pm, your first spiked coffee is on the house. Son Desierto will play live music from noon – 3:00pm, then Utopia from 5:00pm to 8:00pm.
January 6. Día de los Reyes Magos.
January 12. Mark Mulligan Concert. 6:00pm, San Carlos Community Church. All donations will be split between Mark's charities and the church's mission fund aiding needs in the local area. All are welcome, regardless of faith or denomination.
January 14 & 15. Liga de Arte Art Show. Tecalai. 9 – 3 on Saturday and 10 – 2 on Sunday.
January 15. Rotary's Cow Plop Bingo. Telesecundaria (Jr High School) in the Ranchitos.
January 18. SBPA Luncheon. 11am – 2pm, La Turquesa Patio behind Turquesa Restaurant.

January 20 – 28.

FAOT Music Festival

in Alamos.

January 21. Club Deportivo Steak Dinner. The bar opens at 4:30pm and dinner is served at 5:30pm.
January 25. Club Deportivo Annual Ceramics Show & Pancake Breakfast.
January 27. Book Talk Benefit for Castaway Kids. 10:00am, Tecalai Library.
---
February 2023
February 2. Día de la Candelaria Tamale Fest. La Calaca.
February 3. Art & Walk. 2:00pm – midnight, patio in front of Bonifacios.
February 4. San Carlos Community Church Bazaar. 9:00am – 1:00pm. All items hand made from cakes to quilts. All proceeds to the SCCC Benevolence Fund.
February 6. Día de la Constitucion (Constitution Day) is February 5, but is observed the first Monday in February. It is a public holiday.
February 6. Club Deportivo's Annual Meeting  at 10:00am. Lunch will be served to Life Members.
February 11. Rescate's Grand Bazaar. 9am to 3pm in the Town Square by the Catholic Church.
February 11. Wine Tasting and Tour of Homes. 1:00pm – 4:00pm, Paradise Real Estate.
February 11. San Carlos Drag Race. 120 pesos cover. 5:00pm. Colibrí Restaurant & Bar.
February 12. Third annual Walk/Run to End Domestic Violence for Seguro Y Sano, Seguro Y Protegida. All proceeds will be going towards establishing a shelter and resources to help women and children move forward.
February 12. Super Bowl LVII (57) showing in sports bars and restaurants around town. See list of locations and food & drink specials (2023 coming soon).
February 13. Rotary's Fiesta de Mardi Gras. 3:00pm, Club Duo. Music, drinks, food, auction, dancing and entertainment. Tickets are now available in front of CiBanco and Santa Rosa Market.
February 14. Restaurants in town will have special Valentine's Day events, including Blackie's, Bonifacio's, Colibrí and Tortuga's, La Catrina, Sunset and La Calaca. 
February 16 to 21. Carnaval.

February 18 – 19. Exatec Golf Tournament in Obregon. For more information and to register,

visit their

Facebook page

February 18. Poolside Por Sonora. Starts at noon, Maukaa Restaurant & Beach Club. Get your tickets at xticket.mx.
February 18. Club Deportivo Pork Dinner. Doors open at 4:30pm and dinner is served around 5:30pm.
February 23 – 25. San Carlos Beach & Desert Rally. 3 days of entertainment for all ages.
February 24. Día de la Bandera Mexicana.
February 24 – 26. Grandes Ligas de Pickleball Tournament, at the San Carlos Pickleball Club. Each player is guaranteed 4 matches (8 games) plus the Round Robin on Friday. Cost: $1000 MXN Register here.
February 25. Black Tie Optional Gala Silent Art Auction. 5:30pm – 8:00pm, Playa Blanca Salon. Tickets available at Vive Real Estate and Castaway Kids.

February 27 – March 1. Huichol artists. 10:00am – 4:00pm, Tecalai.
Super Bowl (Super Bowl)
Valentine's Day (Valentine's Day)
---
March 2023
March 5. Color Fun Run. 9am, Club Duo.
March 8. Festival Violeta. 5pm march from Casa de la Cultura to Kiosko 13 Julio in Guaymas followed by music, dance, speeches, and more.
March 9. Pancake Breakfast Fundraiser & Ceramics Show. 8am – noon, Club Deportivo.
March 11. Liga de Arte Art Show. 9am to 3pm, Tecalai Club House.
March 11. Holistic Health Fair. 10am to 6pm, Club Deportivo.
March 11. Vino Fest. ClubDuo by Marinaterra.

March 11. Ostioneros de Guaymas basketball home opener versus Hermosillo at Gimnasio Municipal Guaymas at 8:30pm.

Find the full CIBACOPA schedule here and follow the team on Facebook.
March 17. St Patrick's Day Green Beer & Dinners around town (i.e., La Palapa Griega & Club Deportivo).
March 18. Rotary's Carne Asada. 11:30, Ranchito's Primary School.
March 20 (3rd Monday in March) — day off to commemorate Benito Juarez birthday on March 21, 1806. Schools and many businesses are closed.
March 21. Vino & Van Gogh. 3:00pm – 5:00pm at The San Carlos Athletic Club.
March 24 – 26. Grand Opening Tournament. Click here for more info.
March 26. CRRIFS & SBPA New Facility Grand Opening from noon to 4:00. Omar on Piano, and Ready Set Dance kids performance. Sonarán hot dogs and corn on the cob. FREE admission.
March 31. Dia del Taco. La Calaca. Click here to see the menu.
---
April 2023
April 1. SBPA Tianguis.
April 2 – 9. Semana Santa (Easter week from Palm Sunday through Easter Sunday).
Passover begins in the evening of Wednesday, April 5 and ends in the evening of Thursday, April 13
April 7. Good Friday.
April 9. Easter Sunday.
April 15. Art Sale Fundraiser. 3:00pm – 6:00pm, 72 Loma Bonita in Villa Hermosa.
April 20 – May 21. Palenque and ExpoGan Sonora.
April 23. Guaymas Triathlon.
April 30. Día Del Niño.
April 30. Medio Maraton Guaymas. 21k. Inscribete.
---
May 2023
May 1. Dia del Trabajo (Labor Day)
May 3. Día de la Santa Cruz. Construction workers decorate and mount crosses on unfinished buildings.
May 5. Cinco de Mayo is not observed as a national holiday in Mexico, but all public schools are closed.
May 10 & 14. Mother's Day events in San Carlos (this year, Mother's Day in Mexico is Monday, May 10 and in USA and Canada is Sunday, May 14).
May 13. San Carlos Yellowtail Spearfishing Tournament.
May 15. Teacher's Day in Mexico.

May 25 – 28.

Fiestas del Pitic

. Hermosillo.

May 26 – 28. Ladies International Fishing Tournament.
May 26 – 28.  Tucson Sailing Club Spring Regatta.
May 27 – 29. Memorial Weekend. Monday, May 29 is Memorial Day in the US.
May 28. Navy 10k or 5k Race. 7am.
---
June 2023
June 1. Dia de la Marina (Mexican Navy Day). Official Mexican holiday. Celebration in Guaymas.
June 2 – 4. Yacht Club / Rescate Fishing Tournament.
June 10. San Carlos Summer Sounds Fest with Matute. Club Duo.
June 11 starting at 6:15am, run, swim and bike in the Triathlon San Carlos.
June 16 & 17. Marinaterra Dorado Derby.
June 17. 2 special bands at La Zurda (La Cashora Band and Humano Delta), starting at 8pm.
June 18. Father's Day in Mexico, Canada & USA. Special meals around town, including Sunset Bar & Grill and Colibri.
June 18. Art Walk. 4:00pm – 9:00pm, and there'll be live entertainment starting at 5:00pm. Colibri, Plaza las Palmas
June 21. Summer Solstice.
June 24. Drag Race, Pride Edition. 6:00pm, Colibrí Restaurant & Bar.
June 24. Pride March in Guaymas. 5:00pm.
---
July 2023
July 1. Grand Opening of the new Byte Drone Center in San Carlos. It is open to the whole community. The address for our Grand Opening is 292 Manglares, which is a large storage place. Click here for a map. The event starts at 5:30pm.
July 1. Beerfest. Club Duo Marinaterra. 1pm – midnight.
July 3. Dinner & Fundraiser for CCRIFS. 6:00pm – 10:00pm, Colibrí Restaurant & Bar.
July 4 – 27. The San Carlos Pickleball Club will be hosting a Summer Pickleball Camp for kids age 6 to 12. The camp starts on Tuesday, July 4 and goes from 5:00pm to 7:00pm on Tuesdays and Thursdays for 1 month. Click here to register.
July 4. La Calaca Tacos y Cerveza USA Independence Special.
July 13 – 16.  Festival Mar Bermejo. Daily special events such as dance, theater, cinema and music at various locations in Guaymas. To commemorate the anniversary of The Battle of Guaymas, which occurred on July 13, 1854.
July 13 – 15. International Billfish Tournament.
July 18. Anniversary of the death of President Benito Juárez (March 21, 1806 to July 18, 1872).
July 30. Anniversary of the death of Miguel Hidalgo, leader of the Mexican War of Independence (May 8, 1753 to July 30, 1811). This is NOT a national holiday.
---
August 2023
August 8. Anniversary of the birth of Emiliano Zapata (b.Aug 8, 1879, d.April 10, 1919). 2019 marks the 100th anniversary of the death of the historic leader of the Mexican Revolution, Emiliano Zapata, and Mexican President AMLO signed a decree declaring that 2019 is the Year of Emiliano Zapata.
August 31. Guaymas Anniversary. On August 31, 1769 José de Gálvez founded the town of Guaymas and assigned the first plots: Civic Ceremony at 8:00am in Three Presidents Plaza.
---
Holidays, Festivals, Fiesta and Special Events
Looking for Mexican Holidays, fun events, festivals and fiestas for your vacation? All year long, there's something fun going on in the beach towns of San Carlos and Guaymas, Sonora, Mexico.
Events San Carlos is a list of the major annual Holidays, Festivals and Fiestas and special events in San Carlos & Guaymas, Mexico.
Whether you're looking for information on a Mexican Holiday or holiday, you'll find it here.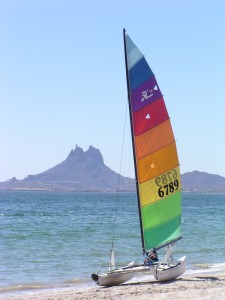 Keep Exploring … San Carlos
Read the San Carlos Newsletter
Where to Stay?