Events San Carlos Sonora 2021: monthly calendars of events, festivals and fiestas in San Carlos and Guaymas, Sonora, Mexico. Find out what's going on.
For more event and entertainment information, including a list of who's playing where, and a daily calendar of what's going on this week, subscribe to the free weekly entertainment newsletter.
On event day, keep an eye on the local weather.
Events San Carlos, Sonora, Mexico 2021
---
August 2021
August 8. Anniversary of the birth of Emiliano Zapata (b.Aug 8, 1879, d.April 10, 1919). 2019 marks the 100th anniversary of the death of the historic leader of the Mexican Revolution, Emiliano Zapata, and Mexican President AMLO signed a decree declaring that 2019 is the Year of Emiliano Zapata.
August 31. Guaymas Anniversary. On August 31, 1769 José de Gálvez founded the town of Guaymas and assigned the first plots: Civic Ceremony at 8:00am in Three Presidents Plaza. Concert by the Banda Sinfónica de la Secretaría de Marina at 7:00pm in the Guaymas Auditorium.
---
Book Your San Carlos or Guaymas Vacation Rental (with Booking.com)
---
Last Season Events San Carlos ….. (stay tuned for more 2021 events)
---
September 2020
September 1. Annual State of the Union.
September 7. Labor Day (USA & Canada).
September. Foto Sonora Guaymas.
September 13. Los Niños Héroes, Hero of the Mexican-American War 1847. Battle of Chapultepec.
September. Cruce de Bahia Miramar (swimming race). CANCELLED 2020
September 15. Gran Fiesta Mexicana at Colibrí's.
September 16. Día de la Independencia / Mexican Independence Day. Mayor's State of the City address.
On Friday, September 18, Rosh Hashanah will begin at sunset and end at sunset on Sunday, September 20. Happy New Year (shana tova)!
Yom Kippur 2020 will begin in the evening of Sunday, September 27 and ends in the evening of Monday, September 28.
San Carlos will again be featured in HGTV's Mexico Life in episodes airing September 27 & 28.
---
October 2020
October 4 & 5. San Carlos will again be featured in HGTV's Mexico Life.
October. San Carlos Hammer Down Tournament. Cancelled 2020 – see you in 2021.
October 12. Día de la Raza in Mexico (Day of the Races / Columbus Day). It is not an official holiday.
October 12. Thanksgiving (Canada).
October 15. Mexican Pacific League baseball 2020-21 regular season starts with Naranjeros de Hermosillo at Navojoa and Mexicali at Obregon. The Naranjeros' season home-opener is at 7:30pm on Tuesday, October 20 against Los Mochis.
October 16. Mark Mulligan's "Welcome Back San Carlos" Party. 5:00pm, La Palapa Griega. La Palapa will be serving their popular All- You-Can-Eat BBQ chicken and ribs, served with Greek salad and baked potato, for 240 pesos. Reserve your table at the restaurant or call 622-226-1888.
October 17. Mark Mulligan & Mike Nash duo show. 5:00pm, La Palapa Griega. No cover, regular menu. Reserve your table at the restaurant or call 622-226-1888.
October 24. L'Etape by Tour de France, San Carlos 2020. 7am. POSTPONED … new date not yet known
October 29 – November 22. ExpoGan Sonora and Palenque in Hermosillo. POSTPONED from April  23 – May 17, 2020.
October 29 – 31. Festival de la Calaca. San Carlos & Guaymas.
October 31 – November 1. Tucson Sailing Club's Annual Fall Regatta.
October 31. Happy Halloween. Halloween Parties.
---
November 2020
November 1-2. All Saints Day & Day of the Dead (Día de los Muertos) is an important Mexican holiday.
November 5. The Men's Golf League will play every Thursday at 9:00am in November and December. If you'd like to play, just show up. For more information, contact Dave Boyle (boyleda@yahoo.com) or Jim McAdie (jimmcadie@gmail.com).
November 5. Colibrí Restaurant & Bar 4 year Anniversary Party. 6pm – 9pm.
November 7. Welcome Back Party with Los Country Coys. 4:30pm – 7:30pm, Delfines Bar and Grill.
November 9 – 20. Buen Fin.
November 12

Postponed

. Rescate Welcome Back Margarita Party.
November 14

Postponed

, and every Saturday thereafter. Rescate Marketplace. 9:00am – 1:00pm, Rescate Clinic parking lot. All vendors are welcome (artisans, cooks, crafters). For more information and to reserve your space, call 622-126-2112 or 303-246-0275.
November 16. Día de la Revolución (Revolution Day) observed third Monday in November, originally November 20. This official Mexican holiday commemorates the Mexican Revolution of 1910.
November 26. USA Thanksgiving. Click here for a list of restaurants hosting special dinners.
---
December 2020
December 2. Christmas Tree Lighting. 5pm – 8pm, Colibri. In support of Agua y Mas Orphanage.
December 6. Medio Maratón San Carlos. 6:30am.
December 6. "Kick off the Holiday Season" Boat Parade. The boat parade will start at dusk (approx. 5:30pm) from the San Carlos Marina. The lighted boats will be going along the shoreline past the beachfront restaurants down to San Francisco beach and then turn around just past Charly's Rock.
December 10. Hanukkah begins in the evening and ends in the evening of Friday, December 18.
December 12. Día de Guadalupe (Day of Our Lady of Guadalupe).
December 16-24. Las Posadas – nine days of traditional festivities.
December 24. Noche Buena (Christmas Eve). Christmas Eve dinners around town.
December 24. San Carlos Yacht Club Lighted Boat Parade. Watch the Parade of Lights from La Palapa Griega, El Mar Restaurant, Los Arbolitos, Turquesa or the beaches.
Let Embarcadero Cocina + Bar do the Cooking. Order today at 622-225-2020, ext. 04, for pick-up on December 24 or 31 and enjoy a delicious meal at home.
December 25. Navidad (Christmas Day). List of dinners, etc.
December 28. Día de los Santos Inocentes (The Holy Innocents) is a National Holiday similar to April Fools's Day, celebrated with lots of practical jokes.
December 31. Fin de Año/New Years Eve. List of special dinners and parties.
---
January 2021
January 1. Año Nuevo / New Years Day is an official Mexican holiday.
January 1. San Carlos Riders Pajama parade. Meet at Tortugas at 9:00am. Parade will leave about 11:00am.
January 6. Día de los Reyes Magos.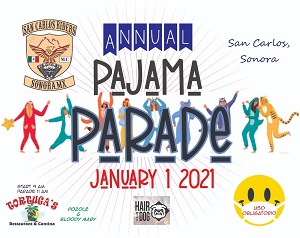 ---
February 2021
February 1. Día de la Constitucion (Constitution Day) is February 5, but is observed the first Monday in February. It is a public holiday.
February 7. Super Bowl LV (55) showing in sports bars and restaurants around town. See list of locations and food & drink specials.
February 14. Valentine's Day. Specials dinners around town.
February 24. Día de la Bandera Mexicana.
---
March 2021
March 15 (3rd Monday in March) — day off to commemorate Benito Juarez birthday on March 21, 1806. Schools and many businesses are closed.
March 17. St. Patricks Day Take-out dinner. Club Deportivo. Tickets will be on sale soon as CI Bank for 300 pesos.
March 17. St Patrick's Day Dinners around town.
March 19. Mark Mulligan back at La Palapa Griega.
March 20. Bodega Liquidation. 8am to 11am, Club Deportivo parking lot.
March 28 – April 4. Semana Santa (Easter week from Palm Sunday through Easter Sunday).
---
April 2021
April 2. Good Friday.
April 4. Easter Sunday.
April 16. Mark Mulligan & Ruby B. 5:30pm, La Palapa Griega.
April 30. Día Del Niño.
---
May 2021
May 1. Dia del Trabajo (Labor Day)
May 3. Día de la Santa Cruz. Construction workers decorate and mount crosses on unfinished buildings.
May 5. Cinco de Mayo is not observed as a national holiday in Mexico, but all public schools are closed.
May 9 & 10. Mother's Day events in San Carlos (this year, Mother's Day in USA and Canada is Sunday, May 9 and in Mexico is Monday, May 10).
May 15. Teacher's Day in Mexico.
May 16. 4ta Stage of the Campeonato del Desierto MTB race in Estuary Soldado.
May 16. Medio Maratón Guaymas. 6:30am.
May 29 – 31.  Tucson Sailing Club Spring Regatta.
May 31. Memorial Weekend.
---
June 2021
June 1. Dia de la Marina (Mexican Navy Day). Official Mexican holiday. Celebration in Guaymas.
June 13. Triatlón. For more information, visit the website and facebook page.
June 20. Summer Solstice.
June 20. Father's Day in Mexico, Canada & USA.
---
July 2021
July 8 – 13. Annual Festival del Mar Bermejo. Daily special events such as dance, theater, cinema and music at various locations in Guaymas. To commemorate the anniversary of The Battle of Guaymas, which occurred on July 13, 1854.
July 18. Anniversary of the death of President Benito Juárez (March 21, 1806 to July 18, 1872).
July 30. Anniversary of the death of Miguel Hidalgo, leader of the Mexican War of Independence (May 8, 1753 to July 30, 1811). This is NOT a national holiday.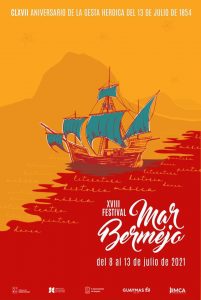 ---
Holidays, Festivals, Fiesta and Special Events
Looking for Mexican Holidays, fun events, festivals and fiestas for your vacation? All year long, there's something fun going on in the beach towns of San Carlos and Guaymas, Sonora, Mexico.
Events San Carlos is a list of the major annual Holidays, Festivals and Fiestas and special events in San Carlos & Guaymas, Mexico.
Whether you're looking for information on a Mexican Holiday or holiday, you'll find it here.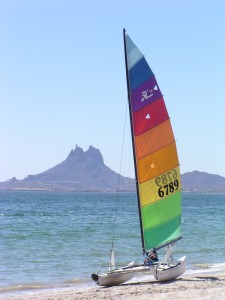 Keep Exploring … San Carlos
Read the San Carlos Newsletter
Where to Stay?