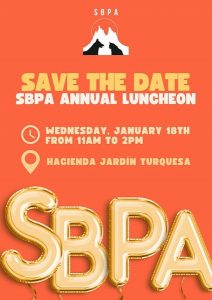 Get ready to party! The Annual SBPA Luncheon will be held on Wednesday, January 18 from 11:00am – 2:00pm at La Turquesa Patio behind Turquesa Restaurant.
This annual gala event will include an array of super raffle prizes and silent auction items, including special themed gift baskets and a variety of goods and services donated by our local merchants. If you have raffle items to donate, please contact Debbie Wild at 622-165-3587.
The dog parade featuring San Carlos' rescued animals is always a crowd favorite and there will be live music.
The cost is 500 pesos per person.
The Luncheon is one of the fundraisers held annually to help contribute to the expenses of the SBPA, a not-for-profit organization dedicated to the protection and control of domestic and feral animals. Someone hosts a table of ten and decorates it in a theme, using her dishes, silverware, glasses, tablecloth, napkins, centerpiece, etc. The hostess of the table sells the other seven tickets to friends. Over the years, the themes have varied. One year a group decorated their table in honor of the famous Mexican artist Frida Kahlo and then each dressed in costume as Frida.
Please contact Debbie Wild if you're interested in hostessing a table or if you want to attend but are unable to host a table. 622-165-3587 or debotalk@gmail.com.
It's the event of the season. Be a table hostess and recruit your friends to buy tickets to this gala event.
SBPA Luncheon and Fashion Show Videos
Photos from the Annual SBPA Luncheon and Fashion Show
In addition to the ladies' fashion show and luncheon, rescued dogs walked the runway displaying outfits by Alma. If all of the smiling faces were any indication, the event was a rousing success! Photos by Jacqui Percious.