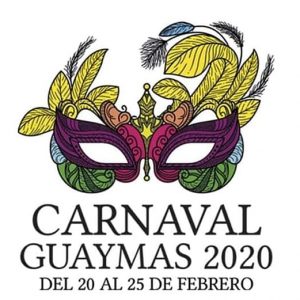 Head to Carnaval Guaymas for the biggest party in Sonora. For Carnaval, Guaymas' beachside malecon will be transformed into a party promenade. 2020's theme is  "Los Alegres Veintes: 20 Ritmos, 20 Estilos".
The week of Carnaval, February 20 – 25, 2020, will be filled with the burning of the bad humor, crowning of the Carnaval Queen and Rey Feo (Ugly King), concerts, theater, poetry readings, fireworks, parades and all night parties.
Cartelera Oficial del Carnaval de Guaymas 2020 del 20 al 25 de febrero:
Viernes 21: Alameños de la Sierra
Sabado 22: Remmy Valenzuela
Domingo 23 : Contacto Norte
Lunes24: La Brissa
Martes 25 (cierre): Marisela
The following information is from 2019 … more 2020 coming soon:
On Thursday, February 28, Carnaval kicks off with the Burning of Bad Humor at 8:00pm, and the coronation of the Rey Feo at 3 Presidents Plaza.
From Saturday, March 2 to Tuesday, March 5, there will be four days of colorful parades featuring decorated floats, brightly masked and elaborately costumed people, marching bands, and pulsating dance music. Plus food and beer stands and elevated stages that will feature various live concerts. Thousands of onlookers, both young and old, will dance, cheer and throw confetti along the parade route, then make their way to the malecon where the party will continue with more live bands, food, drink and carnival rides.
The parade will start at 2:00pm each day and travel along Blvd. Sánchez Taboada to Ave. Serdán and Calle 10 (see map below).
If you haven't yet had the pleasure of experiencing Carnaval make your way into Guaymas and fiesta Mexican-style.
Carnaval Guaymas 2019 Full Schedule / Programa
Programa general de actividades del Carnaval Internacional de Guaymas 2019
Actividades deportivas del Carnaval Internacional de Guaymas 2019
Programa de actividades del Carnaval Internacional de Guaymas
Actividades infantiles del Carnaval Internacional de Guaymas 2019
Entertainment Carnaval Guaymas 2019
Groups confirmed for the Malecón area:
Viernes 01: Los Perdidos de Sinaloa
Sábado 02: Contacto Norte y Tropicalísimo Apache
Domingo 03: La Brissa y La Sonora Dinamita
Lunes 04: La Triguera
Martes 05 Marzo: Alta Consigna
La zona de bailes estará en la Plaza de Los Tres Presidentes, los precios serán accesibles, entre 50 y 100 pesos.
Cartelera oficial del Carnaval Internacional de Guaymas 2019 "Alegorías por el Mundo", del 28 de febrero al 5 de marzo:
Carnaval Parade Route Map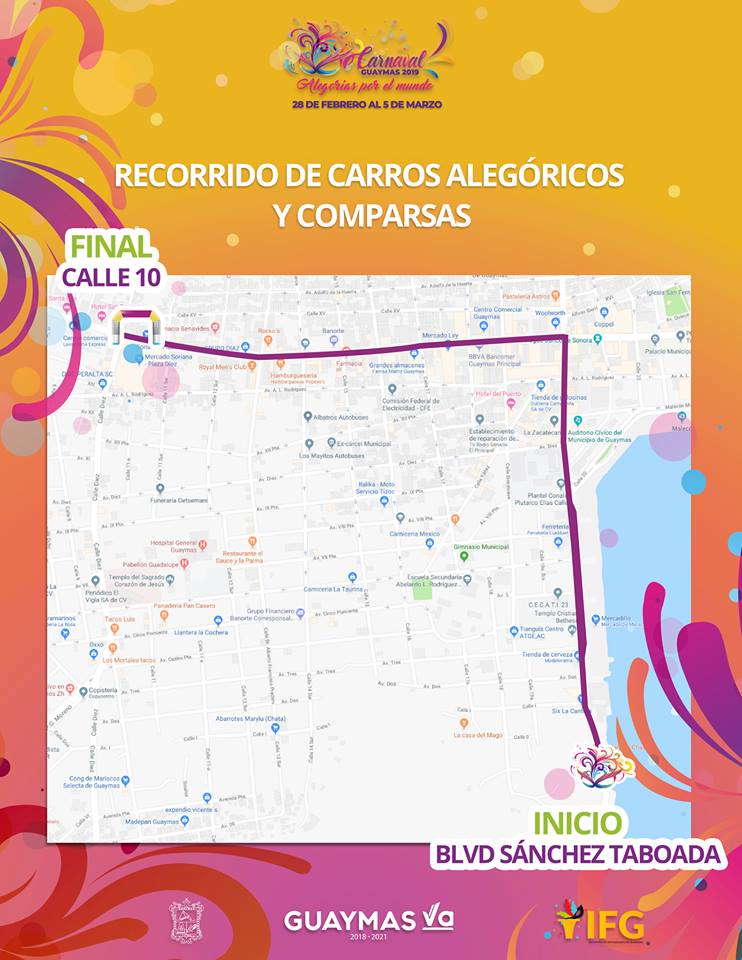 https://www.facebook.com/guaymascarnaval/
http://guaymascarnaval.blogspot.mx/
Carnaval Guaymas Photos
by Cathy Henkel