Condominiums to Rent in San Carlos
Looking for a Condominium or Apartment to Rent in San Carlos or Guaymas, Sonora, Mexico?
Renting a private home or condominium with more bedrooms and a kitchen may be just what you need for traveling with your family or a large group. These options are also perfect for long term stays.
Playa Blanca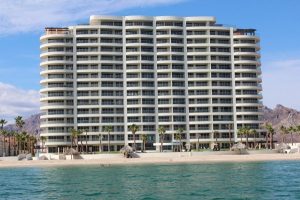 Playa Blanca is a luxurious beachfront Condominium Resort. Playa Blanca is located on beautiful Algondones beach. Voted #1 on Tripadviser. There is a sea-side pool with a heated spa, outdoor grill areas and spacious covered terraces. There is also a tennis and pickleball court, and a fitness center that overlooks the Sea of Cortez. Plus, 24-hour gated security. Monthly promotions posted on our website.
Website: playablancasancarlosrentals.com.mx
Location: Algondones Beach
Phone: U.S. or Canada (480) 427-9915
Desde México (622) 227-0101 y (622) 227-0100
Email: info@playablancasancarlosrentals.com
Facebook: Playa Blanca San Carlos Rentas
Book your vacation rental in Playa Blanca:

Sea of Cortez Rentals and Sales at Condominios Pilar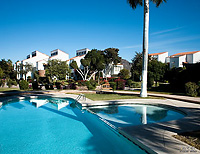 A unique vacation getaway in a privately owned condo on San Francisco beach, San Carlos.

Condominios Pilar is located on 5 miles of beautiful white sandy beach.  This beach is well- known for watching dolphins go by throughout the day, and enjoying a margarita/cerveza while watching a magnificent sunset every evening. This home-by-the-sea has a variety of things to enjoy such as a  sparkling pool, tennis and pickleball court, and the best beach to collect an abundance of seashells. The perfect place to relax and rejuvenate!
For water sports enthusiasts, there are many beautiful beaches around San Carlos, spectacular diving/ snorkeling, kayaking, paddle boarding, offshore fishing, or maybe charter a Margarita Sunset Cruise.
Beach condo rental rates starting at $95/night for a 1 bedroom.
Facebook: Sea of Cortez Rentals
Whatsapp / Phone: (602) 526-0276
Email: vmont550@aol.com
Contact Vonda Montenegro
Seaside Rentals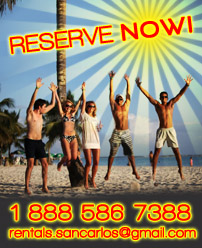 Exclusive Seaside Rentals is pleased to offer you a large selection of quality vacation rental properties located throughout Mexico's Sea of Cortez. For your next vacation or holiday, count on us to provide the perfect vacation rental to meet your needs. Contact us for condos in San Carlos, including Playa Blanca, Bahia Delfin, Pilar, MarinaTerra and Marina Real.
1 888 586 7388 | 226 2188
rentals-sancarlos.com/
rentals.sancarlos@gmail.com
Dorado Condos is right on the water — rocky, not sand beach, so great for snorkeling. There's a pool with lounge chairs and a patio with BBQ for guest use (vendors come by selling shrimp and fish perfect for the BBQ). The condos have kitchens and living rooms. Run by a nice family. Near several good restaurants and the marina. A bit of walk or short drive to sand beaches.
Condominios Pilar is on San Francisco Beach in a beautifully manicured landscape with garden side adult and children's pool, fishing and clam digging in the adjoining estuary, tennis court, and barbecue area for group gatherings near the pool area.
Bahia Delfin condominiums are on the Sea of Cortez on one of the best sandy beaches — San Francisco Beach which is surrounded by sand dunes and near the El Soldado Estuary. Pool, ocean-views and waterfront.
MarinaTerra hotel and condos are in a great location overlooking two swimming pools with spectacular views of the marina and Tetakawi. The condos are within walking distance of beaches, several restaurants, bars, boating and shopping.
Marina Real overlooks Marina San Carlos in the foreground and the Sea of Cortez in the background. There are great common areas such as swimming pool, pickleball court, fire pit, and palapa with grill.
Triana is in a private beach-front setting with heated pool and beautiful ocean views.
Also check the Business Directory for more information on condominiums in San Carlos & Guaymas Sonora Mexico
Where to Stay?