Halloween Parties in San Carlos Mexico 2021. Drink specials, costume contests, live music, dancing.
Where's the party? Many San Carlos restaurants will be scaring up entertainment this Halloween. If you're looking for a ghoulishly good time check this list:
La Bartina 64 Halloween Costume Party, October 29
Calling all Goblins, Ghosts and Freaks of the night! This Friday, October 29, come to La Bartina 64 for a Halloween scare…if you dare!
The party starts at 7:00pm.
There'll be a Costume Contest with prizes for the 1st, 2nd, and 3rd best costume.
You could win:
1st prize: 5,000 pesos*
2nd prize: 3,000 pesos*
3rd prize: Bottle of house Champagne
* = monetary prizes will be a food & drink credit that must be used at La Bartina 64
Dance the night away with a live set by DJ Alex.
Don't miss out! Call 622-164-6278 for your reservation!
Halloween Party at Colibri, October 29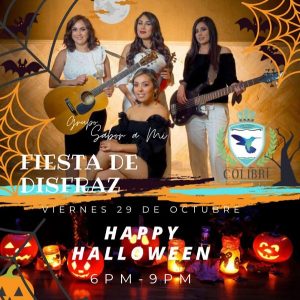 Colibri will have a Costume Party on October 29 with prizes for the best costumes.
There will be live music by Grupo Sabor a mi then DJ Eduardo SC will keep the party going.
Pumpkin Carving Contest for Charity, October 30
On Saturday, October 30, Marvida Taproom & Kitchen is hosting a Pumpkin Carving Contest from 2:00pm – 4:00pm at their restaurant located at Marina San Carlos.
Some friends of "I am Human TV" are going to make a challenge while the pumpkin carving is happening.
Marvida restaurant will give prizes for the 3 most creative pumpkins.
There will be entertainment by Pies Conscientes, a dancing academy in Guaymas.
We are asking for a donation of 300 pesos per pumpkin, which will go to Huella de Impacto foundation.
If you would like to take part as an individual carver, as a couple, or with your kids, please call 662-200-5707 to book your place and pumpkin.
What a fun start to the Halloween weekend!
Also, check out Marvida's restaurant listing below to see What's On Tap for the week.
Hammerhead's Spook-tacular Halloween Party, October 30
Have a goulishly good time at HammerHead's annual Halloween Party on Saturday, October 30.
The party starts at 7:00pm. No entrance fee.
There will be live music, drink specials and a COSTUME CONTEST with prizes.
So put on your best costume, come on down to HammerHead's and have some spook-tacular fun!
Marvida's Fang-tastic Halloween Party, October 31
Have a fang-tastic night at Marvida Taproom & Kitchen on Sunday, October 31.Come in costume and be prepared for a killer night!
There will be a costume contest at 9:00pm, prizes for best costume and other surprises.
Don't miss out!
Hair of the Dog's Halloween Party, October 31
Prepare for a screaming good time at Hair of the Dog's Halloween Party on Sunday, October 31.
The Dudes will be performing starting at 3:00pm.
Come in costume. You could win big in the costume contest:
1st place: 1000 Pesos
2nd place: 750 Pesos
3rd place: 500 Pesos
Join us and have a wicked Halloween!
Halloween at Tortuga's, October 31
This Sunday, October 31, Tortuga's is celebrating Halloween by giving one free glass of wine with every dinner to patrons dressed in costume.
Dia de los Muertos at La Calaca, November 2
La Calaca celebrates Day of the Dead! An Altar with photos & offerings will be on display, and we welcome your photos as well!
Special Meal:
Chicken Tamales with chile colorado mole, served with black beans and fried plantain.
250 pesos
Special Dessert:
Traditional Pan de Muerto (Mexican Sweetbread) filled with nata (custard)
Hot Chocolate
120 pesos
Special Drink:
Mandarin Daiquiri with white rum
(seasonal fruit used on altars and as offerings)
120 pesos
All starting at 1:00pm on Tuesday, November 2.
The staff will be costumed or face painted. 2 make-up artists will be available to paint your face for a minimal fee.
Sahuaro will be playing live from 5:30pm to 8:30pm.
Let's celebrate our loved ones who have passed on! Join the Tradition! Join the Fun!
Also check out Festival de la Calaca 2021