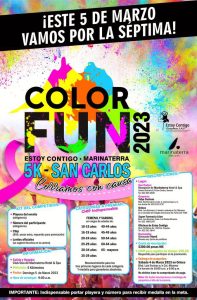 Run or walk and enjoy an explosion of color at the Color Fun Run on Sunday, March 5, 2023 at 9:00am.
This 5 KM run will start at end at Club Duo at the Marinaterra Hotel & Spa.
The entry fee is 300 pesos or 350 pesos with a CHIP. A CHIP is necessary to record the participant's race finish time.
Registrants will receive protective glasses, colored powder, an event t-shirt, and a chip to record your time (for 50 pesos more).
All proceeds will be donated to Estoy Contigo, which helps people with cancer and their families.
Sign up at MarinaTerra Hotel & Spa.
For more information, visit Estoy Contigo Facebook page.
Color Fun Run video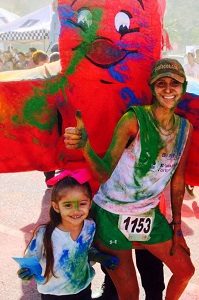 Los Invitamos a San Carlos a este recorrido de 5k lleno de Color.
Evento totalmente familiar a beneficio de la asociación contra el cáncer
ESTOY CONTIGO de Guaymas, SON.
Costo de Inscripción: $300 pesos
Kit incluye: Camiseta, Chip Electronico (50 pesos mas), Lentes, Número y Polvo de Color
Lugar de Inscripción:
– Guaymas
Estoy Contigo Guaymas
Calle 25 #112 Col. Centro
Tel. 622 222 18 44
Yolyo Cocinas
Blvd. Garcia Lopez 625 N
Tel. 622 22 237 37
– San Carlos
Marinaterra
– Hermosillo
Gimnasio Fitwell