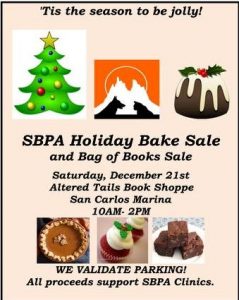 Sample delectable baked goods at the SBPA Holiday Bake Sale on Saturday, December 21, from 10:00am to 2:00pm, at Altered Tails Book Shoppe. Support your local SBPA and eat some fabulous treats!
The exciting holiday season is here. We spend time with family and friends. We fix special meals, share gifts and build lasting memories.
What better time to pick up some delicious home-made baked goodies at SBPA's Bake Sale. These are great treats to share with those you love.
Many of the most talented cooks in San Carlos are working like crazy to put together a great assortment of their baked specialties.
Just do it, come on down and everyone wins! Every penny from the sale goes directly for Spay & Neuter surgeries for local dogs and cats.
SBPA validates parking with the purchase of something at Altered Tails.