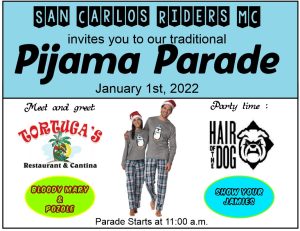 Join the San Carlos Riders motorcycle club for a fun day on Saturday, January 1. Participate in their Annual Pajama Parade by dressing in your pajamas (and face mask) and cruising through town.
The party will start at Tortuga's at 9:00am, leave at 11:00am and finish at Hair of the Dog around noon for a judging contest and awards. Meet at Tortugas for a free Pozole breakfast with the purchase of a Bloody Mary.
This parade is lots of fun with laughs and great prizes. Proceeds benefit neighboring areas of San Carlos.
All are welcome. Bring your bike, quad, ATV, jeep, car, truck, whatever. Decorate it if you like — just don't miss out on the fun.