New Year's Eve San Carlos: December 31, 2022: delicious dinners, live music … lots of great options to ring in the new year
ClubDuo, Marinaterra Gala Dinner & Dancing

Come celebrate with us at our New Year's Eve Gala Dinner and Party.
Gala dinner and dancing by the sea starting at 9:00pm.
3 course special dinner, live band Caribe Show, dancing and open soft drink bar for 1,100 pesos per person (children 450).
For reservations, call 622-225-2020.
La Palapa Griega New Year's Eve Party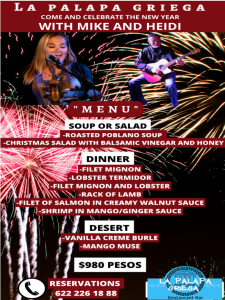 On New Year's Eve, spend the evening on the beach at La Palapa Griega for a special dinner and show.
The Mike and Heidi Duo will entertain you with all your favorites from 5:00pm – 9:00pm, when we'll ring in New Year.
The special New Year's Eve Menu includes your choice of the following entrées:
* Filet mignon
* Lobster thermidor
* Surf and Turf: Filet mignon and Lobster in butter & lemon
* Salmon in creamy walnut sauce
* Shrimp in mango ginger sauce
All entrées are served with side dishes, and either vanilla crème brûlée or mango mouse for dessert.
The cost for the dinner and show is 980 pesos.
Reserve your place today by calling 622-226-1888 or stop by La Palapa Griega.
Tortuga's Restaurant & Bar Special Dinner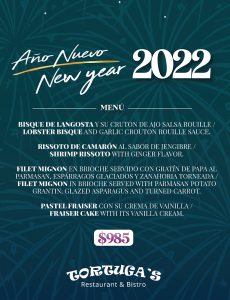 Feast on the Special New Year's Eve menu at Tortuga's Restaurant & Bar.
Tortuga's will be serving a special 3 course dinner, of lobster bisque, shrimp risotto, filet mignon and Fraisier cake for 985 pesos.
Call 622-226-2051 for your reservations.
Sunset Bar & Grill Gala 6 Course Dinner
Sunset Bar & Grill will be serving a Gala 6 course New Year's Eve Dinner.
6 course menu with a glass of Champagne:
* Ahi tuna carpaccio
* Baked beet medley with Ricotta and Mascarpone foam
* Lobster Bisque
* Beef Wellington with Peppercorn Demi-glaze, asparagus & French green beans OR Baked Fish filet, curry risotto & sautéed fennel
* Cheese board
* Layered blackberry mousse cake
for 1800 pesos per person ($95 USD)
A duet will play dinner music between 6:00pm & 8:30pm, then Bad Rumors will take it up a notch at 9:00pm. We will light the bonfire around 10:00pm.
There will be 2 seatings — an earlier one between 5:30pm and 6:30pm, and a later one starting at 8:00pm. Reservations are required (622-255-2555)
All the best for 2023!
Hair of the Dog New Year's Eve party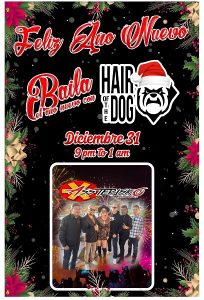 Celebrate New Year's Eve at Hair of the Dog this year!
Sayonara will be performing live from 5:00pm – 8:00pm.
And then dance in the New Year with the ever-popular Assterisko, who will be playing live from 9:00pm – 1:00am.
Don't miss it!
La Catrina New Year's Eve Specials
La Catrina Restaurant & Gallery is serving several special meals on New Year's Eve from 5:00pm – 1:00am.
For your main course, choose from:
* King Crab, 1800 pesos
* Surf & Turf – Filet Mignon & Large Shrimp, 850 pesos
* Lobster, 950
All meals come with a salad and sides, and a complimentary glass of champagne to toast in the New Year.
There'll be a special meal for the kids.
There will be entertainment from 7:00pm – midnight. And other surprises as well.
Call 622-151-7798 or 622-123-2584 for your reservations.
New Year's Dinner & Toast at Restaurante Casa Manolo
On Saturday, December 31, join us at Restaurante Casa Manolo to ring in the New Year.
Feast on a special 3-course dinner from 6:30pm – midnight.
We'll start with a some welcome tapas.
The first course is Baked burrata cheese with pomodoro sauce and pesto.
For your main course, you have a choice of Filet Mignon with red wine sauce and vegetables or Creamy Pasta with Salmon and vegetables.
Finish with your choice of the best Burnt Basque cheesecake or Cardamom and vanilla Crema Catalana for dessert.
There'll be live music, a complimentary glass of sparkling wine, and we'll toast the New Year with 12 grapes, a typical Mexican tradition that brings good luck for the coming year.
The costs is 1,700 pesos per person.
Make your reservations today by calling 622-170-4558. We require 50% deposit with your reservation.
Bonifacio's New Year Party
Starting at 6:00pm on December 31, enjoy live music, a special 5 course dinner and drinks at Bonifacio's.
The 5 course dinner starts with stuffed dates and ends with tiramisu. Main course options include beef tenderloin, pork rib eye, lobster thermidor, and Greek sole fish. Click here for the full menu with prices.
RSVP to 622-227-0515 or 622-109-0031.
Altamarea New Year's Eve Specials
Ring in the New Year at Altamarea Restaurant, Cucina Italiana y … más.
Appetizer: Yellow fin tuna carpaccio with mango and pomegranate citrus dressing
250 pesos
Pasta: Lobster stuffed ravioli with cherry tomatoes cream and brandy
350 pesos
Meat: 14oz. Sliced rib eye grilled and served with tartar sauce and fries
680 pesos
Fish: Sautéed grouper fillets served with cherry tomatoes onions shiitake and white wine
430 pesos
Dessert: Pastry dough with custard and pine nuts
160 pesos
A flute of sparkling wine will be offered with your special meal.
Our regular menu will also be available.
Please make your reservations at: 622-113-3563 (restaurant) or 622-172-9298 (cell).
Maukaa New Year's Eve Dinner
Maukaa Restaurant & Beach Club is serving a 3-course New Year's Dinner. Come and celebrate one last dinner along the beach.
The choices are:
Starter: Salad with red fruit vinaigrette dressing or Cream of carrot soup with fresh mozzarella
Main Course: Cranberry Glazed Pork Loin in chile pasilla or Beef fillet with mashed potatoes in a mustard sauce and roasted asparagus
Dessert: Brownie with candied salad or Tiramisu
The cost is 650 pesos per person.
There is no cover charge for diners.
The dinner service begins at 8:00pm.
Call or WhatsApp 622-116-5118 to make your reservation.
Xunuta 3-course New Year's Dinner
Cheers to another year — let's celebrate at Xunuta San Carlos.
We are serving a 3-course New Year's Dinner.
The choices are:
Starter: Cream of asparagus soup with goat cheese or Citrus salad with honey mustard vinaigrette
Main Course: Baked Prime Rib with rosemary potatoes and roasted baby vegetables or Pork loin with mushroom crust, bacon, mashed potatoes and red fruit sauce with white wine
Dessert: Tarte Tatin with dulce de leche and nuts or Cheesecake with red fruit
The cost is 650 pesos per person.
The dinner service begins at 8:00pm.
Call or WhatsApp 622-116-5118 to make your reservation.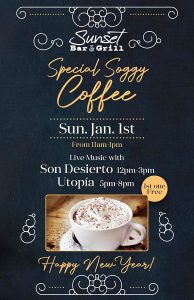 New Year's Day Events & Specials (Sunday, January 1):
San Carlos Riders Pajama Parade. Meet at Tortuga's at 9:00am. Parade will leave about 11:00am.
Hangover Golf Tournament.
Spiked Coffee at Sunset Bar & Grill. From 11:00am to 1:00pm, your first spiked coffee is on the house. Son Desierto will play live music from noon – 3:00pm, then Utopia from 5:00pm to 8:00pm.
Closed & Changes in Hours:
RESTAURANTS:
Altamarea Restaurant: closed January 1
Colibrí Restaurant & Bar: closed January 1
Hair of the Dog: closed January 1
La Palapa Griega: closed January 1
Maguro Barra San Carlos: closed January 1 & 2
Maukaa Restaurant & Beach Club: will open at 1:00pm on January 1
Piccolo Restaurant: closed January 1 & 2
Restaurante Casa Manolo: open from 2:00pm – 5:00pm on January 1
Xunuta San Carlos: will open at 1:00pm on January 1
CLUBS & ORGANIZATIONS:
Altered Tails Book Shoppe: open 10:00am – noon on December 31 and closed January 1
Athleticlub San Carlos: closed December 31
Castaway Kids Thrift Store: closed December 31
Rescate Marketplace: closed December 31
Rescate Thrift Store: closed December 31