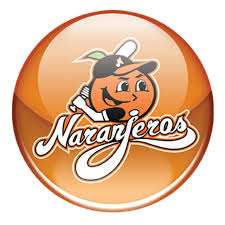 Hermosillo is home to the Naranjeros (website), part of the Mexican Pacific League (LMP).
The Mexican Pacific Baseball League gets under way in October. The LMP 2022-23 regular season starts with Naranjeros de Hermosillo at home against Obregon at 7:00pm on Wednesday, October 12.
El Naranjeros de Hermosillo es un equipo de béisbol en la Liga Mexicana del Pacífico. Con sede en Hermosillo, Sonora, que son uno de los equipos más exitosos en la Liga Mexicana del Pacífico, con 15 títulos
The Naranjeros were the 2009 and 2013 League Champions, and are one of the most successful teams with 15 titles. In 2009 and 2013 they represented Mexico in the Serie del Caribe — winning it in 2013.
Tickets cost as little as 40 pesos for the bleachers. You can buy season tickets online here.
Follow Naranjeros on Facebook.
Naranjeros de Hermosillo Rol de Juegos, 2022 – 2023:
October 2022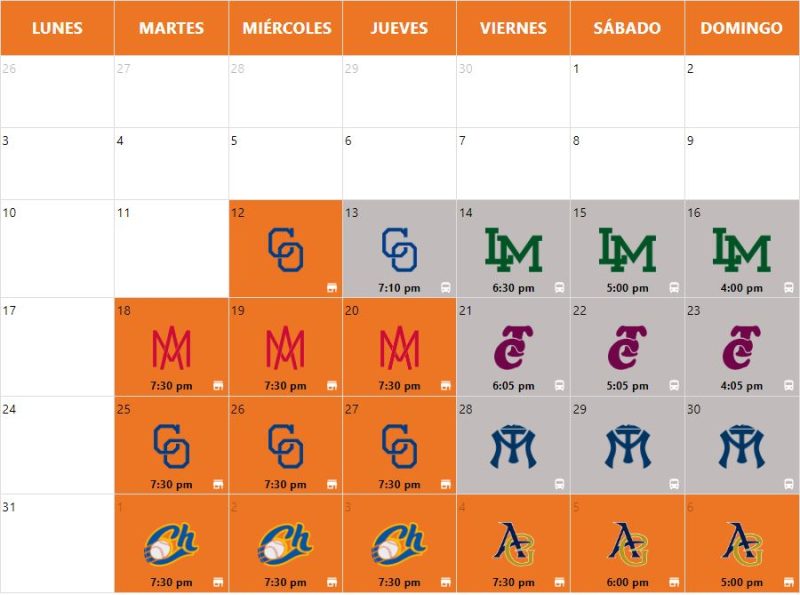 November 2022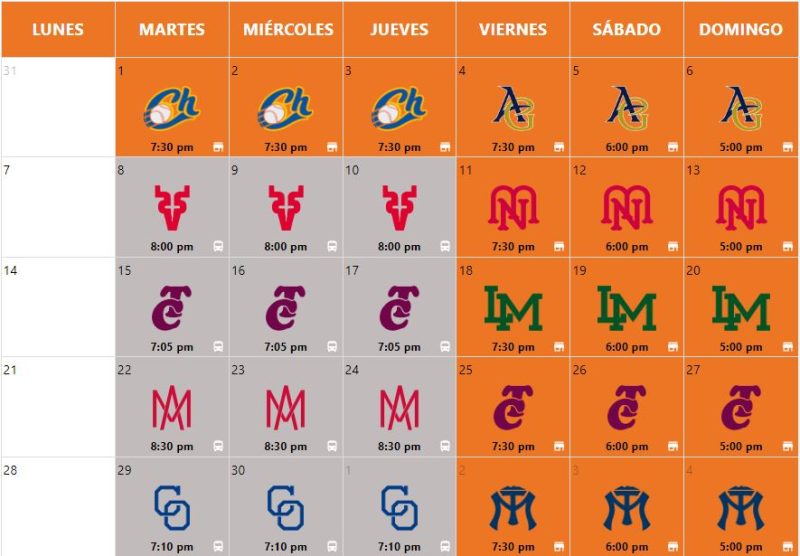 December 2022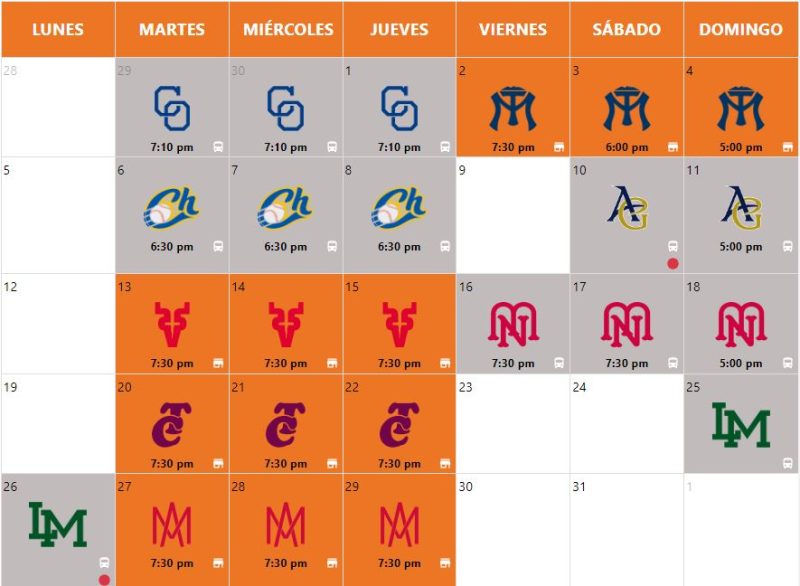 The Naranjeros play at Sonora Stadium / Estadio Sonora.
For the Love of Baseball
If you're an avid fan of baseball like me, October is always a bittersweet month. Yeah, October has all the excitement of the Wild Card playoffs, the League Championship series and the World Series in Major League Baseball. But when all that's over, I'm faced with a stark reality; no baseball teams to follow for the next five months! Urgh!
The San Carlos Softball League has helped immensely as we begin play in November and finish in April………right when Major League Baseball resumes its regular season.
But for those who are fans of WATCHING baseball, there is relief only an hour and a half from San Carlos. Both Hermosillo and Ciudad Obregon have teams in the Liga Mexicana del Pacifico and their league play begins in mid-October and play through the end of December. This league is somewhere between an AAA minor league team and a full-fledged MLB team in the level of play. In fact, a number of players on current MLB rosters will keep their batting eye and pitching skills sharp in this league, during the offseason.
A number of baseball fans from San Carlos got together on a recent Sunday and carpooled up to see a game in Hermosillo, pitting the Yaquis of Obregon against the hometown Naranjeros of Hermosillo. But besides seeing these two rivals meet, many of us were anxious to see the brand new Estadio Sonora for the first time. This stadium was completed in early 2013 and hosted this year's Caribbean Series, which featured the national teams from Mexico, the Dominican Republic, Puerto Rico and Venezuela.
It is a marvelous stadium for watching baseball! I attended five games during the Caribbean Series and was LUCKY to get seats fairly close to the right field foul pole. These would not be good seats in older, larger stadiums but that's all that was available. I came away convinced there really isn't a bad seat in the house. Capacity is only 18,000, so the games have an intimacy that is lacking in larger stadiums.
And, boy, did we get a taste of intimacy at the game we attended! Many of us arrived an hour early to make sure we got decent parking (not necessary; there is ample parking and the locals don't really arrive till about the third inning), check out the souvenir store and to stroll the stadium. What we found were players engaged in light workouts who were signing autographs and visiting with fans EVERYWHERE. And, amazingly, security didn't even mind if you got on the field by the dugouts to have your picture taken with the players. You'd never see that in an MLB park these days.
Another big attraction at these games are the antics of the team mascots. Mexicans really love to watch these comedic mimes go through their rehearsed routines as well as the improvisational skits they create. The Sunday we attended featured a guest appearance by the Arizona Diamondbacks mascot, Baxter. He was hanging out on top of the dugouts, signing autographs in the stands and high-fiving players after good plays.
We saw a great game! There were three home runs in the first three innings and the game was tied 3-3, 
after nine innings. We saw stolen bases, sacrifice bunts, great leaping catches, good relief pitching……….and one of our San Carlos bunch get hit by a smoking foul ball. Ouch!! Enough intimacy, already. The stadium staff was there immediately and checked back often to see how she was. Sore, a little shaken up but fine, was Maggie's reply. What a baseball fan!  The Naranjeros ended up winning it in ten innings.
Now, if you're like me, you're probably wondering about the food and drink at the new stadium, too. It's a combination of independent food stands and restaurant outlets like El Fogoncito. Burros percheron? Natch. Pizza? Of course! Peanuts and hotdogs? This is baseball, isn't it? There are even waitresses and  bar maids who come down the aisles and take orders for hamburgers, bratwursts, pulled pork sandwiches and mixed drinks. Beers (Tecate affiliation) were 20 pesos. And no namby-pamby 7th inning cut-off of adult beverages, amigos!
So, are you interested in going to a game? Some suggestions….
The Sunday games start at 5pm, so it is possible to attend a game and still be able to drive home to San Carlos at a decent hour. The rest are night games that start at 7pm during the week and 7:30pm on Saturdays; there are no day games.
There are also no group sales of tickets that I could find. Prices are fairly reasonable, IMO, ranging from 30 pesos for bleacher seats to 350 pesos for Palco Central seats right behind home plate. Best value seats? Probably sections 105 and 119 at 75 pesos.
For our group of seventeen, I drove up to Hermosillo a couple days before the game for a golf outing and purchased the ticket at the box office. The old stadium box office on Boulevard Solidaridad is open from 10am-6pm, every day. The box office at the new stadium opens at 2pm on game days.
The schedule of games is on the Naranjeros website. The playoffs are in January.
Getting to the new Estadio Sonora is pretty easy. Probably the simplest route is to take Solidaridad (the boulevard that goes past Home Depot) and turn left at Luis Donaldo Colosio (the street that Costco is on). Follow this all the way until it dead ends and then turn left. You cant miss the stadium; it's on the western edge of town, all by itself. It's also on Google maps.
See you at the stadium, baseball fans!………….by PJ Schramel