Once again, the San Carlos Yacht club is proud to host the Lighted Boat Parade.
An outstanding response from the marine community in San Carlos should provide for what will be an exciting parade. In addition, professional tour boats are invited to participate.
Starting at sunset, on December 23, the boats will assemble in the Bahia. They will follow a route that will take them past Isla San Nicholas to enter the Posada Beach bay. The first viewing point will be El Mar and La Palapa Griega restaurants where the boats are scheduled to make two passes by circling in the bay.
The boats will then parade towards Charly's Rock traveling in the channel of the shore side of Honeymoon Island. The boats will turn towards shore and pass along San Francisco beach. They will then look for the last bonfire on the beach before turning out to sea. All the boats will be making a large turn back towards Charly's Rock and again will travel along the beach. The fleet will then be turning out to sea at Charley's Rock for the return parade back to the Bahia.
All boats are invited to "deck out" your vessels with holiday decorations and cruise in the Parade of Lights.
For more information and to register your boat, contact Kathy at karodge@earthlink.net.
On behalf of all the members of the San Carlos Yacht Club, we invite all of the community, outside guests, and visiting families, to join in this beloved annual event.
Watch the Boat Parade of Lights at:
La Palapa Griega Lighted Boat Parade, December 23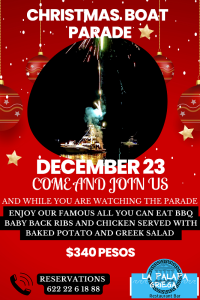 Join us at La Palapa Griega for an exciting beach-front view of all the lighted vessels as they make their way by our restaurant.
We will be serving our famous all-you-can-eat Baby Back Ribs and Chicken served with a baked potato and green salad.
Enjoy this delicious meal for only 340 pesos per person.
The regular menu will also be available.
You'll also be entertained by the Country Boys from 5:00pm – 8:00pm.
Please call us for reservations at 622-226-1888 today!
El Mar Restaurant Boat Parade Party, December 23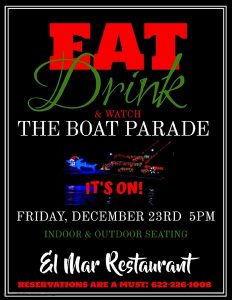 Join us at El Mar Restaurant for a special dinner and to watch the Annual Parade of Lights on Sunday, December 23 starting at 5:00pm.
Seating is limited, so please call for reservations at 622-226-1008.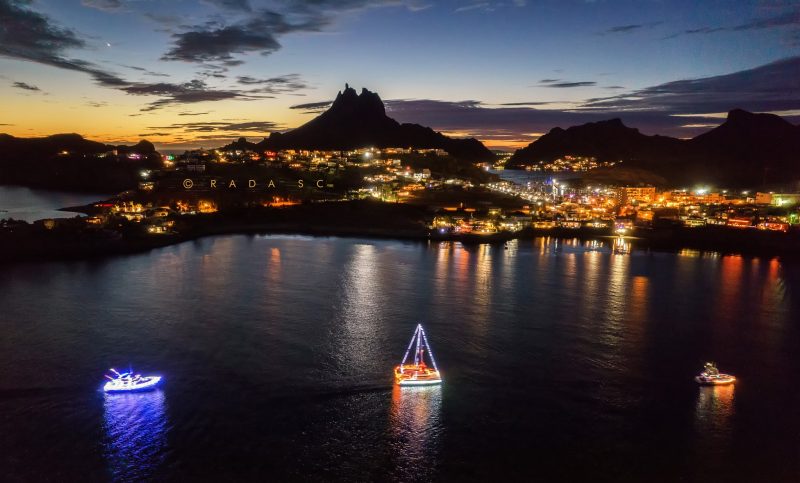 2021 Lighted Boat Parade by Rada SC
Yacht Club Parade of Lights Video