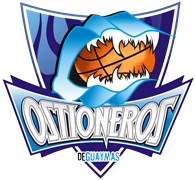 Ostioneros de Guaymas play basketball in the Cibacopa league, which plays from mid-March to mid-May. The finals run through June.
The CIBACOPA Basketball League starts its 2022 season on March 30. Ostioneros de Guaymas' first game is in Hermosillo Rayos on April 1. On April 2, Guaymas again faces Hermosillo, in their home opener at Gimnasio Municipal Guaymas at 7:00pm. See the calendar below.
Stadium: Calle 18, between Ave 16 and 17 No. 149, Col. Centro.

Ostioneros de Guaymas basketball CIBACOPA temporada 2022