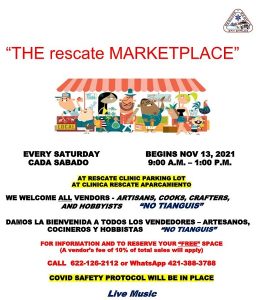 Starting Saturday, November 13, and every Saturday thereafter, browse the goodies for sale at the Rescate-sponsored Marketplace in the parking lot next to the Thrift Store from 9:00am – 1:00pm.
Many vendors will also be selling their wares at the Marketplace, including food, fresh fruit and vegetables and handcrafted items.
Our infamous musician, Beto, is standing by to entertain as you shop, donating his time to please you.
Safety protocol will be in place, with masks required, temperature check, and social distancing. Hand sanitizer will be available.
All vendors are welcome (artisans, cooks, crafters … no tianguis). Vendors should call to reserve a space at 622-126-2112 or 303-246-0275.
Thank you for supporting Rescate de San Carlos.