San Carlos Fishing Report with yearly guide, weekly fishing reports and fishing tournament information. San Carlos Mexico has great fishing in the Sea of Cortez. Sports fishing has been popular here for decades with the waters full of big game fish like marlin (3 types: blue, black and striped), sailfish, tuna, and dorado.
What you can hope to catch changes from month to month. Here's a general break down (see more details in the week-by-week San Carlos fishing reports below):
You can find grouper, cabrilla and sierra all year.
Bonita: May to December.
Dorado: May until mid October
Marlin & Sail fish: June through October.
Skipjack: June
Yellowtail: October through May.
Some of the good local fishing spots: the Island, San Antonio, Seamount (just outside the entrance to Marina San Carlos), Haystack, San Pedro Point, Doble, Deer Island, the Reef, the Horseshoe. Up the coast at Pando, White Rock, Ensenada. Long boat ride out to Tortuga Island. Lake Oviáchic near Obregon is popular for bass fishing. There's a map on the bottom of this page.
Click for information on 2020 San Carlos Fishing Tournaments and information on San Carlos' two Marinas. The tournament pages also have results from past tournaments.
Wondering where to buy your Fishing Licence?
Before you head out, check the weather and tide chart. Check out the bottom graphs on Tablasdemareas.com for Guaymas to see when they predict the bite times.
San Carlos Fishing Reports: by Bryan Replogle, Team Margarita Sportfishing, repsilon@aol.com. You can also find the weekly San Carlos fishing report in the newsletter every week. Some photos by PQ Almada.
scroll down for the weekly San Carlos fishing reports
Fishing in San Carlos Video
November Fishing Report
Water temps drop into 70s. Occasional storm early in the month.
Marlin, Sail (300 pound Blue on the reef). Yellowtail, Skipjack, Sierra, bonita (the 15′ purple Rapala seems to be their favorite), some pargo, Roosterfish and Corvina, Snapper, cabrilla. Some dorado, but most have moved well offshore. Tons of bait in close.
Whales, dolphin and leaping rays spotting.
It seems to be a pretty consistent pattern. Get up early, catch a lot of fish, and then spend hours cleaning them.
November 21, 2023 San Carlos Fishing Report
The yellowtail are feeding good within the first mile of shore. Fifteen to twenty pound fish were biting good at times. They were a little tough on Tuesday though, gorging on schools of the real thing. The bonita were willing to take their place in the cooler. There's not many of the big ones around, although they are still decent sized. The bite should stay strong for this harvest moon.
The warm water is about 30 miles to the S/SW, but I haven't heard of anyone making the run. A few Dorado were found in close last week. The shoreline action has cooled off, but the bait is moving around. A few Sierra were in the mix. The bite at the Island is good for those going the distance. Boils have been early, so don't sleep in!
October Fishing Report
Water temps in the high 80's at the beginning of the month, then dropping to low 80s. Weather cool to hot throughout the days, with some showers possible. Winds from the Northwest pickup by the end of the month.
Fishing for Bonita, grouper, snapper, cabrilla, sierra, corvina, Skipjack. Yellowtail season starting inshore. Last month for good Marlin, Sail fish & Dorado.
Wildlife spotting: dolphins. Maybe Orcas, mantas, turtle
San Carlos Fishing Report, Oct 25 2023
Fall is definitely breathing down our necks. There are going to be some days that you might want to stay home. The forecast for the week looks good though, so enjoy it while it lasts. Water temps are still in the low 80's with lots of blue water out there.
I still didn't hear of much on the billfish front, but plenty of dorado were still around. One 250 pound Blue did get boated. A 51 pound dorado was caught, which is the biggest in the Fall that I have ever heard of. There are some good fish out there, and it sounds like they are schooled up. The bonita took a quick hiatus, but they will be back. Temps will have to drop before we see any yellowtail inside of the Reef.
The shorelines are quickly filling up with bait. Smaller predators were attacking the tiny anchovies, and the rest of the food chain will be right behind. I did get a few corvina, my first since May. Pictures of snow up north are starting to show, so enjoy the late season pelagics while you can.
San Carlos Fishing Report, Oct 10 2023
The dorado fishing is slowly picking up. Every day seemed to have a different bite. I have never before seen them gorging on baby triggerfish. They have them balled up by the hundreds and were stuffed full. Most of them wouldn't hit a lure or even bait. They were finding safety in numbers, with some large schools forming and many 10 – 20 pound bulls.
The billfish proved to be pretty non-existent all week. One 300 pound Blue Marlin was caught and released. I never saw one of the small Sailfish out there, but a few were caught. There was no sign of tuna, except for skipjack. I didn't hear of much else caught.
It's still a touch warm, but the seas were nice. We saw a couple of Fin Whales, but not many dolphin. A few sharks did pass by.
Life is beginning to return to San Carlos.
HammerDown Tournament, every October
2023: 1st Place – Cowboy. 2nd Place – Predator. 3rd Place – Telamon
2022: 1st place – Scorpio; 2nd place – Baby Girl; 3rd place – Telamon
2021: October 8 – 10. 11 boats competed. 1st place boat: Rebel. Top angler, Gerardo Fausto Grajeda. 2nd place boat: Scorpio. Top angler, Ken Diaz. 3rd place boat: Baby Girl. Top angler, Jeff Golden
2020: cancelled
2019: Relax took first place with five releases. Only one Dorado made weight, by four ounces, at 12.4 pounds.
2018: Seven billfish were caught by 54 anglers on 16 boats. Baby Girl won with 5 billfish and 4 dorado
2017: 54 anglers on 20 boats caught 38 billfish. Reel Mistress won
2016: 20 fish were caught. There were no weigh-able dorado and no tuna or wahoo caught. On day 1, 6 Sail and 5 marlin were caught, and on day 2, 3 sail, 5 marlin and 2 blue marlin. Telamon came in first and qualified for the World Offshore Invitational Tournament in Costa Rica.
Bisbee's Black & Blue Tournament, every October in Cabo on the Baja. Boats from San Carlos / Guaymas often compete. In 2019 San Carlos' team Predator caught a 377 pound Blue to win the daily and most of the jackpots for $450K. Tranquillo landed a 577 pound marlin to win $2.5M in the Black and Blue.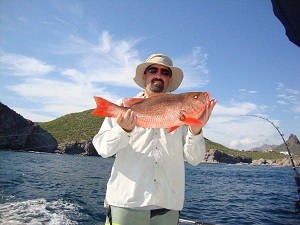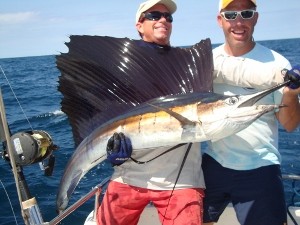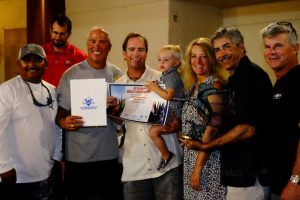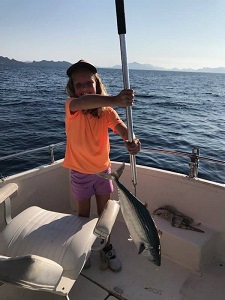 September Fishing Report
Water temps in the mid to high 80s and up to 90 degrees on the surface. Summer SE trade-winds.
Fishing for Dorado, Bonita, Marlin & Sail fish, skipjack, grouper, cabrilla and sierra. Maybe some yellowtail down deep by the end of the month.
Wildlife spotting: bottlenose dolphin, Orcas, rays
August Fishing Report
Dorado. Small ones are within a mile, right up to the harbor entrance, and up and down the coast. Small lures work best. Bigger dorado are further out.
150 pound marlin come in on a 3″ lure inside the Bay.
Skipjack and Sierra. Some bonita and yellowtail. Red snapper down deep.
Weather: hot and humid, possible rain or storm
July Fishing Report
It's hot out! There are some pleasant days on the water though. Water temps in the 80s. The fish are biting, but you need to be in the right areas.
Beginning of July: Lots of small dorado within the first mile weighing up to 12 pounds. Starting to see Sailfish scattered in close and around the Reef – a couple caught a mile out. Occasional Wahoo.
Mid July: 20 – 30 pounds Dorados. 70 pound wahoo. Yellowtail. Big grouper. Occasional Roosterfish. Marlin in close and around the Reef. A few skipjack and Sierra are around. Corvina. Good action beyond the Reef. Water temps to mid 80s.
Wildlife spotting: Hundreds of Risso Dolphin and Bottlenose Dolphin, a few whale sightings, Turtles, Manta Rays.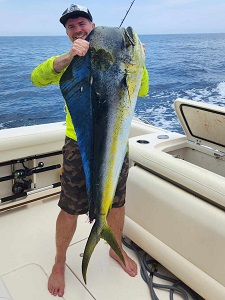 International Billfish Tournament Results: Click for detailed results and photos from the annual International Billfish Tournaments.
2023: July 15. 11 boats and 28 anglers competed this year. Tyler Williamson: Biggest Dorado. Edgar Amador: Best Captain. First Place Overall: Fantasma; 2nd Place Overall: Mist & Smoke; and 3rd Place Overall: Catch 22.
2022: August 5 – 7
2020 & 2021: cancelled
2019:  32 boats and 101 anglers. A boat had released 14 marlin a little farther out on Friday. Several of them were Blue Marlin, and they saw one big enough for us to win the grand prize of a new truck. We picked up a few marlin that day, but the hot bite was found mid-afternoon farther out. We passed a few on the surface Sunday, catching the first fish of the day, but we only released two more that day. We were getting closer to a hot area the previous day at 35 miles, but the bite exploded 5 miles inside of us. We did hook one there that upon the initial jump looked big enough for the truck, but it was probably only 175 pounds.
2018: 26 boats competed in the 71st International Billfish Tournament. The grand prize was for a truck with a 200+ pound marlin. We had the big gear and 16 – 20″ lures out. We ran a lot of skirted ballyhoo too, which got the bites. Telamon won with about four marlin and a sail release.
2017: 70th Anniversary of Ernesto Zaragoza International Billfish Tournament. back & white photo below is from the 3rd International Billfish Tournament in 1950

2016: The 69th International Billfish Tournament saw 9 boats releasing 24 billfish. No dorado were weighed. Kryptonite took the tournament, but Eleanor on Predator won top angler with six releases for the first woman ever to be top angler!
2015: Thirteen boats and 38 anglers came out for the 68th International Billfish Tournament. 21.4 Dorado. 72 pound sailfish. 33 sails and 6 marlin were released.
June Fishing Report
Weather and water temps heating up. By late June, water temps are in mid 80s. Seaweed / sargasum starts to clear out.
Fishing for Marlin, Sailfish, dorado, bonita, skipjack, cabrilla and sierra. Bottomfishing for red snapper and grouper.
Wildlife spotting: Turtles coming in, with a few of their favorite jelly fish to eat. Bottlenose Dolphin, Spinner Dolphin, Thresher Sharks, Fin Whales, mantas. If you're luck, a Humpback whale, sperm whale or Hammerhead shark.
San Carlos Fishing Report, June 13, 2023
Still a lot of great weather and catching. More billfish are biting. We released a couple marlin and a sail Tuesday. There were some good dorado caught last week, but I haven't heard of any big ones caught in the last few days.
A big pod of the Orcas were seen. Lots of dolphin and turtles out there. Plenty of good sized African Tuna. We did catch one big bonita Tuesday. I see the pangas trying for yellowtail. Water temps are still below 80, but maybe not for long!
San Carlos Fishing Report, June 6, 2023
It's looking like a big dorado year! There are also tons of small dorado, and many are getting to be near keepable size. We landed a 20, 25, 29, and 42 pounders this last week. A dozen were weighed in the tournament from 30 – 39 pounds. There's lots of bait out there, so they are growing.
The billfish are still finicky, but they are out there too. It sounded like they were down by Haystack on Tuesday. Spots are changing daily.
There's lots of great weather and the water is staying around 78 F. A little seaweed is showing. The currents are running after the full moon, so we'll see what shows up!
The Rescate Yacht Club Fishing Tournament every June:
2023:

42 anglers competed on 17 boats from June 2 to 4. First place was the crew of the "Baby Girl", second place was the "Relax" crew and rounding out the top three was the crew of the "Telemon".

2022: June 3 – 6. Tournament info. 66 anglers (4 of them juniors) on 19 boats competed in this year's Yacht Club / Rescate Fishing Tournament. 12 billfish were reported and 15 dorado brought to the weighing station.
2020 & 2021: cancelled
2019
2018: 20 boats found a consistent bite of a billfish and a few dorado. Maybe a third of the boats released a billfish, with a handful of dorado topping the weigh-able 12 pounds mark. The winning fish was 24.8 ounds. A couple boats released two billfish. Baby Girl managed to find the hot spots and clearly won with five releases for their first major win.
2017: 73 anglers on 21 boats competed in the 2017 San Carlos Yacht Club Rescate Fishing Tournament. 178 billfish were released. Reel Mistress won with 25 releases, and Kryptonite and El Patron came in 2nd with 23 releases.
MarinaTerra Dorado Derby Fishing Tournament, every June
2023: June 16 & 17
2022: results for this year's Dorado Derby: 1st place – Luis Ross; 2nd place – Jesús Roberto Ochoa; 3rd place – Jose Rafael González; 4th place – Armando Pesqueira
2020 & 2021: cancelled
2019: El Zancudo took first and forth with a 24 pound bull leading the pack.
2018: Over 40 boats entered into the Dorado Derby this last weekend. The winds were up and by twelve miles we were watching peaks and walls of water all over. Rodrigo Luviano Silva  brought in an 11.6 pound dorado to win the tournament. Check out this video of the Dorado Derby by Rada SC.
2017: over thirty boats. 1st place. Heriberto Velazquez, on El Fantasma: 11.4 kg. 2nd place. Fernando Escalante, on La Revancha: 10.7 kg. 3rd place. Jose C. Ojeda, on Mirage: 10.3 kg. 4th place. Mario Puebla, on El Fantasma: 9.3 kg. 5th place. Arvidson Joshoa, on Chasen Tail: 7.6 kg.
2015: 13 boats compete in good weather conditions. Grey Goose released two the first day for the win and the invitation to the World Offshore Championships. Second place went to Predator with a sail release and one 12.2 pound tuna.
Wounded Warrior's fishing event, every June
May Fishing Report
Cool, dry weather. Water temps in mid 70s, getting to high 70s by the end of the month. Early May green water starts to turn blue and clear by the end of the month. The sargasso can be a nuisance at times.
Fishing for Bonita, Dorado, grouper, cabrilla, sierra, Barracuda and some yellowtail. Bottomfishing for snapper. Near the end of the month, skipjack, some billfish offshore and smaller dorado are further out with bigger ones on the way. By the end of May, the yellowtail fishing is usually done.
Good amount of all the bait – anchovies, ballyhoo, flying fish, crabs, and squid.
Wildlife spotting: Thresher Sharks jumping. Fin whales, mantas and maybe Orcas.
Ladies International Fishing Tournament, every May
2023: May 26, 27 and 28. 1st Place Boat: The Buffalo. 2nd Place Boat: Rebel. 3rd Place Boat: Baby Girl. 1st Place Angler: Holly Moran. 2nd Place Angler: Susan Sarnoski. 3rd Place Angler: Heather. Tournament info.
2022:

May 27, 28, and 29. 57 anglers competed on 20 boats. Relax won and Tawni King brought in the biggest dorado at 42 pounds.

2021 & 2021: cancelled
2019: Eleven boats entered and only Kryptonite was able to release two marlin. They went the distance to find them! Another boat nearby did find some better Dorado. The wind was up the second day, and only a few boats went out.
2018: Unfortunately, the official LIFT tournament was cancelled due to bad weather. But that didn't stop the women from fishing the following week in an impromptu tournament in calmer waters
2017: 18 boats and 35 anglers. There were 5 billfish released. Vi West with Captain Mike on Catch-a-Lotta took first with the first release. A 7.4 pound dorado was the largest weighed.
2016: 18 boats with 35 anglers caught 25 billfish (marlin & sailfish). Congrats Judy on Kryptonite with eight releases for the win.
April Fishing Report
Water temps in high 60s to low 70s at begging of month and get into the mid 70s by the end of the month. North winds can blow.
Fishing for yellowtail, grouper, cabrilla, sierra, corvina. The Island is the consistent producer for big yellowtail in the Spring. Bottomfishing for Sea Bass, snapper, calicos. Could start to see the marlin. Inshore action picks up.
Bait: ballyhoo
Wildlife spotting: Dolphin, Fin Whale, humpback, hammerheads, turtles, maybe whale shark and Orcas.
Offshore World Championship, Every April
2023: Team Scorpio won 1 st place at the San Carlos Hammerdown Fishing Tournament in October 2022, qualifying them to compete in the 2023 Offshore World Championship, in Quepos Costa Rica.
2021: Congratulations to the San Carlos Hammerdown team who fished in the Offshore World Championship in Costa Rica last week and came in 3rd. This is the largest and most prestigious sportfishing tournament series in the world. They qualified for the tournament by winning the 2019 San Carlos Hammer Down Tournament. The team included Pete Finocchiaro, Alex Hammer and Frank Kastl with Captain Gilberto Lachica. For Top Angler, Lachica came in second and Kastl fourth place. Read the results here.
2016: The crew from Grey Goose, the winners of the 2015 Labor Day Tournament, represented San Carlos in the 2016 World Offshore Championship in Costa Rica. They released 22 sails — good for 22nd place of 66 teams.
March Fishing Report
By mid March the water is getting into the mid-60's.
Fishing for Yellowtail, Red snapper, grouper, cabrilla, sierra, barracuda. Some marlin could come through. Best fishing is often at the Island.
Lots of bait. Seaweed can make trolling difficult.
Wildlife spotting: Large pod of Bottlenose. Maybe Mako shark, turtle, Fin Whale, Orcas, rays
March 15, 2023 fishing Report: The winds look to be calming down, the water is warming up, and life is returning. Cold water is still present in close, but it is warmer offshore. There's still no reports of yellowtail, although some were seen briefly a few miles out. There's not a lot of bait, but the bottomfishing has been good. I've caught three fish on separate hooks before, but today we caught three calicos all 2.5 – 3 pounds on one jig. We have been getting a lot to 6 pounds and lost one big grouper. We'll keep at it until the yellowtail return. The life I was seeing was mostly invertebrate jellyfish, sea worms, and other 'snot', but you have to start somewhere. Things are going to warm up with the sun as warm as it's been!
March 1, 2023 fishing Report: There's still no sign of the yellowtail, but we are eating fish again! A lot of boats are picking up grouper. It helps when you're bottomfishing, of course. The whitefish/tilefish a.k.a salmón I heard were biting deep. We found some of the best calico Golden Spotted Sea Bass fishing that I have ever seen. They were loving the jigs. Some were going 5 pounds. We did find two small yellowtail in close. The water is a degree or two warmer, so hang in there. Spring is coming.
February Fishing Report
Water in the low 60s.
Fishing for Yellowtail, calico, grouper, cabrilla and sierra. Bonita earlier in the month.
Wildlife spotting: dolphin. Maybe Whale Shark, Humpback, Fin Whales, Grey Whales, turtle
Yellowtail Tournament, every February or March
2020 & 2021: cancelled
2019: 13th Annual Yellowtail Fishing Tournament. Many braved the high seas and went over to the Island. Most boats caught 2 to 4 yellowtail, although Team Catch-a-lotta weighed 9 yellowtail weighing 150 pounds, and the big fish of the day at 21.5 pounds. Their luck wore off for Sunday, losing the one fish that they needed to win. Team Fins Up weighed six good fish, and the big fish of 22 pounds for a second consecutive win. A few teams caught a number of smaller fish up the coast, and jigging off Lalo's.
2018: Thirteen boats fished the worst tournament ever. The weather was at least good on Saturday, where Fins Up won the tournament with six fish, and the biggest at 26.2 pounds. Only four other fish were caught that day, and seven on Sunday. Fins Up caught two other fish for a total of 151 pounds. The next biggest fish were 22.2 and 20 pounds. I think everyone still managed to have fun though.
2017: 11th Annual Yellowtail Tournament. We had 14 boats and 49 anglers. Catch-a-Lotta took Day One with ten of their largest fish weighing 158 pounds, and the biggest of the day at 19.77 pounds. Day Two saw Zancudo weigh in at 132 pounds to take third being Telamon. Catch-a-Lotta held on to win with 220 pounds. Play Time weighed in the big fish of the tournament at 22.86 pounds. Day One saw rough conditions, but Day Two saw most every boat at San Pedro for some decent catching.
2016: 12 boats and 47 anglers. Day One saw very slow fishing after great reports the previous day. All the good reports had been coming from up the coast. That day though the fish came up at San Antonio where a few fish were caught. Many boats tried the Island where there was tons of bait and hopefully the big one for the jackpot. The Saturday jackpot though was won up the coast with a 14.1 pound fish. The total for the day was also taken late up the coast by Warpath. The bite was found up there again, with the best action 25 miles away at White Rock. The fish were chasing bait on the surface and several boats loaded up with limits of nice fish on poppers and jigs. In the end, Warpath took the day again, and the tournament with 185 pounds for their 15 fish. One other nice check though went to Rod Tuggers for their 19.1 pound yellowtail. I think everyone had fun in the nice weather.
January Fishing Report
Water in the mid to low 60s.
Fishing for Yellowtail, bonita, calico, grouper, barracuda, cabrilla and sierra. Yellowtail season is in full swing. You might find some marlin.
Wildlife spotting: Bottlenose Dolphin, Mobula Rays. Maybe Orcas, Fin Whales, Humpbacks.
December Fishing Report
By late December, the water starts to dip below 70 degrees.
Yellowtail season with some big yellowtail starting to show.  Tuna (a 100 pound tuna). Skipjack.
Some Sierra, Bonita, snapper, cabrilla and Marlin (a 220 pound Blue Marlin) at the beginning of the month, but the season is pretty much over for them.
Dolphin spotting and maybe the orcas.
Book Your San Carlos or Guaymas Vacation Rental (with Booking.com)
Map of San Carlos Fishing