Did you know that Guaymas has a soccer team? Cimarrones Guaymas play in the Premier League of the Second Division of Mexico.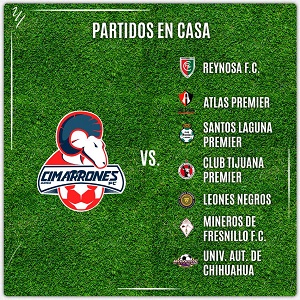 You can watch this season's first home game on Saturday, August 13 at 6:00pm at Estadio Julio Alfonso Alfonso. The team will play Reynosa Fútbol Club, from Reynosa, Tamaulipas.
Tickets only cost 30 pesos (for side seats) or 50 pesos (for central seats).
For more games and information, follow Cimarrones Guaymas on Facebook.
Cimarrones Guaymas Home game schedule:
September 3 vs Atlas Premier, 6pm
September 17 vs Santos Lagun, 6pm
October 1 vs Club Tijuana, 6pm
October 15 vs Leones Negros, 6pm
October 29 vs Mineros de Fresnillo, 6pm
November 12 vs Univ Aut de Chihuahua, 6pm