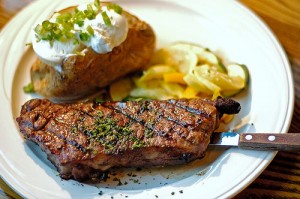 On Saturday, January 18 Club Deportivo invites the community to enjoy an entertaining evening with a delectable filet mignon dinner.
For dinner, dine on filet mignon, baked potato, sour cream, garlic bread and a super salad and dessert.
The bar opens at 4:30pm and dinner is served at 5:30pm.
Please bring your own table service.
The cost is 350 pesos. There are only 200 tickets. You can reserve a table for 10 by calling Marilyn at 226-1141 .
When you buy a Club Deportivo dinner ticket, you are helping to support most of the local charities, because Club Deportivo donates to many of them.
Tickets are available at CiBanco, Tecali and Loma Del Mar.