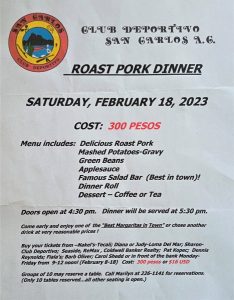 The community is invited to Club Deportivo's Roast Pork Dinner on Saturday, February 18, 2023.
Enjoy Roast Pork (as only we do it), mashed potatoes, gravy, green beans, applesauce, dinner roll, super salad bar, and dessert for 300 pesos.
Doors open at 4:30pm and dinner is served around 5:30pm. Come early and enjoy our delicious margaritas and other reasonably priced drinks.
Tickets are being sold at CIBanco and at Club Deportivo, Seaside Realty, Re/Max Realty and Coldwell Banker.
Groups of 10 can reserve a table by calling Marilyn at 622-226-1141.
Join Club Deportivo for this delicious dinner. When you buy a Club Deportivo dinner ticket, you are helping to support most of the local charities, because Club Deportivo donates to many of them.
Famous 15 foot salad bar