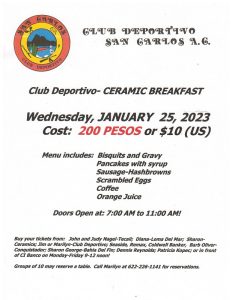 Club Deportivo's annual Ceramics Show & Sale and Breakfast is on Wednesday, January 25, 2023.
The breakfast costs only 200 pesos / $10 USD. From 7:00am – 11:00am, enjoy pancakes with your favorite toppings, sausage, biscuit & gravy, hash-browns, scrambled eggs, juice and coffee.
The Club Deportivo Ceramic's Club creates lovely and unique decorative pieces that will be on display for their annual Ceramic Sale, which is a fundraiser for community charities.
Browse the beautiful ceramics display and sale. Come see the latest that our talented members have been working on and buy pieces for your home and yard.
The Club Deportivo Ceramic's Club: Ceramics is open every Thursday morning from 9:00am to 1:00pm at the Club Deportivo building which is just past the golf course clubhouse on the left. We welcome all returning members and newcomers alike. Newcomers may visit 3 times before deciding to join the Club. Experienced helpers will guide you in the creation of your Ceramic pieces. We have all the tools, brushes, paints & greenware to sell you at great prices.
Cost of membership to Club Deportivo is $15 US or 200 pesos for one person for a season or $100 US for a Lifetime membership for a family. The membership enables you to attend any of the Club Deportivo activities. Club Deportivo is a not-for-profit organization administered by club volunteers. All income received benefits our community's charitable organizations.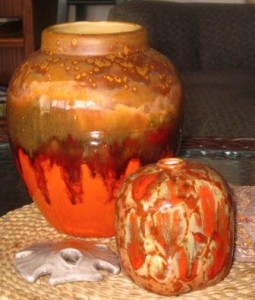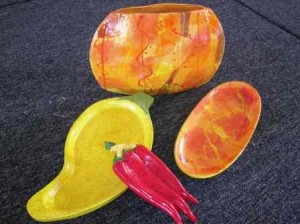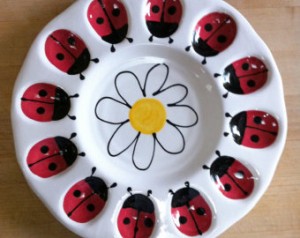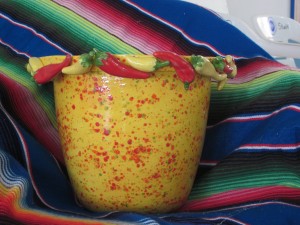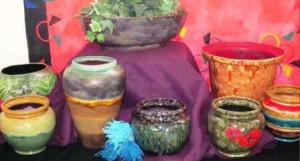 Keep Exploring … San Carlos Mexico:
Where to Stay. Check out the options on Booking.com: