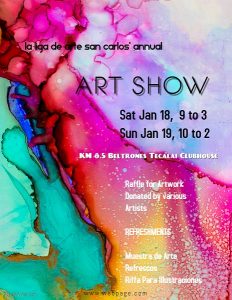 La Liga de Arte will hold its Annual Art Show in the Tecalai Club House on Saturday, January 18 from 9:00am to 3:00pm and Sunday, January 19 from 10:00am to 2:00pm.
There will also be a raffle of artwork donated by various artists. The raffle tickets will be on sale both days and the drawing will be on Sunday afternoon.
Come to this annual event and meet and support the local artists and join them for refreshments of punch, cookies and other snacks.