On his 14 albums, Mark sings about sunshine, sailboats, and sandy beaches in San Carlos Mexico. Enjoy trop rock, beach-front fun at La Palapa Griega where Mark sings weekly and for special events October through May (like Mother's Day in May, New Year's Eve, etc).
Catch Mark Tuesdays at La Palapa Griega, starting at 5pm.
Mark Mulligan San Carlos Concert schedule
Friday, October 29, 2021. Annual Welcome Back Party: on Friday, October 29, Mark Mulligan would like to welcome you back to San Carlos at 5:00pm at La Palapa Griega. Susan King will join Mark on steel pan.
Feast on La Palapa Griega's famous BBQ special and cold cervezas on the beach. La Palapa will be serving their popular All- You-Can-Eat BBQ chicken and ribs, served with Greek salad and baked potato, for 280 pesos. The regular menu will also be available.
Reserve your table at the restaurant or call 622-226-1888.
Don't miss the party!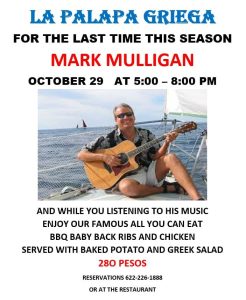 Mark's Annual Events:
Valentine's Day. On Tuesday, February 14, celebrate Valentine's Day at La Palapa Griega when Efrain Giaccoman of "The Twins" joins Mark Mulligan for this very special Valentines Day show. And you'll love the special menu too! Mark your calendars and stay tuned for info. The show starts at 5pm.
Mark Mulligan Inspirational Music, January 20, 2020: Yearly, Mark Mulligan does a Benefit Concert at the San Carlos Community Church (map). It will be a night of inspirational music with everything from Amazing Grace to George Strait. Everyone is invited. Admission is by donation. In lieu of cover, all donations at the door will be split between the church's local mission efforts and getting Mark's family back to Guatemala to work with Outreach For World Hope.. Get there early for a good seat. Come enjoy an inspirational evening with music by Mark Mulligan!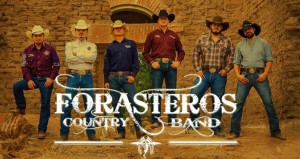 Five and a Half Mexican's Country Music Show: "Five and a Half Mexicans" (Mark Mulligan and the amazing Forasteros Country Band) are coming back to San Carlos! 5:00pm, Saturday, November 16, 2019 on the beach at La Palapa Griega. Tickets will be for sale at Seaside Realty for only 200 pesos.
So dust off those boots and get ready to dance not only to full band versions of Mark's songs, but also George Strait, Jimmy Buffet, Johnny Cash, and more. Mark will be backed by the amazing Forasteros Country Band, who will also throw in some FUN songs (just wait til you hear "The Devil Went Down to Georgia" in Spanish!).
Visiting artists joining Mark:
November 23, 2019. Thom Shepherd duo show. 5pm, La Palapa Griega.
December 7. Kelly McGuire joins Mark Mulligan at La Palapa Griega.
January 25. Mike Nash joins Mark Mulligan. 5pm, La Palapa Griega.
February 22. Brent Burns joins Mark Mulligan. 5pm, La Palapa Griega.
March 28. Sunny Jim joins Mark Mulligan. 5pm, La Palapa Griega.
October 17, 2020. Mark Mulligan & Mike Nash duo show. 5:00pm, La Palapa Griega. No cover, regular menu. Reserve your table at the restaurant or call 622-226-1888.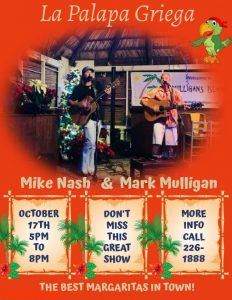 Mark Mulligan North of the Border
Needing your San Carlos fix?
Mark's summer "North of the Border Tour" continues, with guest artists like San Carlos' own Lorena Robles, Florida's Sunny Jim, Southern California's Rob Mehl, Texas singer-songwriter Kelly McGuire, and Arizona favorite David Sheehy.
Get details about these shows, plus fall shows in San Carlos, Alamos, Rocky Point, and more, at markmulligan.net.
Mark Mulligan Music Bio
Lupitas Taco Stand (2022. Order here)
Same Beer, Different Can (order CDs or download)
White Sand, Warm Sun and Salty H2O
Back To Laid Back Nominated for TWO TRMA Awards! "Too Much Wishing, Not Enough Fishing" and more!
Greetings From Mulligans Island "Sand Dollar Millionaire" "I Be Smilin' Today" "Cuando Calienta El Sol" and "That's Life"
South of the Border Again, songs includes "What a Ride", "Cortez Waters" "When Adela Smiled"
A Bar Down in Mexico. Mark's top seller includes "Third World Cantina", "It's About Time" "Saint Anywhere"
Journey Around the Sun, songs iincludes "Ain't Singin' No Blues", "I Want To Love You Like That", "Besame Baby", "Down in Paradise"
Life in a Beach Town, songs includes "Turn Around And Run", "A Fisherman's Daughter" "Even the Bad Days Are Good", "Home Again"
First World Refugee, songs includes "Pacifico Blue","Drinking Mexico Dry", "This Ain't Me"
Somewhere South of Somewhere: Best of the Early Years: 20 songs from Mark's "Son of the Sunshine", "Going Coastal", "The Things I Love", and "Mexico" CDs!
Mark Mulligan Nominated for two 2013 Trop Rock Music Association Awards
Congratulations to local musician, Mark Mulligan, who was nominated for two 2013 Trop Rock Music Association Awards. His album, "Back To Laid Back" was up for Album of the Year, and "Too Much Wishing, Not Enough Fishing" was nominated for Song of the Year. Listen to "Too Much Wishing, Not Enough Fishing" here.
Watch Mark performing "A Bar Down in Mexico"

Can't wait to see Mark again? Watch videos of him performing at Sonoran Sky and with the Parrot Mafia.
Mark Mulligan won "I Can" Award in 2012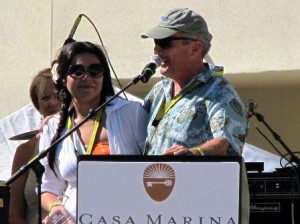 In 2012, the Trop Rock Music Association awarded its prestigious "I Can" award to Mark Mulligan, founder and past president of Castaway Kids. This award is given each year at the Association's annual awards show to the trop rock musician who gives the most back to his or her community.
For those of us who know Mark, we know that Castaway Kids is just a small part of what he does for our community. If Mark hears of a family struggling because of a medical or other emergency, he always seems to be able to find some money to help them, whether from that night's CD sales proceeds, or by using his microphone to tell the story and open the pockets of some of the members of his audience.
Congratulations Mark!! Thank you for all you've done and continue to do for your community and good luck on your new projects.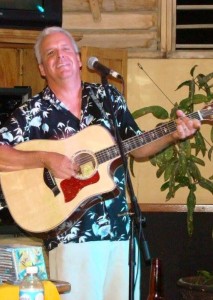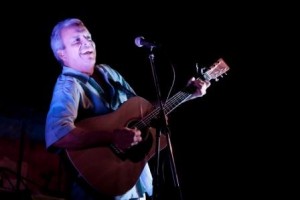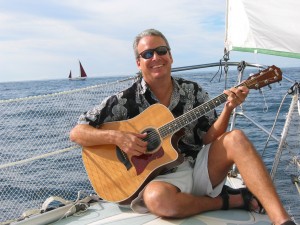 For more information on Mark Mulligan, visit his website.
Mark Mulligan and Six and a Half Mexicans, 2022
Keep Exploring … San Carlos Mexico:
Where to Stay. Check out the options on Booking.com: