Christmas Eve San Carlos Dinners & Parties 2019: delicious dinners, live music, dancing … lots of great options to celebrate Christmas
Sunset Bar & Grill Special 4 Course Meal, December 20 – 30
4 course meal:
1. Cactus and fresh cheese tostada;
2. Cream of corn with lemon aioli and Guajillo oil;
3. Wood oven roasted lamb served with green chili polenta, pickled asparagus and blue corn tortillas; and
4. Mexican fritter with plantain sabayon and pumpkin syrup.
$31 USD or 560 pesos.
For reservations, call 622-109-0003.
HammerHead's Dockside Bar & Grille Christmas Dinner, December 23 & 24

HammerHead's Dockside Bar & Grille on December 23 and 24 will have turkey dinners available for 290 pesos with all the trimmings (stuffing, steamed vegetables, mashed potatoes with gravy), and either a glass of beer or wine and pumpkin pie for dessert.
On December 23, the dinner will be available starting at 12:00pm and on the 24th it will end at 5:00pm when the restaurant will close for the night.
Christmas Eve Gala Dinner at Marinaterra, December 24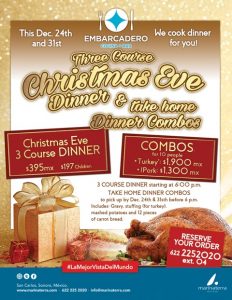 Embarcadero Cocina + Bar at Marinaterra will be serving a delicious 3 course Gala Christmas Eve dinner with a glass of red or white wine included for 395 pesos per person (197 pesos for children).
Starting at 6:00pm.
Reserve now by calling 622-225-2020 ex.04.
Let Embarcadero Cocina + Bar do the Cooking!
El Embarcadero at Marinaterra is cooking a delicious Christmas Dinner.
Meals are for 10 people. Choose from either Turkey or Pork, plus gravy, stuffing (for turkey meal), mashed potatoes and 12 pieces of carrot bread.
The cost for the Turkey combo is 1900 pesos and for the Pork combo it is 1300 pesos.
Order today at 622-225-2020, ext. 04, for pick-up on December 24th or 31st and enjoy a delicious meal at home.
Yacht Club Parade of Lights, December 24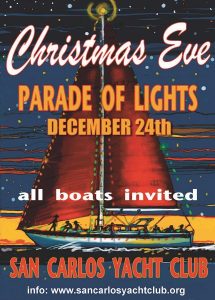 Once again, the San Carlos Yacht club is proud to host the Lighted Boat Parade.
An outstanding response from the marine community in San Carlos should provide for what will be an exciting parade. In addition, professional tour boats, for the first time, are invited to participate.
Starting at sunset, on December 24, the boats will assemble in the Bahia. They will follow a route that will take them past Isla San Nicholas to enter the Posada Beach bay. The first viewing point will be El Mar and La Palapa Griega restaurants where the boats are scheduled to make two passes by circling in the bay.
The boats will then parade towards Charly's Rock traveling in the channel of the shore side of Honeymoon Island. The boats will turn towards shore and pass along San Francisco beach. They will then look for the last bonfire on the beach before turning out to sea. All the boats will be making a large turn back towards Charly's Rock and again will travel along the beach. The fleet will then be turning out to sea at Charley's Rock for the return parade back to the Bahia.
Watch the Parade of Lights from beachfront restaurants, like La Palapa Griega, El Mar restaurant, Los Arbolitos, Turquesa or the beaches.
All boats are invited to "deck out" your vessels with holiday decorations and cruise in the Parade of Lights.
For more information and to register your boat, contact Kathy at [email protected]
On behalf of all the members of the San Carlos Yacht Club, we invite all of the community, outside guests, and visiting families, to join in this beloved annual event.
El Mar Restaurant Boat Parade Party, December 24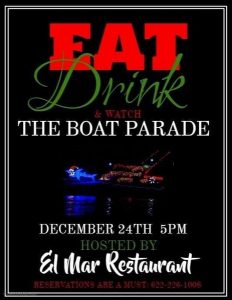 Join us at El Mar Restaurant on Christmas Eve for a special dinner and to watch the Annual Parade of Lights.
Call for reservations at 622-226-1008.
Christmas Eve at Blackie's, December 24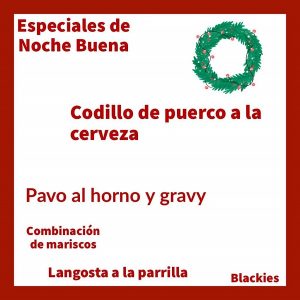 Blackie's Restaurant will be serving Christmas Eve specials, including turkey with gravy, lobster, pork and a seafood combos.
Come in and enjoy some delicious specials!
Annual Community Christmas Dinner, December 25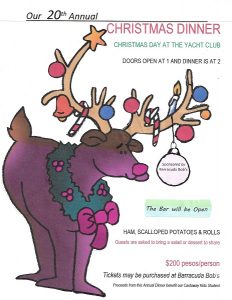 The Annual Community Christmas Dinner sponsored by Barracuda Bob's, will be held on Christmas Day, December 25, at the San Carlos Yacht Club.
Dinner will include ham, scalloped potatoes and dinner rolls. Guests are asked to bring a salad or dessert to share.
Doors open at 1:00pm and dinner is served at 2:00pm at the San Carlos Yacht Club.
Everyone is welcome.
Tickets cost 200 pesos and are available at Barracuda Bob's. There are rarely tickets still available at the door – so get your tickets early.
This dinner is a benefit for Castaway Kids.
Come and join your friends in rejoicing in this special holiday.
Christmas Day Cheer at Soggy Peso, December 25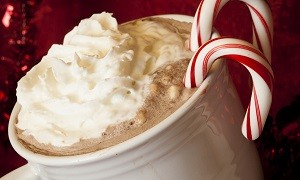 On Christmas Day, join us on the beach at the Soggy Peso between 12:00pm and 2:00pm and enjoy our traditional special drink – this year it's mint spiked hot chocolate; your first one will be on the house!
With a spiked warm drink in hand and your toes in the sand, you'll be sure to have a memorable moment on Christmas Day!
All the staff at Soggy Peso and Sunset Bar & Grill wish you & your loved ones a warm Holiday Season filled with joy and happiness.
Cheers!
La Bartina 64 Christmas Party, December 25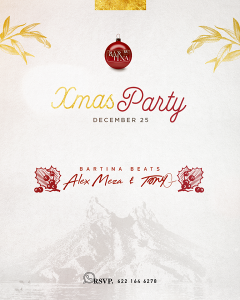 Tingle & Mingle on Bartina's rooftop on Christmas Day.
The Christmas party starts at 9:00pm.
Dance to the tunes of DJ Alex Meza & Tony Q.
For reservations, call or WhatsApp 622-164-6278.
Christmas Eve (Tuesday, December 24)
Shots will have Christmas Eve specials — they'll be listed at the restaurant on that day.
Christmas Day Service (Wednesday, December 25)
Please join Pastor Glenn and Jeannine Driedger for a Christmas Day Service at San Carlos Community Church at 9:00am (on the Ranchitos Road).
Closed Christmas Eve or Christmas Day (Tuesday, December 24 or Wednesday, December 25) 
Sunset Bar & Grill: closed Christmas Eve and Christmas Day. Sunset will have a special "Christmassy" menu between December 20 and 30.
Soggy Peso: will close at 6:00pm on Christmas Eve.
Hair of the Dog: will close at 8:00pm on Christmas Eve. No live music.
Shots Restaurant: open 11:00am – 9:00pm Christmas Eve, and closed Christmas Day.
Maria's Restaurant: will close at 3:00pm on Christmas Eve and closed Christmas Day.
HammerHead's Dockside Bar & Grille will close at 5:00pm on Christmas Eve, closed Christmas Day & closed 26th.
Delfines Bar and Grill: will close at 8:00pm on Christmas Eve and closed Christmas Day.
La Terraza Bar: closed Christmas Eve and Christmas Day.
Colibrí Restaurant & Bar: closed Christmas Eve and Christmas Day.
El Mar Restaurant: closed Christmas Day.
Blackie's Restaurant: closed Christmas Day.
Tortuga's will close on December 24 at 8.00pm and closed Christmas Day.
Athleticlub San Carlos: open 6:00am – 1:00pm December 24 and closed Christmas Day.
CIBanco: closed Christmas Day