Christmas Eve San Carlos Dinners 2021: delicious dinners & live music … lots of great options to celebrate Christmas
Let Embarcadero Cocina + Bar do the Cooking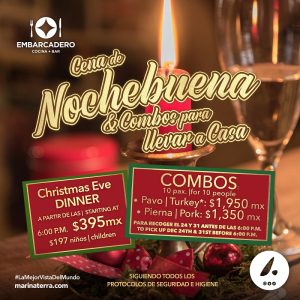 This Christmas season, let Embarcadero Cocina + Bar prepare dinner for you. Order your Christmas Eve and New Years Combos for pick up before 6:00pm on December 24 or 31.
Meals are for 10 people. Choose from either Turkey or Pork, plus gravy, stuffing (for turkey meal), mashed potatoes and 12 pieces of carrot bread.
The cost for the Turkey combo is 1950 pesos and for the Pork combo it is 1350 pesos.
Order today at 622-225-2020, ext. 04, for pick-up on December 24 or 31 and enjoy a delicious meal at home.
Christmas Eve Gala Dinner at Marinaterra, December 24
Embarcadero Cocina + Bar at Marinaterra will be serving a delicious 3 course Gala Christmas Eve dinner for 395 pesos per person (197 pesos for children).
Starting at 6:00pm.
Reserve now by calling 622-225-2020 ex.04.
Tortuga's Christmas Eve Dinner, December 24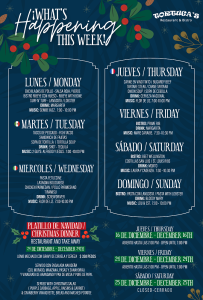 Celebrate Christmas at home or at the restaurant with a delicious Christmas meal made by Tortuga's.
Tortuga's is preparing a special Pork Loin with Plum and Cherry Gravy, with a side of Christmas Salad (purple cabbage, apple, raisins & carrot) a cranberry vinaigrette, bread and mashed potatoes for 350 pesos.
For take-away, please order in advance. Call 622-226-2051 to order yours.
Christmas Eve at La Palapa Griega, December 24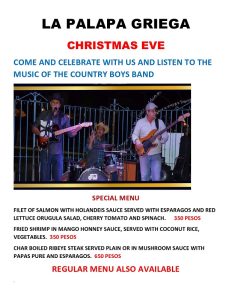 Celebrate Christmas eve beachfront at La Palapa Griega and enjoy the music of the Country Boys Band.
La Palapa Griega will be serving a special menu:
* Fillet of Salmon with Hollandaise sauce, served with asparagus and salad (red lettuce arugula, cherry tomato & spinach) for 350 pesos.
* Fried shrimp in mango honey sauce, served with coconut rice and vegetables for 350 pesos.
* Char broiled Ribeye Steak served plain or in mushroom sauce with purred papas and asparagus for 650 pesos.
The regular menu will also be available.
For reservations, drop by the restaurant, or call 622-226-1888.
Sunset Bar & Grill Special Christmas Dinner, December 24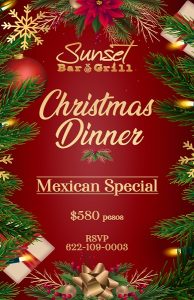 Sunset Bar & Grill will be serving a Special Mexican Christmas Dinner starting Friday, December 24.
The festive Mexican 3 course dinner will be:
1- Panela cheese, grilled, with a cilantro & Anaheim chile dressing, over black bean sauce
2- New York steak with Mole coloradito & epazote infused butter, served with sweet potatoes & goat cheese, and a warm arugula salad
3- Upside down pineapple cake, with a jamoncillo custard
Cost: 580 pesos per person
Happy & Safe Holidays – Warmth & Joy shared with your Family & Friends.
For reservations, call 622-109-0003.
Altamarea's Special Christmas Eve Dinner, December 24
Altamarea Restaurant at Marina Real will have a special Christmas Eve menu for you to enjoy.
Start with an appetizer or soup, then enjoy a pasta dish or main course of either fish fillet or sliced filet mignon steak, and end with an Italian dessert.
Click on the menu to see all the delicious options.
For reservations, call 622-113-3563 or 622-127-6163.
Hammerhead's Christmas Dinner, December 24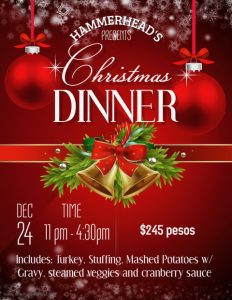 HammerHead's Dockside Bar & Grille on Christmas Eve will have a Turkey Dinner special available from 11:00am – 4:30pm for 245 pesos with all the trimmings (stuffing, steamed vegetables, mashed potatoes with gravy & cranberry sauce).
We close on the 24th at 5:00pm.
Restaurante Casa Manolo "Take Out" Holiday Menu
From the Chef's Kitchen to your Holiday Table! This holiday season, take a break from cooking and enjoy a delicious meal prepared by Restaurante Casa Manolo.
See the flyer for several fixed-price dinners options to feed your family and friends, including main course, sides, and dessert.
Or if you have a special request such as their popular Seafood Paella, contact Chef Jose to ask about availability and costs.
Pre-order your meal with a 50% deposit.
Call or WhatsApp Restaurante Casa Manolo at 622-170-4558 to place your order or for more information.
Posada Holiday Menu Options at Piccolo's Restaurant
Piccolo's Restaurant is ready to host your Christmas or New Year's Party.
With several special Menu Options available, it's the perfect spot to celebrate this holiday season with your family and friends.
Click on the flyer on left to see all the options.
Call Piccolo's at 622-226-0503 or 662-244-6417 for more information or to make your Posada party reservations.
Christmas Day Cheer at Soggy Peso, December 25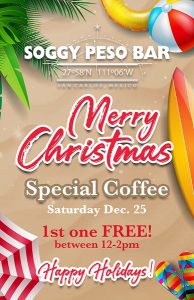 On Christmas Day, join us on the beach at the Soggy Peso between 12:00pm and 2:00pm and enjoy a special coffee; your first one will be on the house!
With a spiked warm drink in hand and your toes in the sand, you'll be sure to have a memorable moment on Christmas Day!
All the staff at Soggy Peso and Sunset Bar & Grill wish you & your loved ones a warm Holiday Season filled with joy and happiness.
Cheers!
Yacht Club Parade of Lights, December 26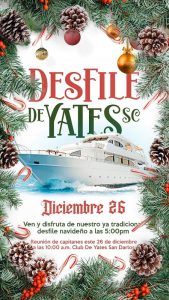 Once again, the San Carlos Yacht club is proud to host the Lighted Boat Parade.
An outstanding response from the marine community in San Carlos should provide for what will be an exciting parade. In addition, professional tour boats are invited to participate.
Starting at sunset, on December 26, the boats will assemble in the Bahia. They will follow a route that will take them past Isla San Nicholas to enter the Posada Beach bay. The first viewing point will be El Mar and La Palapa Griega restaurants where the boats are scheduled to make two passes by circling in the bay.
The boats will then parade towards Charly's Rock traveling in the channel of the shore side of Honeymoon Island. The boats will turn towards shore and pass along San Francisco beach. They will then look for the last bonfire on the beach before turning out to sea. All the boats will be making a large turn back towards Charly's Rock and again will travel along the beach. The fleet will then be turning out to sea at Charley's Rock for the return parade back to the Bahia.
All boats are invited to "deck out" your vessels with holiday decorations and cruise in the Parade of Lights.
For more information and to register your boat, contact Kathy at karodge@earthlink.net.
On behalf of all the members of the San Carlos Yacht Club, we invite all of the community, outside guests, and visiting families, to join in this beloved annual event.
La Palapa Griega Lighted Boat Parade, December 26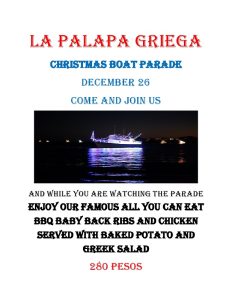 Watch the Boat Parade of Lights beachfront at La Palapa Griega.
Enjoy La Palapa Griega's famous All-you-can-eat BBQ baby back ribs and BBQ chicken served with Greek salad and baked potato for 280 pesos.
The regular menu will also be available.
Reservations are recommended by calling 622-226-1888, or stop by the restaurant.
El Mar Restaurant Boat Parade Party, December 26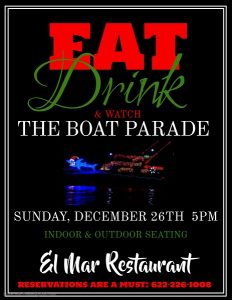 Join us at El Mar Restaurant for a special dinner and to watch the Annual Parade of Lights on Sunday, December 26 starting at 5:00pm.
Seating is limited, so please call for reservations at 622-226-1008.
Christmas Service (Friday, December 24)
San Carlos Community Church will have Christmas Day Service on Friday, December 24, starting at 9:00am.
Changed Hours / Closed Christmas Eve or Christmas Day
(Friday, December 24 or Saturday, December 25)
La Palapa Griega: closed Christmas Day.
Altamarea: closed Christmas Day
Los Arbolitos de Cajeme: closed Christmas Day
Colibrí: closed Christmas Eve and Christmas Day
Tortuga's Restaurant will close at 7:00pm on Christmas Eve and be closed on Christmas Day.
Marvida Taproom & Kitchen: closed Christmas Eve; open from 4:00pm – midnight on Christmas Day.
HammerHead's Dockside Bar & Grille: closed at 5:00pm on December 24. Closed December 25 – 28.
CIBanco: open from 9:00am – 2:00pm on Friday, December 24.
Altered Tails Book Shoppe: closed Christmas Day.