Christmas Eve San Carlos Dinners & Parties 2018: delicious dinners, live music, dancing … lots of great options to celebrate Christmas
HammerHead's Dockside Bar & Grille Christmas Dinner, December 23 & 24
HammerHead's Dockside Bar & Grille on the 23rd and 24th of December will have turkey dinners available for 290 pesos with all the trimmings (stuffing, steamed vegetables, mashed potatoes with gravy), and either a glass of beer or wine and pumpkin pie for dessert.
On December 23, the dinner will be available starting at 12:00pm and on the 24th it will end at 5:00pm when the restaurant will close for the night.
---
Yacht Club Parade of Lights, December 24
On Monday, December 24, the San Carlos Yacht Club will be hosting the 35th Annual Christmas Eve Lighted Boat Parade.
The boats travel by beachfront restaurants such as La Palapa Griega, El Mar, Los Arbolitos de Cajeme, and Turquesa.
The parade will start before dusk with the line up in the Bahia. The lead boat will then take the parade around Indian Head and out to sea to loop back into the bay adjacent to El Mar and La Palapa Griega. A large loop will be executed there followed by further travel in the channel landward of Honeymoon Island to again loop in the area of Charly's Rock. The return route will depend on seas and other conditions determined by the lead boat and pilot in charge. Eventually the boats will return to Marina San Carlos and dock for the night.
All boats are invited to "deck out" your vessels with holiday decorations and cruise in the Parade of Lights.
Registration is now open for all boats to participate. Register here to enter your boat — the community thanks you!
---
La Palapa Griega Lighted Boat Parade Party, December 24
Celebrate Christmas Eve and watch the Boat Parade of Lights beachfront at La Palapa Griega.
Vote for your favorite boat while you enjoy La Palapa Griega's famous All-you-can-eat BBQ baby back ribs served with Greek salad and baked potato for 280 pesos.
Several other items off the menu will also be available, like shrimp tequila, lamb shank or ribeye.
Reservations are recommended by calling 622-227-3751 or 226-1888, or stop by the restaurant.
---
El Mar Restaurant Boat Parade Party, December 24
Join us at El Mar Restaurant on Christmas Eve for a special dinner and to watch the Annual Parade of Lights.
Call for reservations at 622-226-1008.
---
Christmas Eve Dinner Buffet at Los Arbolitos, December 24
On Christmas Eve, enjoy a delicious dinner buffet at Los Arbolitos de Cajeme.
What a perfect spot to watch the Lighted Boat Parade while enjoying a variety of all-you-can-eat buffet dishes including marlin quesadillas, sailor's rice, salad, Spaghetti Bolognese, Fettuccine Alfredo with chicken, breaded shrimp, fish filet, and dessert.
You'll also enjoy all-you-can-drink Margaritas, red or white wine, and yellow shots.
The dinner and drinks buffet is available from 5:00pm – 8:00pm (prior to 5:00pm, the regular menu is available).
Tickets are $25 USD or 500 pesos, and can be purchased from the restaurant.
Call today for your reservation at 622-226-0076.
---
Christmas Eve Dinner at Sunset Bar & Grill, December 24
Sunset Bar & Grill will be serving a delectable Pre-Hispanic Mexico, 4 course Holiday meal:
1. Cream of corn soup served with grilled corn, smoked guajillo infused olive oil and epazote foam.
2. Chard, watercress and fresh cheese tamale, steam cooked in banana leaves and served on a black bean sauce.
3. Shredded turkey confit over a coloradito mole and a creamy radish purée.
4. Champurrado: a corn based hot drink served with a home made Sonoran coyota with jamoncillo filling.
Cost: $25 USD or 450 pesos.
Make your reservation today by calling 622-109-0003.
Merry Christmas and Happy Holidays!
---
Christmas Eve Dinner and Boat Parade at Turquesa Restaurant, December 24
On Christmas Eve, we want you to enjoy the traditional San Carlos Boat Parade with the very best views from our terrace at Turquesa Restaurant!
From 5:30pm – 7:30pm, we are offering two special dishes for Christmas Eve only!
1. Rib-eye, salad, and a glass of wine (red or white): $399 pesos
2. Lasagna, salad and a glass of wine (red or white): $280 pesos
Make your reservation by calling us at 622-103-0416 or come into the restaurant.
---
Christmas Eve Dinner at La Conquista Cocina Mar y Tierra, December 24
For Christmas Eve, La Conquista Cocina Mar y Tierra is offering a variety of 3-course meals to celebrate the holidays!
1. Chicken Breast – $270 pesos
2. Creamy Shrimps – $295 pesos
3. Marinated Flank Steak (Arrachera) – $345 pesos
4. Rib Eye – $345 pesos
Each meal comes with a starter of either soup or salad, sides such as rice or vegetables, and a house dessert.
No corkage fee if you bring your own wine.
For your reservation, call 622-132-2643 today.
---
Christmas Eve Gala Dinner at Marinaterra, December 24
Embarcadero Cocina + Bar at Marinaterra will be serving a delicious 3 course Gala Christmas Eve dinner with a glass of red or white wine included for 395 pesos per person.
Starting at 6:00pm.
Reserve now by calling 225-2020 ex.04.
Let Embarcadero Cocina + Bar do the Cooking!
El Embarcadero at Marinaterra is cooking a delicious Christmas Dinner.
Meals are for 10 people. Choose from either Turkey or Pork, plus gravy, stuffing (for turkey meal), mashed potatoes and 12 pieces of carrot bread.
The cost for the turkey combo is 1820 pesos and for pork it's 1250 pesos.
Order today at (622) 225-2020, ext. 04, for pick-up on the 24th or 31st and enjoy a delicious meal at home.
---
Froggy's Bar Dance Party, December 24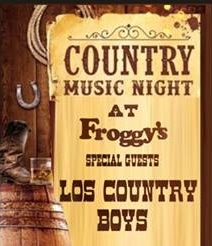 Froggy's dance party with Los Country Boys from 6pm – 9pm.
---
Annual Community Christmas Dinner, December 25
The Annual Community Christmas Dinner sponsored by Barracuda Bob's will be held on Christmas Day at the San Carlos Yacht Club.
Dinner will include ham, scalloped potatoes and dinner rolls. Guests are asked to bring a salad or dessert to share.
Doors open at 1:00pm and dinner is served at 2:00pm.
Everyone is welcome.
Tickets cost 200 pesos and are available at Barracuda Bob's. There are rarely tickets still available at the door – so get your tickets early.
This dinner is a benefit for Castaway Kids.
Come and join your friends in rejoicing in this special holiday.
---
Christmas Day Cheer at Soggy Peso, December 25
On Christmas Day, join us on the beach at the Soggy Peso between 12:00pm and 2:00pm and enjoy our traditional Special Coffee; your first one will be on the house!
With a spiked coffee in hand and your toes in the sand, you'll be sure to have a memorable moment on Christmas Day!
All the staff at Soggy Peso and Sunset Bar & Grill wish you & your loved ones a warm Holiday Season filled with joy and happiness.
Cheers!
---
Christmas Day Service (Tuesday, December 25)
Looking for a Christmas Day service? We would love to have you join us for some carols and the Christmas story at San Carlos Community Church at 9:00am.
Closed Christmas Day (Tuesday, December 25) 
Colibrí Restaurant & Bar (also closed on December 24)
HammerHead's Dockside Bar & Grille (also closed December 26 and closed at 5:00pm on December 24)
La Conquista Cocina Mar y Tierra (also closed on December 26)
El Mar restaurant
Delfines Bar and Grill (also closed at 6:00pm on December 24)
Los Arbolitos de Cajeme
Tortuga's Restaurant & Bar
Maria's Restaurant Bar
Captains Club
Froggy's Bar
Soggy Peso will close at 5:30pm on the 24th