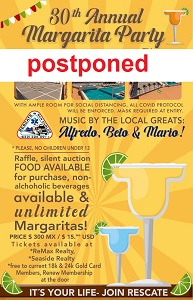 Due to the recent report of the Covid 19 growth in the state of Sonora and the new restrictions placed on activities, Rescate de San Carlos is saddened to report the 30th Annual Rescate Margarita Party is to be postponed until safer times. Thank you to those that support Rescate and those that have supported this event for so many years.
We will however, be announcing another way you will be able to help Rescate in the very near future. Stay tuned and please stay safe!
Rescate de San Carlos
from 2019 …
The Rescate Board of Directors and Auxiliary are thrilled to announce that we have decided to proceed with the annual Margarita Party this year. We are convinced that we can provide a safe environment for social distancing and masks will be required. The newly remodeled Marinaterra Beach Club will have even more space than before, so tables can be well separated.
Come on down and enjoy the music, some food and of course the unlimited margaritas while reconnecting (safely distanced, of course) with your friends, new and old. You may not be able to hug those friends this year, but you can still enjoy their company in a safe outdoor environment. See you there on November 12 at 5 pm.
The 30th annual Welcome Back party will be happening on Thursday, November 12, at 5:00pm. Come and join us at the Marinaterra Beach Club for live music (Alfredo, Beto & Mario) and entertainment, food for sale, raffle, silent auction, and of course, unlimited margaritas.
Tickets are 300 pesos or $15 USD. They're available at the door or (recommended due to the popularity of the event) in advance from Re/Max Realty and Seaside Realty. Current 18 and 24 karat Gold Card Members are admitted free. Membership and renewals are available at the door.
This party is always the social event of the season, so be sure to mark it on your calendar and we'll see you there!
All proceeds help to keep the doors of Rescate de San Carlos open for you.  Visit rescatesc.com for more information and to find out how you can become involved.
All you can drink Margarita's.
Ready for a delicious cold margarita? Buy your tickets now for the Rescate Welcome Back Margarita Party at Re/Max Realty and Seaside Realty.