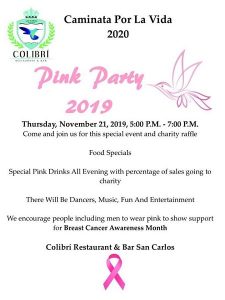 On Thursday, November 21, Colibrí Restaurant & Bar is hosting the annual Pink Party from 5:00pm to 7:00pm.
Come and join us for this special event and charity raffle.
There'll be lots of surprises, including
* Food Specials
* Special Pink Drinks all evening with a percentage of sales going to charity
* Dancers, Music, Fun and Entertainment
We encourage everyone, including men, to wear Pink to show support for Breast Cancer Awareness.
This event kicks off the fundraising for Agrupacion George Papanicolaou de Guaymas, an organization in Mexico that helps underprivileged individuals with prevention, detection, and treatments of various cancers.
SAVE THE DATES: On February 15, 2020 from 2:00pm – 4:00pm, a first-ever High Tea and Silent Auction will take place at the Yacht Club, where over 60 baskets and art items will be available for bidding at this event.
And on February 16, 2020, the annual Walk for Life (Caminata por la Vida) will start at La Palapa Griega at 10:00am.
Stay tuned to What's Up San Carlos for more details closer to the event dates.