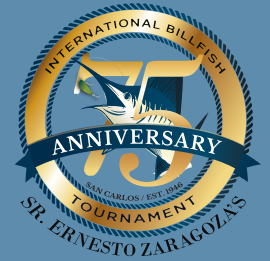 The 75th International Billfish Tournament takes place from July 14 – 15, 2023.
Prizes over 230,000 pesos in cash
Register online. The registration fee is $250 USD.
Schedule:
* There will be a "No Host" Cocktail Party at 5:00pm on Friday, July 14 at the San Carlos Yacht Club.
* Fishing will be Saturday from 7:00am -3:00pm.
* The Awards will be presented at Saturday night's Awards Dinner at 6:00pm at the San Carlos Yacht Club.
The event is hosted and sponsored by Ernesto Zaragoza Charity Foundation. Funds raised from the tournament help local charities in their endeavors.
The tournament is conducted under International Game Fish Association rules (Read the rules).
For more information, contact:
info@billfishtournament.com.mx
Phone: +52 622 22 622 24 and +52 622 103 00 06
Website: billfishtournament.com.mx
Facebook: facebook.com/scbillfishing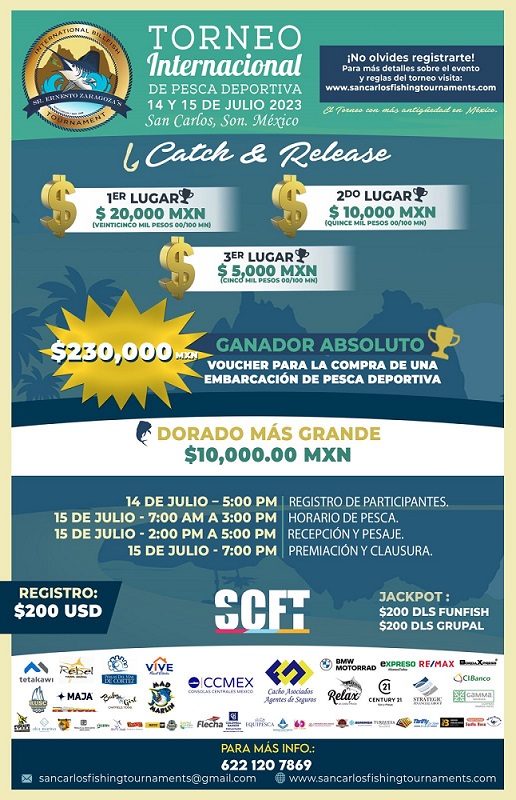 Results
2023 International Billfish Tournament
11 boats and 28 anglers
Tyler Williamson: Biggest Dorado
Edgar Amador: Best Captain
First Place Overall: Fantasma
2nd Place Overall: Mist & Smoke
3rd Place Overall: Catch 22
2019 International Billfish Tournament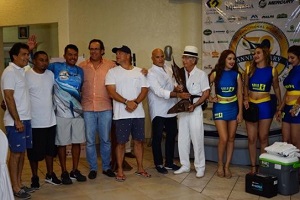 The 72nd International Billfish Tournament took place this past weekend. 35 teams and 121 anglers participated — here are the results:
1st Place – Makaira
2nd Place – Kryptonite
3rd Place – Sincuidado
Congratulations to Judy Lynn Earl on the Kryptonite team who was honored for being the "Best Woman Participant".
This tournament is hosted and sponsored by the Ernesto Zaragoza Charity Foundation. Since 1947, the year when this sport fishing tournament began in this beautiful Sonoran destination, the Zaragoza family has been concerned not only with promoting responsible fishing, tourism and sport, but also altruistic causes. Every year, funds raised from the tournament help local charities in their endeavors. This year two associations in Guaymas, Manos Amigas and Asilo de Ancianas, were presented with large donations.
A huge THANK YOU to all participants, volunteers, and sponsors for making this tournament such a success!
2018 International Billfish Tournament Results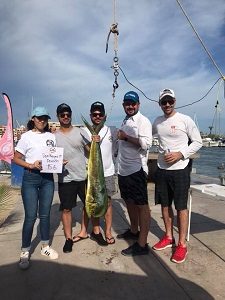 The 71st International Billfish Tournament was last weekend with 26 boats competing. Mornings were pretty nice and cloudy, with afternoons a little sunny and warm. You need to wear breathable shirts that you sweat through to keep cool. Either that, don't work at all, or bring a dozen cotton shirts. Still, we are getting a lot of nice 'cool' and cloudy weather. Just watch out for a hot bite!
The tournament boasted some great prizes this year, drawing a crowd and revamping the popularity of this historical tournament. Strangely, all the big dorado stopped biting for the weekend, leaving the $2,000 USD dorado jackpot to roll into next year.
A few met the minimum weighable weight, with the biggest at 24 pounds. We did catch a handful of 8 – 16 pound dorado each day. There have been some big sails at times, and not a lot lately, but no one weighed a sailfish over 70 pounds for the motor.
The grand prize was for a truck with a 200+ pound marlin. We had the big gear and 16 – 20″ lures out. We ran a lot of skirted ballyhoo too, which got the bites, but our catch ratio was off. The dorado were stuffed with crab, and the billfish too were dropping baits and just not taking them down. Still, I had one good fish that I slowly cranked in before strapping on the chest and bucket harness. I inched it up to a stalemate 50′ under the boat before the hook pulled.
I heard of one other good fish lost, and I'm sure there were others. There were a few reports of Blues lost and released last week. The radio communication was tough with the humidity, our stereo was up, and I haven't seen the results, but Telamon won with about four marlin and a sail release.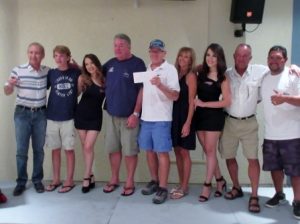 2016 International Billfish Tournament Final Results
Overall boat releases:
1. Kryptonite with 8 (pictured right)
2. Predator with 7
3. Cortezano with 3
Winning Anglers: (pictured below)
1. Eleanor North on Predator with 6 released billfish
2. Ken Diaz on Caroline E and David Rothschiller on Kryptonite each released 3 billfish
3. Casey Hayes on Cortezano, Wade Earl and Steve Calvert on Kryptonite each released 2 billfish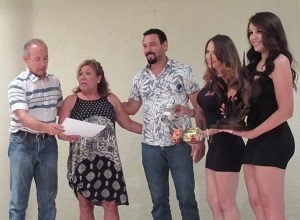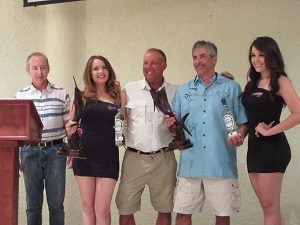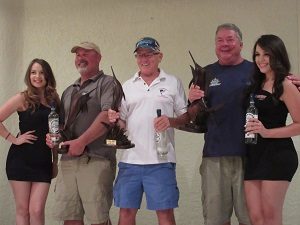 2014 International Billfish Tournament Final Results
The 67th Annual International Billfish Tournament took place July 4 – 6, 2014.
The final results are as follows:
1st Place: Bryan Replogle
2nd Place: John King
3rd Place: Ron Cooper
4th Place: Theodore Dake
5th Place: Adan Goldring
6th Place Robert Gilbert William
7th Place: Ken Diaz/Dan Boone/Rich Norquist
Ladies Division:
1st Place: Connie Ward
2nd Place Tamra Williamson
Thank you to everyone who participated. This event is hosted by the Ernesto Zaragoza Charity Foundation.