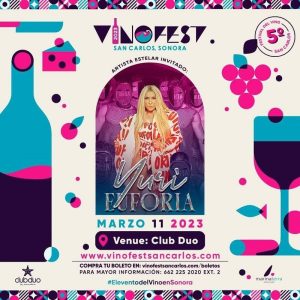 Marinaterra Hotel & Spa is hosting the 5th annual VinoFest Wine Festival on Saturday, March 11 at Club Duo (map).
This year will once again have a Bacanora Pavilion and regional craft beers, as well as regional and international wines. Several restaurants will also be offering food for sale.
There will be entertainment throughout the festival. Headlining the event is popular Mexican singer and actress, Yuri. She is currently on tour promoting her Euforia concert.
The cost is 2000 pesos in the general area, and 3350 pesos for the VIP area (which are now sold out). Tickets are on sale at Marinaterra Hotel and online here. For more information, call 622-225-2020 ext. 2 or email: info@vinofestsancarlos.com.
The proceeds of this event will be donated.