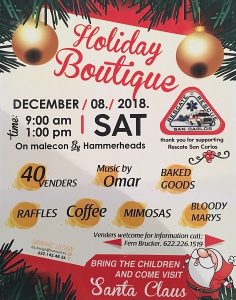 The annual Rescate Holiday Boutique and Craft Fair is on Saturday, December 8, 2018 on the Marina San Carlos malecon (near HammerHead's) from 9am to 1pm.
Come do your holiday shopping in a beautiful marina setting.
Dozens of vendors will be helping you decorate the house and fill the stockings with everything from Christmas decorations to jewelry. There will also be toys, ceramics, crafts, art work, music and a bake sale.
Coffee will be for sale and tables available so that folks can eat their baked goods with a cup of coffee. HammerHeads will be serving mimosas and Bloody Mary's with all profits from the sale of the drinks going to Rescate.
All proceeds from the event help support Rescate.
Vendors are welcome. For more information, contact Fern at 622-226-1519.
Castaway Kids at the Christmas Bazaar: Castaway Kids will host the "Crafty Ladies" from the Tipton Educational Center in Guaymas at the Rescate Christmas Boutique.
Some of our volunteers have worked with the ladies in the area, supplying them with materials and a place to work and learn new skills. This is all a part of our program to help families put food on the table and keep their kids in school. There will also be other donated hand-made items from members and their families on sale.