On Thursday, November 22, 2018 the following San Carlos Mexico restaurants will be serving delicious Thanksgiving meals: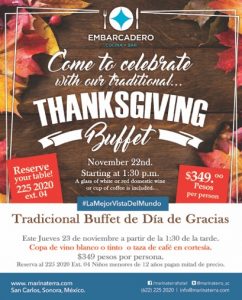 Embarcadero Cocina + Bar at Marinaterra Hotel.

MarinaTerra Hotel will be serving a traditional Thanksgiving Buffet at Embarcadero Cocina + Bar on Thursday, November 22, starting at 1:30pm.

The cost is only 349 pesos per person.
A glass of white wine or a cup of coffee is included.

Reserve your table by calling 225-2020 ext 4.
El Mar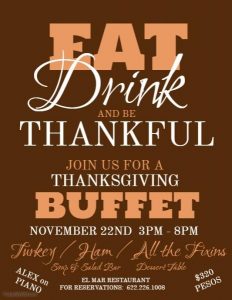 Eat, Drink and be Thankful at El Mar Restaurant. They will be serving a special Thanksgiving Buffet from 3:00pm to 8:00pm.
There will be turkey, ham and all the fixings plus a soup and salad bar and a dessert table for 320 pesos per person.
Alex will set the mood with live piano music.
Reserve your table today by calling 226-1008.
HammerHead's Dockside Bar & Grille
Join us at HammerHead's Dockside Bar & Grille for a delicious Thanksgiving dinner.
Starting at 3pm, we'll be serving a turkey dinner with potatoes, gravy, steamed veggies, stuffing, cranberry sauce, and pumpkin pie including a glass of wine or beer for only 290 pesos per person.
Featuring live music by Luna Band from 8:00pm – 12:00am.
Sunset Bar & Grill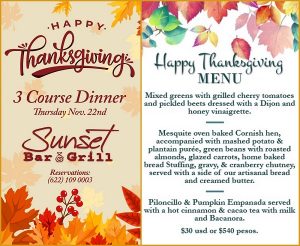 Celebrate Thanksgiving at Sunset Bar & Grill with a special 3 course dinner:
Mixed greens with grilled cherry tomatoes and pickled beets dressed with a Dijon and honey vinaigrette
Mesquite oven baked Cornish hen, accompanied with mashed potato & plantain puree, green beans with roasted almonds, glazed carrots, home baked bread stuffing, gravy, & cranberry chutney, served with a side of our artisanal bread and creamed butter.
Piloncillo & Pumpkin Empanada served with a hot cinnamon & cacao tea with milk and Bacanora.
All for only 540 pesos or $30 USD.
For reservations, call 622-109-0003.
Happy Fall to All and thank you All for your patronage & support!
Tortuga's Restaurant & Bar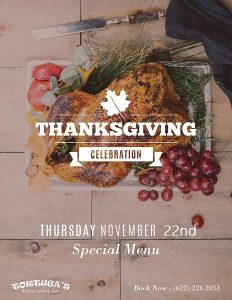 Join us at Tortuga's Restaurant & Bar for a very special Thanksgiving menu of:
Butternut Squash bisque or Spinach and orange Salad
Stuffed Turkey or Sea Bass Meunière
Pumpkin  pie
The cost is 650 pesos per person.
Call us at 622-226-2051 to book your reservation
Blackie's
Blackie's will be serving Thanksgiving dinner starting at 2:00pm.
For 400 pesos per person, feast on turkey with gravy, stuffing, cranberries, sweet potato, mashed potato, Waldorf salad and pumpkin pie.
Jax Snax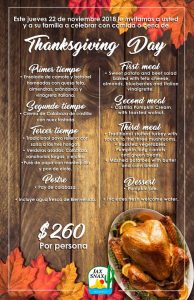 This Thanksgiving, we invite you and your family to enjoy a delicious meal at Jax Snax.
Enjoy sweet potato & beet salad baked with feta cheese, almonds, blueberries and Italian vinaigrette, followed by creamy pumpkin soup with toasted walnut.
Then enjoy a traditional stuffed turkey with mushroom sauce, mashed potatoes with butter and corn bread, and a variety of roasted vegetables.
End off your meal with a piece of pumpkin pie.
Available for both lunch and dinner.
All this for only 260 pesos.
Delfines Bar and Grill
Delfines Bar and Grill presents a special Thanksgiving Menu that includes: Appetizer plate for two, Mixed greens salad or Soup (French onion), Roasted Turkey and Gravy (choice of dark or white meat or mix; first come basis), Homemade stuffing, Garlic mashed potatoes, Green beans with Asiago cheese. For dessert, pumpkin pie.
The cost is 290 pesos per person.
We'll have live entertainment for you too — listen to Jesus Cabrales from 6:00pm – 9:00pm.
Available all day. Reservations are respectfully requested. Please call 226-0499.
Turquesa Restaurant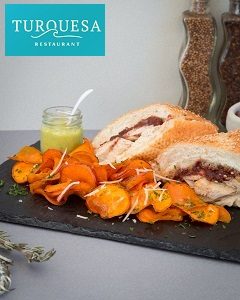 This Thanksgiving, join us at Turquesa Restaurant for a special Turkey Sandwich.
Our regular menu items will also be available.
Captain's Club
Gobble, Gobble!
Join us this year at Captains Club for a traditional Thanksgiving dinner starting at 3:00pm.
The dinner will include turkey and all the trimmings.
La Conquista Cocina Mar y Tierra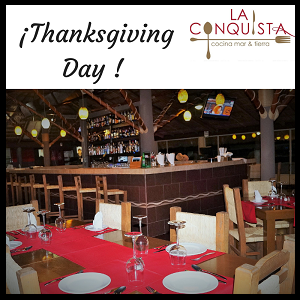 Come and enjoy a lovely 3-course Thanksgiving meal at La Conquista Cocina Mar y Tierra.Start with a cream of broccoli soup.
Then enjoy grilled Rib-Eye served with mashed potatoes and vegetables sautéed in white wine.
Finish your meal with a house dessert.
The cost is 350 pesos per person.
There is no corkage fee on your wine, and we'll also have 2 x 1 drink specials on margaritas, piña coladas and vodka tonics.
Happy Thanksgiving!
The following businesses will be closed: