On Thursday, November 28, 2019 the following San Carlos Mexico restaurants will be serving delicious Thanksgiving meals:
Embarcadero Cocina + Bar at Marinaterra Hotel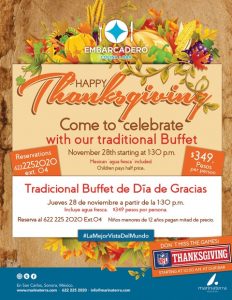 MarinaTerra Hotel will be serving a traditional Thanksgiving Buffet at Embarcadero Cocina + Bar on Thursday, November 28, starting at 1:30pm.
The cost is only 349 pesos per person.
Reserve your table by calling 225-2020 ext 4.
Shots Restaurant and Bar
On Thanksgiving, Shots restaurant is offering a Traditional Thanksgiving dinner with all the trimmings, sides and dessert for 275 pesos per person.
Includes a delicious meal of turkey, stuffing, mashed potatoes with gravy, green beans with bacon, candied yams, cranberry jelly, dinner roll and pumpkin pie.
Dinner starts at 5:00pm.
For reservations, please call (622) 226-1300 or Facebook Shots San Carlos Mexico.
El Mar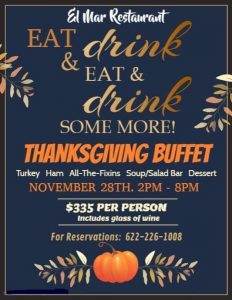 Eat, Drink and be Thankful at El Mar Restaurant. They will be serving a special Thanksgiving Buffet from 2:00pm to 8:00pm.
There will be turkey, ham and all the fixings plus a soup and salad bar and a dessert table for 335 pesos per person (includes a glass of wine).
Alex will set the mood with live piano music.
Reserve your table today by calling 622-226-1008.
HammerHead's Dockside Bar & Grille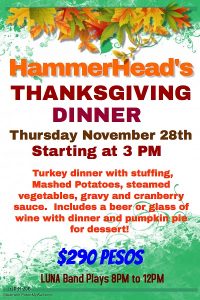 Join us at HammerHead's Dockside Bar & Grille for a delicious Thanksgiving dinner.
Starting at 3pm, we'll be serving a turkey dinner with mashed potatoes, gravy, steamed vegetables, stuffing, cranberry sauce, and pumpkin pie including a glass of wine or beer for only 290 pesos per person.
Featuring live music by Luna Band from 8:00pm – 12:00am.
Sunset Bar & Grill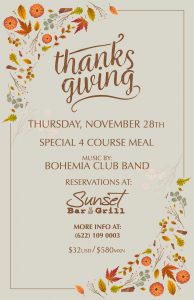 Celebrate Thanksgiving at Sunset Bar & Grill with a special 4 course dinner, featuring:
1. Grilled sweet potato and green onion salad with a Guajillo vinaigrette, topped with feta cheese.
2. Cream of butternut squash baked in the wood oven.
3. Turkey on a hibiscus mole served with mashed potatoes, buttered green beans and a cranberry chutney.
4. Hot upside down apple pie topped with whipped cream.
All for only 580 pesos or $32 USD.
With live music by Bohemia Club Band.
For reservations, call 622-109-0003.
Captain's Club
Gobble, Gobble!
Join us this year at Captains Club for a traditional Thanksgiving dinner starting at 3:00pm.
The dinner will include turkey and all the trimmings.
Blackie's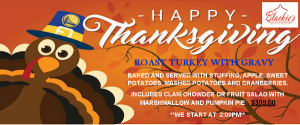 At Blackie's feast on roast turkey with gravy, stuffing, apple, sweet potatoes, mashed potatoes, cranberries and clam chowder or fruit salad with marshmallows. Pumpkin pie for dessert.
399 pesos per person.
Starting at 2:00pm.
Delfines Bar and Grill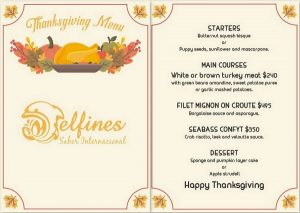 Delfines Bar and Grill presents a special Thanksgiving Menu that includes: an appetizer, and choice of:
Turkey and Gravy (choice of dark or white meat or mix; first come basis) for 240 pesos
Filet Mignon for 495 pesos
Sea Bass for 350 pesos
And dessert,
Reservations are respectfully requested. Please call 226-0499.
The following businesses will be closed:
La Palapa Griega
Maria's will close at 3pm
The following is from 2018 … more 2019 info coming soon
Tortuga's Restaurant & Bar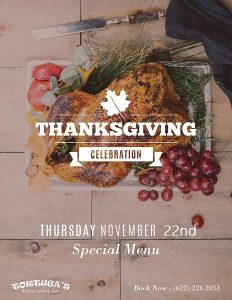 Join us at Tortuga's Restaurant & Bar for a very special Thanksgiving menu of:
Butternut Squash bisque or Spinach and orange Salad
Stuffed Turkey or Sea Bass Meunière
Pumpkin  pie
The cost is 650 pesos per person.
Call us at 622-226-2051 to book your reservation
Turquesa Restaurant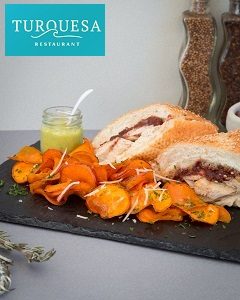 This Thanksgiving, join us at Turquesa Restaurant for a special Turkey Sandwich.
Our regular menu items will also be available.