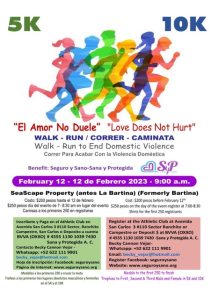 Do you have plans for Sunday morning, February 12?
If not, please consider joining the board members and volunteers of Seguro Y Sano-Sana y Protegida at their third annual "5K Walk, 5K/10K Run to End Domestic Violence".
The walk/run begins at 9:00am at the Seascape Plaza and ends when the last walker reaches the finish line!
Everyone is welcome to join – even pets. There will be a raffle with wonderful prizes donated by many local businesses; music and entertainment.
The registration fee is 200 pesos before February 12 and 250 pesos on the event day.
How do you register? At the Athleticlub San Carlos; through SyS SyP's website at seguroysano.org; follow the instructions on the poster to register through OXXO or visit our registration table at the Rescate Market beginning Saturday, January 28.
Your participation is needed to make this event not only a success, but to help SyS SyP begin the construction of a shelter. Land has been gifted to the organization for this purpose.
If walking or running is not your cup of tea, please consider volunteering by contacting Joy Hunter at joy.hunter@shaw.ca.
Hope to see you on Sunday morning, February 12.