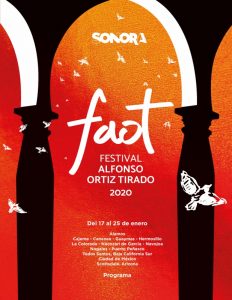 Make your way to Alamos anytime between Friday, January 17 and Saturday, January 25, 2020 and enjoy the Alamos FAOT Music Festival (officially named Dr. Alfonso Ortiz Tirado Festival).
The festival brings local, national and international artists and performers together for our enjoyment. There are concerts, street performers, handicrafts, food and drink. Most of the entertainment is free.
FAOT is also coming to Guaymas. On Wednesday, January 22 enjoy a free voice and piano recital by the students of the II Opera Workshop Alfonso Ortiz Tirado. Admission is free.
Click here for the official website.
FAOT 2020 Program:
FAOT Videos: