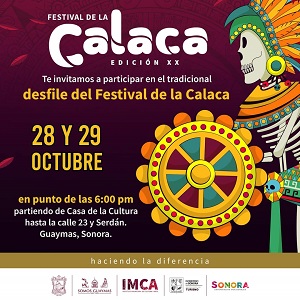 From Friday, October 28 to Sunday, October 30, starting at 6:00pm in Plaza de los Tres Presidentes, there will be live music, folkloric dance, food, drink, crafts and other entertainment. All events are free.
View the Day of the Dead Altars (Festival de la Calaca) on Calle 23 across from the Municipal Palace.
Festival de la Calaca 2022 program
Video
Enjoy this video from Dia de los Muertos in Guaymas and Queremos Halloween in San Carlos.
What's Up San Carlos crew and friends having a howling good time

HammerHead's party with live band VOX

Partying at The Edge with Assterisko

Partying with Manuelito at Captains Club

Athleticlub San Carlos

Babies First Halloween

Guaymas Festival de la Calaca