Where to celebrate 2018 St. Patrick's Day in San Carlos, Sonora Mexico:
La Palapa Griega is Going Green
La Palapa Griega is Going Green on Saturday, March 17.
Feast on corn beef served with cabbage and potatoes for 220 pesos.
Come taste the best Irish dinner outside of Ireland.
Hacienda Mar de Cortez: All Irish Dinner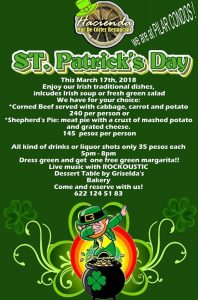 Everybody gets to be Irish for a day on Saturday, March 17 at Hacienda Mar de Cortez in Pilar Condominiums.
This traditional Irish dinner includes your choice of Corned Beef & Cabbage with carrots and potatoes (245 pesos) or Shepherd's Pie (145 pesos), plus Irish soup or fresh green salad.
Griselda's Bakery will host a fabulous Dessert Table for your selection (not included in the dinner price).
There will be all kinds of drinks for 35 pesos each from 5:00pm to 8:00pm. Dress in green and receive one free margarita.
Rockoustic will perform from 6:30pm to 8:30pm.
For your reservation, please call: 622-124-5183.
Tortuga's Restaurant & Bar
Celebrate St. Patrick's Day at Tortuga's with a delicious corned beef special for 240 pesos per person.
Lorena Robles will be performing from 6:00pm to 9:00pm.
Club Deportivo: St Patrick's Day Dinner
On Saturday, March 17, Club Deportivo will celebrate St Patrick's Day with our famous Corned Beef, Cabbage, Potatoes, Carrots, Roll, Super Salad Bar, Dessert Bar, and Coffee or Tea, and of course: our wonderful bar will be open for whatever you like. Music provided by John the DJ.
Doors open at 4:30pm and dinner will be served at 5:30pm.
The cost is 250 pesos ($14 USD) per person.
Get your ticket early – they sell out fast. Tickets go on sale on Friday, March 2 , in front of CiBanco and at Seaside Realty, Re/Max, Coldwell Banker, Tecali and Loma Del Mar. Parties of 10 may reserve a table by calling Marilyn at 226-1141.