New Year's Eve San Carlos: December 31, 2022: delicious dinners, live music … lots of great options to ring in the new year
La Palapa Griega New Year's Eve Party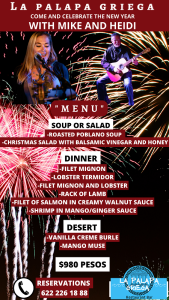 On New Year's Eve, spend the evening on the beach at La Palapa Griega for a special dinner and show.
The Mike and Heidi Duo will entertain you with all your favorites from 5:00pm – 9:00pm, when we'll ring in New Year.
The special New Year's Eve Menu includes your choice of the following entrées:
* Filet mignon
* Lobster thermidor
* Surf and Turf: Filet mignon and Lobster in butter & lemon
* Salmon in creamy walnut sauce
* Shrimp in mango ginger sauce
All entrées are served with side dishes, and either vanilla crème brûlée or mango mouse for dessert.
The cost for the dinner and show is 980 pesos.
Reserve your place today by calling 622-226-1888 or stop by La Palapa Griega.
The following is from 2021 … more 2022 info coming soon:
ClubDuo, Marinaterra Gala Dinner & Dancing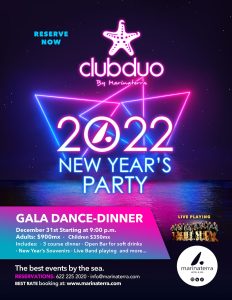 Come celebrate with us at our New Year's Eve Gala Dinner and Party.
Gala dinner and dancing by the sea starting at 9:00pm.
3 course dinner, live band Caribe Show.
900 pesos per person (children 350).
For reservations, call 622-225-2020.
Sunset Bar & Grill Gala 6 Course Dinner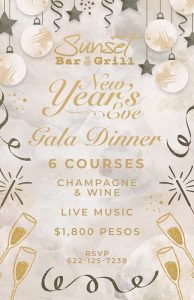 Celebrate New Year's Eve at Sunset Bar & Grill. Feast on our 3-course gourmet Gala New Year's Eve Special Dinner.
Dinner includes:
1-Blinis with Caviar & Smoked Salmon
2-Lobster Bisque
3-Scallop over saffron risotto
4-Rack of lamb or Osso Bucco
served with polenta and heirloom carrots & broccolini
5-Cheese board
6-Opera cake
* Glass of Champagne and a glass of wine
Live duet dinner music (Gilberto & Norma) from 6pm – 9pm and Bad Rumors band from 9pm – 1am and a big bonfire on the beach.
The cost is 1800 pesos per person.
Call for reservations at 622-109-0003. Health & Blessings to All!
Tortuga's Restaurant & Bar Special Dinner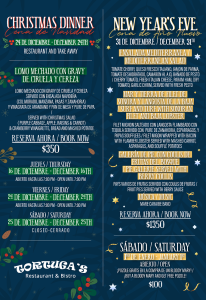 Feast on the Special New Year's Eve menu at Tortuga's Restaurant & Bar.
Tortuga's will be serving a special 3 course dinner, including surf n' turf with salad, sides and dessert for 1,350 pesos. Click on the flyer to left for the full menu.
With live music by Mar Caribe Band.
Call 622-226-2051 for your reservations.
Hair of the Dog New Year's Eve party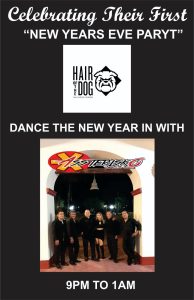 Dance the New Year in with Assterisko from 9:00pm to 1:00am.
New Year's Dinner & Toast at Restaurante Casa Manolo
On Friday, December 31, join us at Restaurante Casa Manolo to ring in the New Year.
Feast on a special 4-course dinner.
We'll start with a Welcome cocktail and charcuterie & cheese board.
Next, choose either a soup or salad, and you have a choice of Roast Prime Rib or Salmon Fillet for the main course.
Finish with your choice of Caramel ganache pie or Burnt Basque cheesecake for dessert.
There'll be live music, and we'll toast the New Year with 12 grapes, a typical Mexican tradition that brings good luck for the coming year.
The costs is 1,450 pesos per person.
Make your reservations today by calling 622-170-4558. We require 50% deposit with your reservation.
La Bartina 64 New Year's Eve Gala Dinner
La Bartina 64 is serving a delicious Gala 3-course dinner on New Year's Eve.
Start with a deep fried pork tamale or crusty tapas crispy bread and dried beef.
For your main course, choose either:
* Tenderloin, shrimp & bacanora. Beef tenderloin medallion wrapped with smoky bacon, and grilled shrimp with chipotle barbecue rub, roasted green chili pure, caramelized green onions, cured radishes, black butter pepper sauce with bacanora flambee, or
* Caramelized broiled loin of pink salmon, with chipotle molasses, with red fruits mole sauce, grilled asparagus and arugula with sesame chili oil.
And end with a dessert of traditional Christmas fritters with vanilla ice cream, red fruit sauce, dulce de leche, and chopped walnuts.
The cost is 600 pesos per person. Dinner starts at 7:00pm.
Call 622-164-6278 for your reservations.
Party Night at HammerHead's Dockside Bar & Grille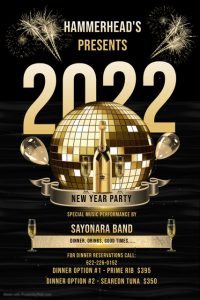 HammerHead's Dockside Bar & Grille will ring in the New Year with 2 special dinners: Prime Rib for 395 pesos or Seared Tuna Steak for 350 pesos. Both come with red pepper cream soup or garden salad to start, sides and chocolate brownie with ice cream for dessert (click for full menu). Dinner starts at 4:00pm.
Dance the night away with live music by Sayonara Band.
Come for dinner, drinks, party favors and music.
And we'll toast in the new year at midnight.
For reservations, call 622-226-0152.
San Carlos Yacht Club New Year's Eve Celebration
Let's run 2021 out of town with a "bang" at the San Carlos Yacht Club. We'll celebrate a New York – New Year's at 10:00pm.
Club and Bar open at 6:00pm; Dinner starts 7:30pm; Entertainment all night starting 6:00pm. Champagne served at 9:50pm to bring in the New Year.
Seating is limited so get your tickets now! 1,000 pesos per person. We gladly accept reservations for tables or 6 or 8.
Dance the night away with music provided by Sensa Nova.
Delia has planned and extensive feast with served appetizers during happy hour, happy salad (consisting of strawberries, kiwi fruit, green leaf lettuce w/ white wine vinaigrette dressing) and chocolate cake w/ fruit for dessert. Your choice of entrees: Option 1, grilled beef filet, served with mashed potato and mixed vegetables; Option 2, pork medallion served with mashed potato and mixed vegetables. Champagne will be served at 9:50pm to bring in the New Year.
Call or email Luisa in the office for individual or table reservations. Phone 622-226-0163, email ycsctreasurer@gmail.com.
More New Year's Eve & Day
New Year's Day Events & Specials (Saturday, January 1):
San Carlos Riders Pajama Parade. Meet at Tortuga's at 9:00am. Parade will leave about 11:00am.
Soggy Peso will offer a special hot chocolate on New Year's Day from 12:00pm to 2:00pm.
Closed & Changes in Hours:
El Mar Restaurant: closed New Year's Day
La Palapa Griega: closed New Year's Day

Rescate Thrift Store. Open 9:00am – noon on December 31 and closed New Years Day.

Altered Tails Book Shoppe: closed New Year's Day.