2018 Valentine's Day Events
Valentine Events in San Carlos, Mexico: February 10 SBPA Valentine's Day Bake Sale; and February 14, 2017 Valentine's Day events:
SBPA Bake Sale, February 10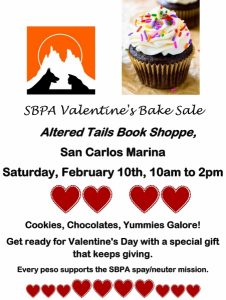 Cookies, Chocolates, Yummies Galore!
Get ready for Valentine's Day with a special gift that keeps giving.
Every peso supports the SBPA spay/neuter mission.
On Saturday, February 10 from 10:00am – 2:00pm, the SBPA will be having a bake sale at the Altered Tails Book Shoppe (on the San Carlos malecon).
100% of the proceeds go to spay and neuter local dogs and cats.
The SBPA thanks you for your support!
Embarcadero Cocina + Bar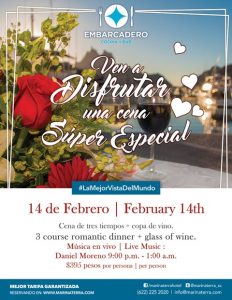 Embarcadero Cocina + Bar will be serving a delicious and romantic 3 course meal including a glass of wine for 395 pesos per person.
And there will be live music with Daniel Moreno starting at 9:00pm.
For reservation, call 225-2020 ext. 4
Hacienda Mar de Cortez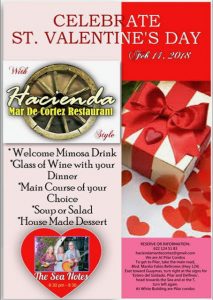 Let Hacienda Mar de Cortez make this Valentine's Day unforgettable. We have everything for your romantic evening including delicious food, drinks, dessert, live music and surprises for 450 pesos per person.
For the main course, you can choose between skirt steak or fish fillet with three different sauces.
The Sea Notes will perform from 6:30pm to 8:30pm.
Make your reservation before February 10 and get an exclusive gift from hacienda. Call 622-124-5183 for reservations.
Tortuga's Restaurant & Bar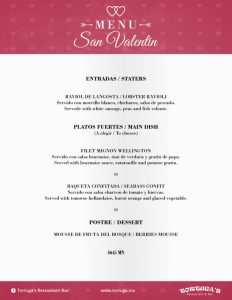 Tortuga's Restaurant & Bar will be serving a delicious menu for 645 pesos per person.
Lobster ravioli, followed by a choice of seabass confit with sides or filet mignon wellington with sides and berries mousse for dessert.
For reservations, call 622-226-2051.
Shots
Enjoy a romantic evening at Shots.
This special white table cloth Valentine's Dinner you can choose from Filet Mignong & prawns for 410 pesos per person or seafood san carlos for 390 pesos per person. Each dinner includes a complementary glass of wine or champagne, a starter (strawberry and greens salad or butternut squash soup), sides and a sweet dessert for two.
For more information and to reserve your table, call 226-1300.
La Palapa Griega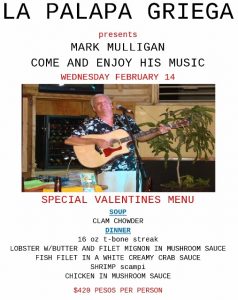 Don't miss the special show at 6:00pm at La Palapa Griega with Mark Mulligan. He'll be singing your favorites in English and Spanish.
La Palapa Griega will have a special menu: clam chowder, then your choice of 16 oz T-bone steak, lobster, fish filet in white creamy crab sauce, shrimp scampi, or chicken in mushroom sauce.
Dinner and show costs 420 pesos per person.
Reservations recommended by calling 226-1888, or visit the restaurant.
Sunset Bar & Grill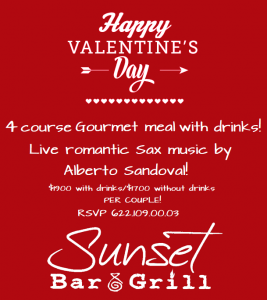 Celebrate Valentine's Day with a spectacular dinner at Sunset Bar & Grill. Enjoy a 4-course gourmet meal with drinks (click here for the full menu).
Live Romantic Sax music by Alberto Sandoval.
1900 pesos per couple with drinks or 1700 pesos per couple without drinks.
RSVP by calling 622-109-0003.
Colibri Restaurant & Bar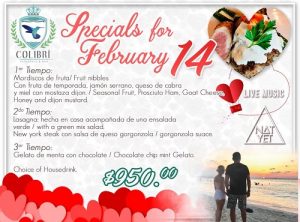 Colibrí Restaurant & Bar has a special 3-course Valentine's Day menu.
Appetizer: Seasonal fruit, Prosciuto ham, Goat cheese, Honey and dijon mustard
Entree: Your choice of either Lasagna with a green mixed salad; or New York steak with Gorgonzola sauce
Dessert: Chocolate chip mint gelato
Also include a choice of House Drink
Per couple, the cost is 950 pesos.
Call 622-115-3466 to make your reservation.
Nat Yet will be performing from 5:00pm – 8:00pm.
Club Deportivo's Prime Rib Dinner and Dance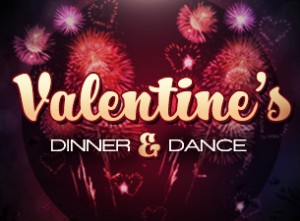 Club Deportivo will be serving Prime Rib with mashed potatoes, horseradish, garlic bread, super salad and dessert bar.
Doors open at 4:30pm, and dinner is served at 5:30pm.
After dinner, dance the night away.
The price is 300 pesos or $15 USD. Tickets are on sale at CIBanco.
Remember; bring your own tableware; please, and no paper plates.
La Conquista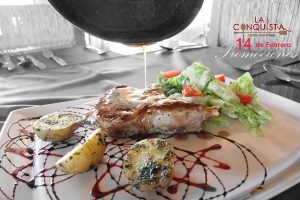 Celebrate Valentine's Day with your sweetheart at La Conquista Cocina Mar y Tierra. Choose from two special meals. Each meal comes with a house salad and a dessert.
For a set price of 350 pesos per person, you will enjoy soup or salad, plus your choice of the following entrees:
*Pork rib-eye in a tamarind sauce and mashed potatoes
*Pasta Alfredo with chicken or shrimp
*Arrachera steak, potatoes and vegetables
*Grilled Chicken breast in an orange sauce with sides
Plus Mousse Frasier for dessert
For your reservation, call 622-132-2643.
La Bartina 64
Romance is in the air at La Bartina 64.
On Valentine's Day, The Two Guys will be playing romantic music from 6:00pm to 10:00pm for your dining pleasure.
RSVP by calling 622-164-6278.
El Mar Restaurant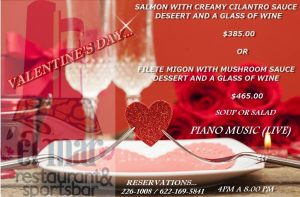 El Mar Restaurant will be serving a special Valentine's dinner of salmon with creamy cilantro sauce for 385 pesos per person or filet mignon with mushroom sauce for 465 pesos per person. Both dinners include dessert and a glass of wine. Dinner will be served from 4:00pm to 8:00pm.
To set the romantic mood, there will be live piano music.
For reservations, call 226-1008.
Delfines Bar and Grill
Delfines Bar and Grill is ready to serve you a special 3-course Valentine's Day dinner.
Appetizer: Your choice of green house salad or cream soup (either carrots & cherry cream or cilantro & walnuts)
Entrée: Apple and honey Pork Rib Eye with garlic mashed potatoes and steam vegetables, or
Stuffed chicken breast with Shrimp, cream cheese, bell pepper and spinach, rolled in bacon. Includes garlic mashed potatoes and steam vegetables.
Dessert: 1 piece of delicious chocolate cheesecake to share
And two glasses of red wine. All this for only 700 pesos per couple.
Make your reservation by calling 226-0499.