Valentine's Day events in San Carlos, Mexico: February 14, 2022. List of restaurants with food specials and entertainment. Where to enjoy a delicious and romantic meal.
Valentine's Paint Class at Colibrí's
This year, do something different on Valentine's Day!
Enjoy time painting with Luly Moroyoqui on Colibrí restaurant's terrace.
Wine, appetizers, and all the painting materials are included in the price.
Limited spaces…book your spot today.
Call 622-108-0956 for more information and to book.
La Palapa Griega
La Palapa Griega is celebrating Valentine's weekend with a special meal for you.
From Friday, February 11 through to Monday, February 14, feast on the following at our beachfront restaurant:
* Surf and Turf which includes a Lobster Tail and Filet Mignon served with mashed potatoes and vegetables.
The cost is 580 pesos.
Please come in to enjoy this special meal with your friends and loved ones anytime starting this Friday.
Tortuga's Restaurant & Bar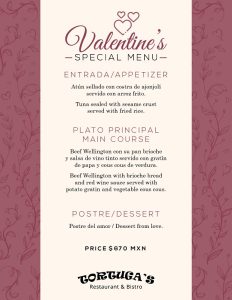 Tortuga's Restaurant & Bar will be serving a delicious meal for 670 pesos per person.
Feast on tuna sealed with sesame crust served with fried rice, followed by beef wellington with sides, then dessert.
For reservations, call 622-226-2051.
Sunset Bar & Grill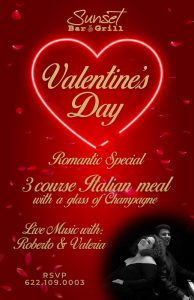 Join us at Sunsets for delicious beachside dinning, a most romantic setting, outstanding live music with Roberto on the piano and Valeria's incredible voice, with plenty of heaters and blankets to keep you cozy.
3 course Menu with a choice of mains between chicken (710 pesos)  or shrimp (850 pesos):
Creme of tomato and basil soup, with Parmesan croutons
Grilled chicken or shrimp served with homemade tagliatelle in a four-cheese sauce, and a caprese salad
Tiramisu for dessert
Includes a glass of Champagne
RSVP by calling 622-109-0003.
La Calaca Tacos y Cerveza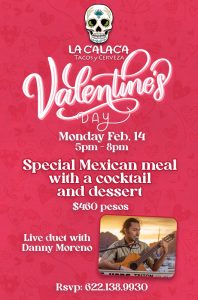 Calaca is offering a 2 course Mexican special and a Tequila strawberry welcome cocktail for 460 pesos, from 5:00pm to 8:00pm.
Enjoy Chicken breast stuffed with mushrooms & corn, in a pistachio Pipian sauce, served with a carrot & potato mash. And red fruit and Chocolate tart for dessert.
Enjoy Dany Moreno and his violin student extraordinaire Luis Fernando Nieblas from 5:30pm – 8:30pm.
Feliz Día del Amor y Amistad
HammerHead's Dockside Bar & Grille
HammerHead's Dockside Bar & Grille presents a special Valentine's Day menu from 4:00pm to 10:00pm on Monday, February 14.
Choose between:
* Filet Mignon with Shrimp (525 pesos)
* Tuna Steak (395 pesos)
Each meal includes soup or salad and dessert.
To make a reservation, please call 622-226-0152.
La Bartina 64
Love is in the air at La Bartina 64. Enjoy a delicious 3-course meal this Valentine's Day.
Your starter is a choice of Sweet heart salad or Tuna & Salmon tartare.
The main course is a choice of:
* Rib Eye Steak with chili pepper crust in a chimichurri sauce, creamy mashed potatoes, grilled asparagus and roasted baby tomatoes, or
* Fettuccine with Seafood and rustic bread. Baby shrimp, mussels and salmon, sauteed with garlic, white wine and crushed pepper, with chipotle creamy light sauce.
And for dessert, you have a choice of:
* White chocolate mousse with amaretto, with red fruit coulis, or
* Strawberry sorbet with tequila and rose petals, with rustic chocolate powder
Your meal includes a bottle of house Red or White Wine. This package price for 2 people is 1580 pesos.
Make your reservation today at 622-164-6278.
Marvida Taproom & Kitchen
Join us at Marvida Taproom & Kitchen for Valentine's Day and enjoy the following special:
* A bottle of red wine and one dessert, 350 pesos
Enjoy the best views in town at the marina with your special someone this Monday, February 14.
Altamarea Restaurant
Altamarea Restaurant has several special Valentine's Day menu items. Choose from the following:
* Portobello mushrooms – stuffed with mozzarella cheese, brie, spinach, brie and bacon: 200 pesos
* Onion Soup with Swiss cheese and chistorra: 150 pesos
* Vegetarian Lasagna – zucchini, eggplant, spinach, onions, red bell pepper, mushroom, besciamella, and mixed cheeses: 300 pesos
* Tortellini Boscaiola – cream, ham, mushroom, peas, onion, white wine: 300 pesos
* Grilled Rib Eye – sliced with arugula and parmigiano: 680 pesos
* Seabass with Shrimp Sauce – pan seared with cherry tomatoes, spinach and shitake mushrooms in shrimp sauce: 380 pesos
* Dessert – Ice cream on red velvet cake: 150 pesos
Call 622-113-3563 or 622-127-6163 for your reservation.
Restaurante Casa Manolo
Enjoy Valentine's Day with your loved ones or special friends this year at Restaurante Casa Manolo.
We will serve a special 4-course dinner.
Included is a bottle of wine.
And live music.
Call 622-170-4558 for your reservation.
Colibrí Restaurant & Bar
Join us at Colibrí Restaurant & Bar for a romantic evening under the stars!
We will have a Special Menu, including:
* Citrus salad
* Carbonara Pasta
* Ahi tuna seared with red chili
The regular menu will also be available.
Enjoy the great sounds of the popular duo Sensa Nova performing live from 6:00pm – 9:00pm.
Make your reservation today at 622-115-3466.
La Catrina Restaurant & Gallery
La Catrina Restaurant & Gallery is having a special Menu for Valentine's Day.
The first course will be Hearts of Palm soup with shrimp.
Then choose your main course from the following:
* Pasta Stroganoff
* Chicken in 3 cheeses
* Lobster
* King Crabs Legs
* and more Specials
The band Los Rumors will be performing live from 5:30pm – 8:30pm.
We will also be selling tickets for a raffle to win some of our Gallery items.
To make your reservation, please call 622-136-9469 or 622-151-7798.
Keep Exploring … San Carlos Mexico:
Where to Stay. Check out the options on Booking.com: