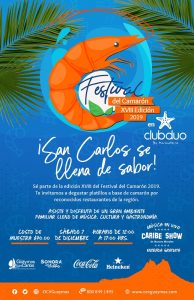 The 18th annual Shrimp Festival will be held on Saturday, December 7, 2019 at Club Dúo Marinaterra between 12:00pm – 5:00pm.
Mouth-watering shrimp dishes will be prepared by many different restaurants. Tickets for shrimp samples are 40 pesos and entry into the event is free. You can buy tickets before-hand from the OCV.
There will also be cerveza for sale, craft stalls, live music and dancers.
Come early (vendors sell out) and plan to come hungry.
Programa del Festival del Camarón 2019