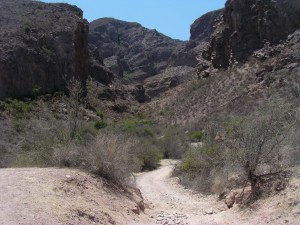 Driving the dirt road to Nacapule Canyon, you may not notice that there is an incline the whole way there. Something that becomes painfully obvious when tackling the route by bike.
The upside … it's all downhill home. While coasting home, it's tempting to look at the view of the water in the distance.
Several bone jarring drops into potholes or over rocks in the road have reminded me to also keep an eye on where I'm going.
There's also plenty of wild life to distract you. I usually spot a host of various birds, including osprey and hawk. They are often perched on the tops of cacti or soaring above the cliffs. Jackrabbit and roadrunner also frequent this area.