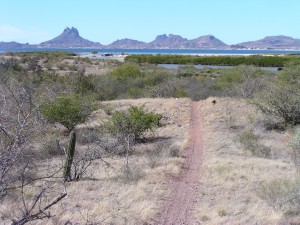 Biking in back country, San Carlos – Beware the prickly pears
A Guaymas mountain bike association has built a challenging trail through the desert. This rugged trail is not for the faint at heart.
Along the way you pass alarmingly close to ocotillo, organ pipe, choalla, and old man cactus, and are cheered on by numerous birds.
The first two kilometers are fairly easy going as the loose rock path travels over rolling hills. Just past the 2km marker, hang on for a short but steep hill … repeated over the next two kilometers. After the 4km marker, you'll work your way up a hill and be rewarded with a sweeping view of Estuary el Soldado, San Carlos and Tetakawi.
Another 2.5km and you'll end back where you started. It's only been about 45 minutes, so head out for round 2, or turn around and try it in reverse.
Fast, well defined singletrack. Trail loop 11.4 km. There's a 1.4 km advanced section called Los Cactus Muertos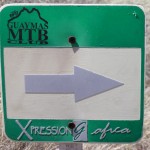 The route is well-marked with arrows and distance signs.
It begins and ends at the parking area.
Start on the wider trail to the north (on your left, if you're facing away from the paved road).
This 1 km path takes you around the base of a hill, and brings you back close to your starting point.
Turn left and follow the path as it then veers right and narrows.
Follow the trail as it heads into the desert and eventually loops back to your parking spot.

Estero del Soldado Mountain Biking Trails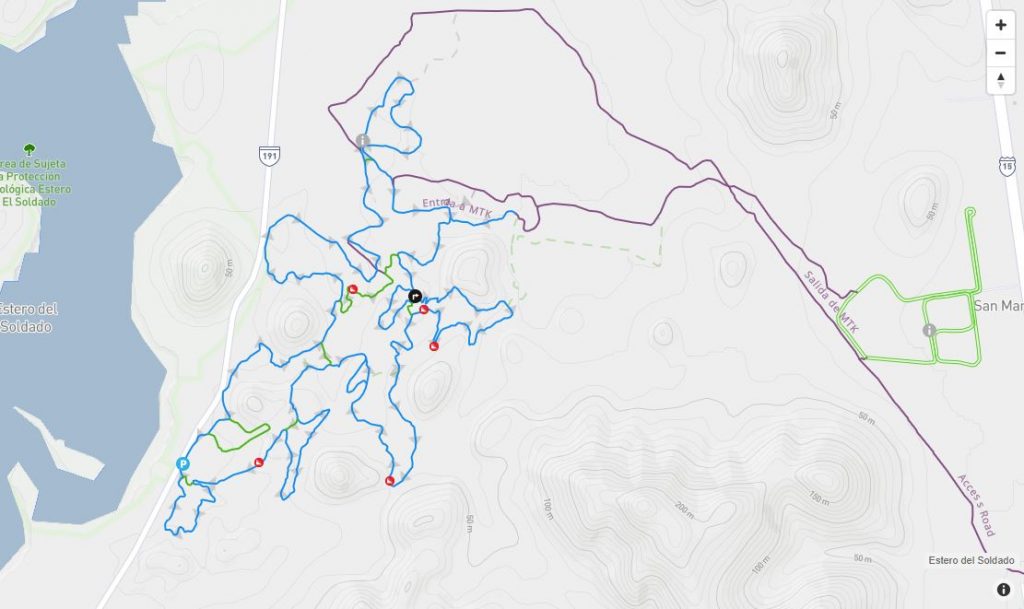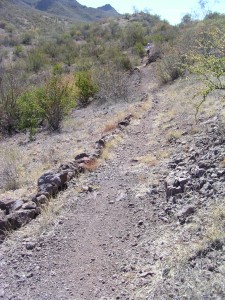 To get here (see map below):
From Tetakawi Blvd, turn onto the road to Miramar (and Delphinario).
Follow it 0.8 miles, then turn left on the dirt road (unmarked).
Follow road as it curves to the right.
Take the first left at an old gate.
Park at the white cement block.
Video Biking Pista Estero del Soldado