Biking in the Desert: Shaken, Not Stirred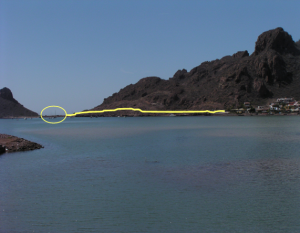 In the desert, biking is a jarring and twisting experience where one wrong move can have you hugging a cactus.
But the effort is well worth it.
In addition to the adrenalin rush, you are usually rewarded with sweeping vistas, an abundance of wildlife, and a solitude that borders on mystical.
I recently revisited one of my favorite shorter bike routes. With my 1-liter bladder strapped on my back, I headed out to the Bahia. Where the paved road behind Cyber Co ends, a rocky path continues to what was once the Tomate fishing village.
Like most prime land in San Carlos, it is now gated, and the path leads to beach- front property that is waiting to be developed. But the guard (and dogs) may still permit you to go for a hike or a bike ride.
After passing around the fence, with four barking dogs in tow, I headed off. Tetakawi loomed up to my right and on my left there was a steep drop to the turquoise water below. Overhead were brilliant blue skies dotted with pelicans, cormorants and turkey vultures.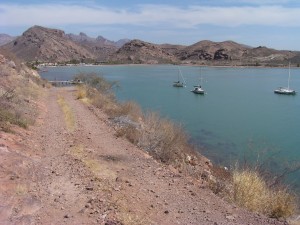 The rock and loose gravel path zig-zags back and forth, and undulates over small hills at the base of Tetakawi. Often, my back tire skidded sideways where the red rocks gave way to gravel and sand, and I sometimes had to fight to hang on.
This ribbon of dirt ends at an isthmus where the fishing village of Tomate used to reside. It has been relocated, and the evidence of its previous existence is picked over by vultures that perch on the rusted remains of mattress springs. But the view of the marina and the boats tethered in the bay remain.
And, on the ocean side of the isthmus, there's a beautiful bay surrounded by towering red cliffs speckled with organ pipe cactus. Boats pass by the mouth, and waves gently lap the stony shore.
A quick scramble over a rocky outcrop brought me to another bay, where there is amazing visibility into the calm turquoise water below. I make note to bring a towel, mask and fins next time, as I suspect that this is also an excellent snorkel location.
After sitting on the beach for awhile, I head back to town, happy with another great San Carlos adventure.
Distance: approximately 2 km from the beginning of the Bahia.