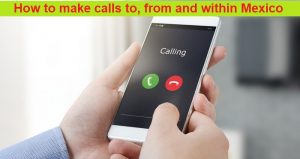 A guide to making and receiving phone calls to, from and within Mexico. Read on to discover how to:
make phone calls within Mexico, including how to call to a Mexican mobile phone.
call Mexico from the US and Canada.
call the US and Canada from Mexico.
call 1-800 from Mexico to USA & Canada.
Calling from Mexico
00 + 1 + area code + phone number
Calling international from Mexico, you must first dial 00, then the country code, the area code, and finally the number you want to call.
For example, to Toronto Canada, dial 00-1-416 and the 7-digit phone number.
Calling Mexico
011 + 52 + area code + phone number
Mexico's Country Code: +52
Mexican area codes:
San Carlos, Guaymas and Empalme 622
Hermosillo 662
Mexico City 55
Guadalajara 33
More Mexico area codes.
Calling within Mexico
3 digit area code + 7 digit phone number
Effective Saturday, August 3, 2019 Mexico will adopt a 10 digit calling system. It'll get rid of all the prefixes (01, 044, 045) and go to a standard 10 digit number.
It won't matter what type of phone, or where it is located, that the caller is dialing.
According to the Federal Institute of Telecommunications (Ifetel), you will only need the area code and the local number from both landlines and cellphones.
You will have to dial 622 before the landline number. So if I'm calling in my monthly take-out order to Jax Snax, I now need to call 622-226-0270 instead of just 226-0270. You may personally need to make changes in your Telephone Contacts list to add the 622 area code for San Carlos and Guaymas numbers.
Calling Cell Phones
How to call to Mexico mobile phone / How to call USA and Canada from Mexico cell phone:
Whether from a landline or cellphone, dial the number the same as you would to a landline (see instructions above).
Before August 3, 2019, you had add the number '1' when calling a Mexican cell phone from overseas and you had to add a prefix (044, 045) when calling a Mexican cell phone from a Mexican land line.
Dialing Mexican telephone numbers is now simpler.
Emergency Numbers
Emergency numbers such as 911 will not change. Whether from a landline or cellphone, dial 911.