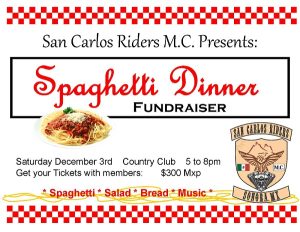 The San Carlos Rider's Spaghetti Dinner Fundraiser will be held on Saturday, December 3, 2022 at the San Carlos Country Club from 5:00pm – 8:00pm. Dinner includes spaghetti, salad, and bread.
There will be live music.
Tickets are 300 pesos each and are on sale from any San Carlos Rider member and at the San Carlos Rider Clubhouse.
All proceeds go to local charities.
For more information, contact Frank at fbgs66@gmail.com.